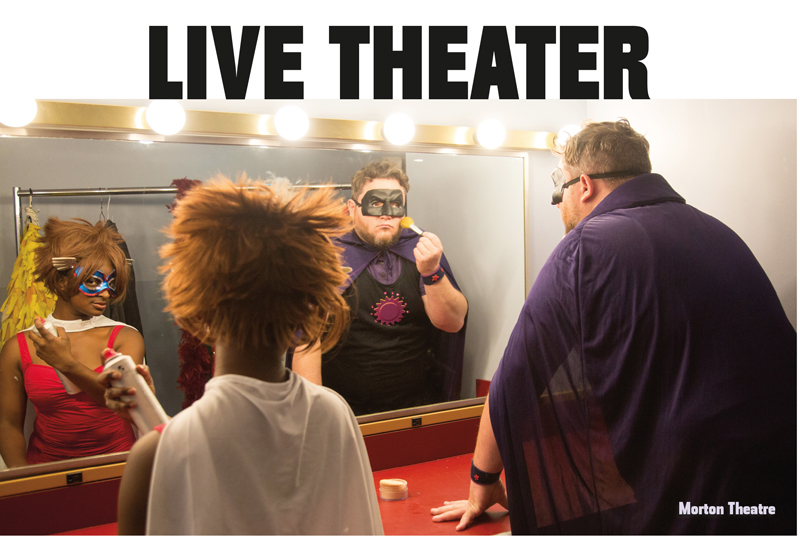 Flagpole's "Theater Notes" column and our weekly Calendar will keep you informed about theatrical performances around town and beyond. And there are a lot of them during any week. The Athens area has a large talent pool of people who love the theater and have the ability to perform and to provide all the technical skills, from set-building to lighting to ticket sales. Many of these theater companies also teach theater classes and hold summer workshops. You can enjoy performances from the audience and also step behind the curtain to get involved in the magic world of live theater.
Athens Creative Theatre
Quinn Hall, 238 Gran Ellen Dr.; Morton Theatre, 195 W. Washington St. • 706-613-3628 • athensclarkecounty.com/act
ACT is a project of the Athens-Clarke County Department of Leisure Services that stages plays and a variety of classes for adults and children.
Athens Little Playhouse
191 Alps Road • 706-208-1036 • athenslittleplayhouse.net
Theater for kids ages 5–18, with classes, summer theater camps and a season of performances.
Circle Ensemble Theatre Company
Various venues • 706-362-2175 • circleensembletheatre.com
Performances (occasionally at the State Botanical Garden of Georgia and eventually at a permanent home in the old Winterville Auditorium), plus classes and workshops for teens and adults.
The Classic Center Theatre
300 N. Thomas St. • 706-357-4444 • classiccenter.com
Touring plays and performances, plus local groups such as Athens Symphony and Dancing with the Athens Stars.
Rose of Athens
Seney-Stovall Chapel, 201 N. Milledge Ave.; Ashford Manor, 5 Harden Hill Road, Watkinsville • 706-340-9181 • roseofathens.org
A focus on education and theater, with classes for kids and performances for school groups each year.
Town & Gown Players
Athens Community Theatre, 115 Grady Ave. • 706-208-TOWN • townandgownplayers.org
Classics, musicals and avant-garde theater using an ensemble company plus newcomers.
UGA Theatre
Fine Arts Building, 255 Baldwin St. • 706-542-4400 • drama.uga.edu
University Theatre, produced by the Department of Theatre and Film Studies, mounts a season of plays each academic year and is home to a rich variety of student groups—Thalian Blackfriars, Black Theatrical Ensemble, Improv Athens, Graduate Acting Ensemble, Athens Playwrights Workshop, Next Act Musical Theatre Troupe, Children's Theatre Troupe, Sharkwing and Lady Parts Improv.
Theater Beyond Athens
Arts!Oglethorpe • 325 Park Ave., Crawford • info@artsoglethorpe.org • artsoglethorpe.org
Cornerstone Productions • 1440 Greensboro Hwy., Watkinsville • 706-338-0239 • cornerstoneathens.com
Encore Productions • 100 Oliver St., Elberton • 706-283-1049 • elberttheatre.org
Jefferson Community Theatre • 28 College St., Jefferson • 706-367-5714 • jeffersoncommunitytheatre.com
Oconee Youth Playhouse • Oconee County Civic Center, 2661 Hog Mountain Road, Watkinsville • 706-769-2677 • oconeeyouthplayhouse.com
On Stage • 215 High School Ave., Monroe • 770-267-8379 • onstagewalton.org
Winder–Barrow Community Theatre • 105 E. Athens St., Winder • 770-867-1679 • winderbarrowtheatre.org