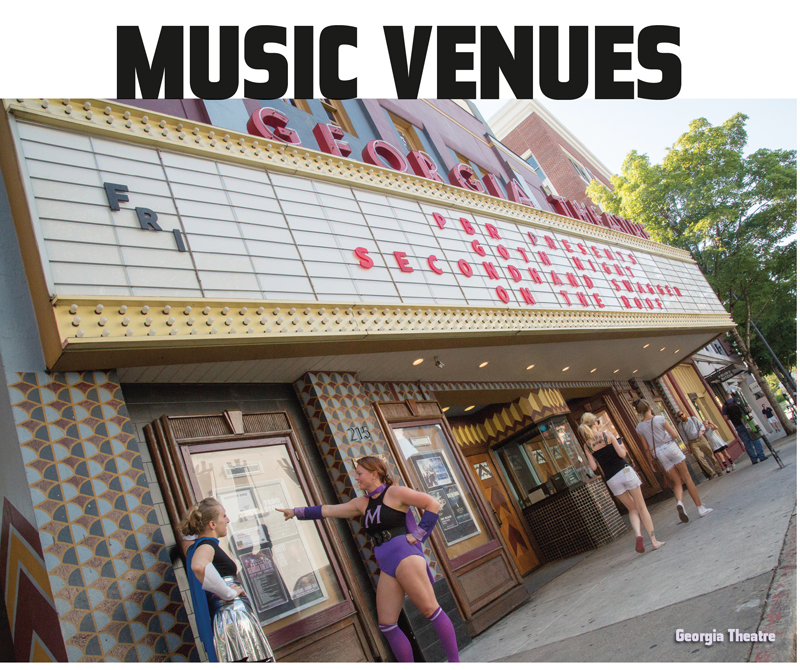 Everyone knows Athens is home to R.E.M., the B-52s and other renowned artists of yesteryear, but our town continues to boast one of the most vital and diverse music scenes in the country. Our musicians carry on the Classic City's legacy and also shake things up constantly with new sounds and styles. On any given night, there are plenty of great options for live music from locals and touring acts alike. You can settle in at a single spot, or hop around and catch a little of everything—easier than it sounds, since most of Athens' music venues are centered around the downtown core.
Trying to keep track of who's playing where can be a daunting task. Thankfully, Flagpole's here to help. Find out who's playing where and when—and what they sound like!—by picking up a copy of our weekly print edition or visiting flagpole.com. To help kickstart your Athens-music experience, we've spotlighted a few concert venues here.
Caledonia Lounge
256 W. Clayton St. • 706-549-5577 • caledonialounge.com
This charming hole in the wall is a perennial favorite of Athens' hipsterati. Look for the fence in back of the parking lot to find the entrance, and say hello to Flagpole music columnist Gordon Lamb, who's often on door duty.
40 Watt Club
285 W. Washington St. • 706-549-7871 • 40watt.com
There's no Athens music scene without the 40 Watt, a launching pad for countless locals over the years. Expect to find high-profile touring artists and local up-and-comers rocking its storied stage. Wanna blend in? Order a "big PBR."
The Foundry
295 E. Dougherty St. • 706-389-5549 • thefoundryathens.com
Take mom and dad to the Graduate hotel's music venue on the northern edge of downtown, which features a full restaurant, comfy seating, early shows and performances by classic artists and exciting emerging talent.
Georgia Theatre
215 N. Lumpkin St. • 706-850-7670 • georgiatheatre.com
Not only one of Athens' best venues but one of the finest in the region, the Theatre hosts touring acts and boasts a state-of-the-art sound system. Check out the rooftop bar and restaurant, which features live music in warmer months.
Hendershot's Coffee Bar
237 Prince Ave. • 706-353-3050 • hendershotscoffee.com
An essential piece of Athens' live-music puzzle, this coffee house and bar features jazz, folk and more, including a popular open-mic night on Monday. Shows start early, so you don't have to think twice about going out on a weeknight.
Live Wire Athens
227 W. Dougherty St. • 706-543-8283 • livewireathens.com
A cutting-edge lighting and sound system is the attraction at this downtown hangout, which features local and touring acts from across the musical spectrum, from rock to bluegrass to electronica and beyond. The outdoor patio is a nice touch, too.
Nowhere Bar
240 N. Lumpkin St. • 706-546-4742 • facebook.com/nowherebarathens
Head to Nowhere to catch a nightly stream of local and regional talent, with a focus on jam, funk and, of course, rock and roll. Regulars rule the roost at this beloved dive, but don't worry: Outsiders are always welcome.
More Music Venues
Bar Georgia • 159 W. Clayton St. • 706-850-9040 • facebook.com/BarGaAthens
Boar's Head Lounge • 260 E. Washington St. • 706-369-3040 • @BoarsHeadLounge
The Classic Center • 300 N. Thomas St. • 706-357-4444 • classiccenter.com
Flicker Theatre & Bar • 263 W. Washington St. • 706-546-0039 • flickertheatreandbar.com
The Globe • 199 N. Lumpkin St. • 706-353-4721 • facebook.com/globe.athens
Go Bar • 195 Prince Ave. • 706-546-5609 • facebook.com/go.bar.35
The Grotto • 140 E. Clayton St. • 706-549-9933 • facebook.com/grotto.athens
Hedges on Broad • 346 E. Broad St. • 706-850-8500 • hedgesonbroad.com
Highwire Lounge • 269 N. Hull St. • 706-543-8997 • highwirelounge.com
Hi-Lo Lounge • 1354 Prince Ave. • 706-850-8561 • hiloathens.com
Iron Factory • 255 W. Washington St. • 706-395-6877 • ironfactoryinc.com
Little Kings Shuffle Club • 223 W. Hancock Ave. • 706-369-3144 • facebook.com/lkshuffleclub
Lumpkin Street Station • 175 N. Lumpkin St. • 706-850-5966 • facebook.com/lumpkinstreetstation
Morton Theatre • 195 W. Washington St. • 706-613-3771 • mortontheatre.com
Normaltown Hall • 399 Meigs St. • 706-548-3914 • facebook.com/NormaltownHall
Nuçi's Space • 396 Oconee St. • 706-227-1515 • nuci.org
The Office Lounge • 2455 Jefferson Rd. • 706-546-0840 • facebook.com/OfficeAthens
UGA Performing Arts Center • 230 River Rd. • 706-542-4400 • pac.uga.edu
The World Famous • 351 N. Hull St. • 706-543-4002 • facebook.com/theworldfamousathens