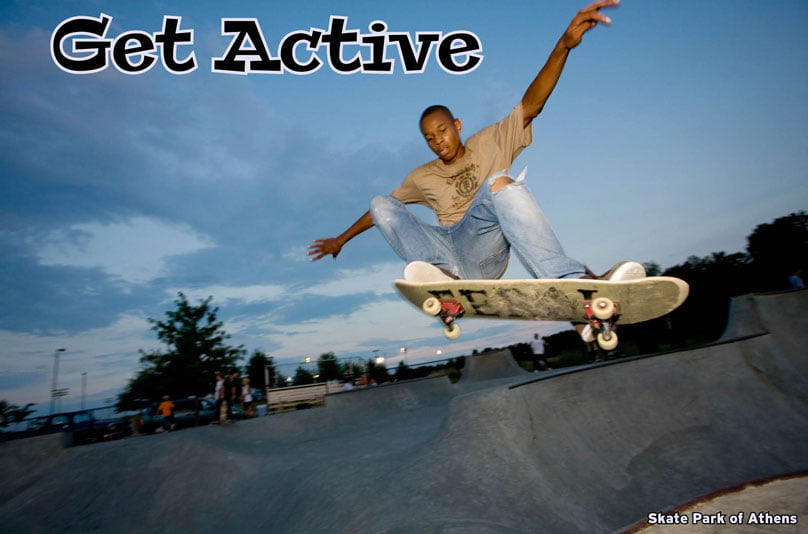 Stay Inside
Active Climbing
665 Barber St. • 706-354-0038 • activeclimbing.com
Air-conditioned adventures at the only local indoor climbing gym.
Canopy Studio
160 Tracy St., Unit C6 • 706-549-8501 • canopystudio.org
Aerial dance explorations on trapeze, pole or silks for all ages.
Escape the Space
540 Hawthorne Ave. • 706-389-5931 • escapethespace.com
Build team trust while solving a series of puzzles—or stay locked in the room.
Rush Athens
10 Huntington Road, Ste. B • 706-548-4470 • rushathens.com
Bounce around on trampolines, and other high-energy fun.
Get Outdoors
Big Dog's on the River
2525 Atlanta Hwy. • 706-353-6002 • bigdogsontheriver.com
Kayak on the Middle Oconee, with shoals to break up the ride.
BikeAthens
1075 W. Broad St. • bikeathens.com
Participate in a group bicycle ride through town, or go on a longer adventure.
Broad River Outpost
7911 Wildcat Bridge Road, Danielsville • 706-795-3242 • broadriveroutpost.com
Whitewater or scenic, kayak or canoe, day or night. Food and camping, too.
The Sandbar
3435 King Hall Mill Road, Bowman • 706-245-4163 • thesandbarbroadriver.com
Kayak the Broad River, or enjoy the ziplines and canopy tours.
Skate Park of Athens
4440 Lexington Road • 706-613-3991 • facebook.com/skateparkofathens
Ramps and bowls for serious skaters and BMXers, with a planned street course in the works.
Join the Team
Adult Soccer and Softball Leagues
706-613-3589 • athensclarkecounty.com
Athens Area Men's Baseball League
297 Hoyt St. • 706-207-8939 • aambl.com
Athens Area Pickleball
770-328-8449 • athensareapickleball.com
Athens Bike Polo
facebook.com/ATHBikePolo
Classic City Rollergirls
Athens Arena, 280 Commerce Blvd. • classiccityrollergirls.com
Go Kickball
gokickball.com/athens
Good Look Ultimate Frisbee
goodlookultimate.com
Premier Indoor Soccer
125 Mill Center Blvd. • premiersoccerathens.com
United Team Sports Center
375-B Commerce Blvd. • 706-850-3100 • utscenter.com
YWCO Adult Soccer
562 Research Dr. • 706-354-7880 • ywcosoccer.com