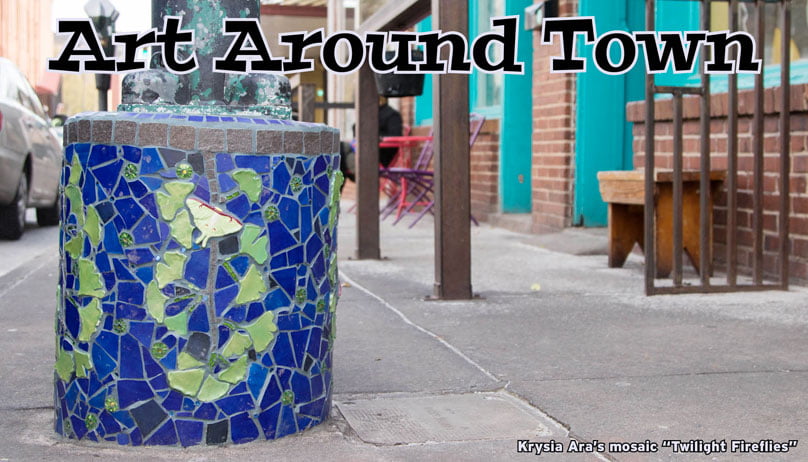 There are lots of galleries in Athens, and more artwork can be found woven into the fabric of town, adding bursts of color and character to the walls of coffee houses, restaurants, bars and shops. Check Flagpole's Art Around Town section for a list of current exhibitions. Through the efforts of organizations like the Athens Cultural Affairs Commission and Athens Area Arts Council, the arts scene continues to flourish. Third Thursday hosts extended hours from 6–9 p.m. once per month. Many studios offer biannual open houses and sales. For info on receptions and events, check Flagpole's calendar in print or at flagpole.com.
Athens Institute for Contemporary Art (ATHICA)
675 Pulaski St., Ste. 1200 • 706-389-5450 • athica.org
Hours: Check website
After 16 years in the Chase Park warehouses, this nonprofit relocated to the historic Leathers Building in summer 2018. ATHICA balances Athens-centric exhibitions with those of professional artists from across the country. "Emerges" highlights rising local artists, while a juried exhibition welcomes submissions from around the globe. In addition to opening receptions, exhibitions are often accompanied by workshops, performances and talks with visiting artists.
Aurum Studios
125 E. Clayton St. • 706-546-8826 • aurumstudios.com
Hours: Mon–Fri, 10 a.m.–6 p.m.; Sat, 10 a.m.–5 p.m.
Established in 1975, Aurum Studios specializes in fine jewelry but also features a wide collection of ceramics, woodwork, glass and paintings. Rotating exhibitions highlight the works of local artists.
Ciné
234 W. Hancock Ave. • 706-353-3343 • athenscine.com
Hours: When the theater is open
More than movies, Ciné also features visual art. The exhibit space runs down both walls from the entrance and highlights a few select artists each year. Art can be viewed during the same hours as the theater, but you don't have to buy tickets to check out the art or enjoy the opening receptions.
The Circle Gallery
285 S. Jackson St. • 706-542-8292 • ced.uga.edu
Hours: Mon-Fri, 9 a.m.–6 p.m. during the academic year
Part of UGA's College of Environment and Design and housed on North Campus, the Circle Gallery celebrates the relationship between fine art and themes of landscape architecture, historic preservation and, naturally, environmental design. Recent artists include sculptor Jean Westmacott, landscape architect Warren H. Manning and painter Rich Panico.
The Classic Center
300 N. Thomas St. • 706-208-0900 • classiccenter.com
Hours: When the Center is open
In addition to awarding grants and scholarships, the Classic Center Cultural Foundation funds the purchase of local art, which adorns the large walls of the conference and events venue. Some art remains on view permanently, while even more changes biannually through exhibitions curated by Didi Dunphy.
The Dodd Galleries
270 River Road • 706-542-1511 • art.uga.edu/galleries
Hours: Mon–Fri, 9 a.m.–5 p.m., except university holidays
UGA's renowned art school neighbors the Georgia Museum of Art. In addition to BFA exit shows, which pop up near the end of each semester to showcase the works of graduating students, multiple galleries host exhibitions by students, faculty and visiting artists that rotate year-round. Events include receptions and lectures by artists and art historians.
Gallery@Hotel Indigo-Athens
500 College Ave. • 706-546-0430 • indigoathens.com
Hours: Same as the hotel lobby
Contemporary exhibitions within this downtown boutique hotel typically have a group focus and a theme, carefully curated by Didi Dunphy. The Glass Cube, a literal glass cube located just outside the hotel's main entrance, serves as a unique space for site-specific installations.
Georgia Museum of Art
90 Carlton St. • 706-542-4662 • georgiamuseum.org
Hours: Tue, Wed, Fri and Sat, 10 a.m.–5 p.m.; Thu, 10 a.m.–9 p.m.; Sun, 1–5 p.m.
Georgia's official art museum on UGA's East Campus houses a large permanent collection of paintings, prints, decorative arts, sculpture and more. This year's lineup includes "Central to Their Lives: Southern Women Artists in the Johnson Collection," "One Heart, One Way: The Journey of a Princely Art Collection," "For Home and Country: World War I Posters from the Collection of Murray and Ann Blum," "Vernacular Modernism: The Photography of Doris Ulmann," "Richard Hunt: Synthesis" and "Louis Comfort Tiffany: Treasures from the Driehaus Collection." Admission is free, as are almost all of its many events: gallery tours, lectures, films, workshops for teens, a monthly Family Day and triannual late-night art parties with a DJ. A café serves coffee and snacks Tuesday through Friday afternoons in the lobby.
Hip Vintage & Handmade
215 Commerce Blvd. • 706-215-9585 • hipvintagehandmade.com
Hours: Wed, Thu and Sat, 10 a.m.–6 p.m. Fri, 10 a.m.–8 p.m.
With over 100 vendors represented, the market offers antiques and vintage items as well as a wide selection of handmade goods and crafts by local artists. Exhibitions rotate monthly and typically range from paintings, drawings and sculptures.
Howard's Gallery
119 N. Jackson St. • howardsartgallery.com
Hours: Check website
Recently established by artist and New York transplant Ridley Howard, this gallery shares a physical space with Tif Sigfrids. The two collaborators plan to present distinct programming, using the space's three rooms however feels best. Howard's inaugural exhibition shared works by Milano Chow and Torkwase Dyson, and upcoming shows feature Eleanor Ray and Yanique Norman.
Lowery Gallery
2400 Booger Hill Road, Danielsville • 706-248-9599 • lowerygallery.com
Hours: Tue–Sat, 11 a.m.–5 p.m.
The gallery of photographer Robert Lowery specializes in large-scale, art-quality prints. Occasional exhibitions typically have a thematic focus.
Lyndon House Arts Center
211 Hoyt St. • 706-613-3623 • athensclarkecounty.com/lyndonhouse
Hours: Tue and Thu, 12–9 p.m.; Wed, Fri and Sat (except home football games), 9 a.m.–5 p.m.
Run by Athens-Clarke County Leisure Services, the arts center displays professional exhibitions in large, sunny galleries upstairs and down, while the Ware-Lyndon House museum offers a glimpse into Athens' past through period decor and artifacts. In addition to offering classes, kids' summer camps and the occasional festival, the center serves as the meeting grounds for a handful of local craft groups. A gift shop features items created by regional artists.
Madison-Morgan Cultural Center
434 S. Main St., Madison • 706-342-4743 • mmcc-arts.org
Hours: Tue–Sat, 10 a.m.–5 p.m.; Sun, 2–5 p.m.
The nonprofit center is located outside of Athens in a beautifully restored 1895 Romanesque Revival building. Programming includes visual art exhibitions, performing arts and annual events such as an antiques show, chamber music festival and tour of homes.
The Myers and Bertelsmann Galleries at Athens Academy
1281 Spartan Lane • 706-549-9225 • athensacademy.org
Hours: Mon–Fri, 8 a.m.–4 p.m. (Closed June and July)
Athens Academy, a local private pre-K–12 school, includes two galleries on its large campus that are open to public viewing. Typically dedicated to displaying student masterpieces, the walls will occasionally feature professional local artists.
Oconee Cultural Arts Foundation (OCAF)
34 School St., Watkinsville • 706-769-4565 • ocaf.com
Hours: Tue–Sat, 10 a.m.–4 p.m.
Centered in a turn-of-the-century schoolhouse, OCAF promotes performing, visual and literary arts through festivals, exhibitions and classes for all ages. Longstanding annual events include "Southworks," a national juried art exhibition; "Perspectives," the Georgia pottery invitational; a members' exhibition; and a holiday market. Smaller exhibitions are hosted in a converted classroom adjacent to the main gallery.
Tif Sigfrids
119 N. Jackson St. • info@tifsigfrids.com • tifsigfrids.com
Hours: Thu–Sat, 11 a.m.–5 p.m., or by appointment
Downtown's newest gallery, which shares a space with Howard's, debuted in summer 2018 with an exhibition focused around folk painter Art Rosenbaum and his portraits of fellow artists. Owner Tif Sigfrids relocated her gallery from Los Angeles and anticipates showcasing the works of many visiting artists.
Trio Contemporary Art Gallery
766 W. Broad St. • 706-850-5112 • trioathens.com
Hours: Sat–Sun, 12–5 p.m. (Check website for seasonal hours)
Opened in June 2017, Trio is housed upstairs from Pixel & Ink Studio and features three rooms for revolving exhibitions, installations, murals, performances and other programming. Artistic director Tatiana Veneruso considers proposals from curators, artists and collectives, with all media welcome.
UGA Special Collections Libraries
300 S. Hull St. • 706-542-7123 • libs.uga.edu/scl
Hours: Mon–Fri, 8 a.m.–5 p.m.; Sat, 1–5 p.m. (except home football games)
The galleries feature items from the collections of the Hargrett, Russell and Brown Archives. Historical pieces include photographs, manuscripts, maps and memorabilia.
Winterville Center for Community and Culture
371 N. Church St., Winterville • 706-742-0823 • wintervillecenter.com
Hours: Mon–Fri, 9 a.m.–5 p.m.
Opened in spring 2016, this $1.3 million renovation project transformed the former Winterville High School building into a regional enrichment center for adults. Exhibitions rotate every two months and vary in theme and style. In addition to the exhibition hall, the facility includes a demonstration kitchen, dining and activity space and classrooms for hosting lectures, workshops and other events.
Art Classes
ARTini's Art Studio, Gallery & Lounge
337 Prince Ave. • 706-353-8530 • artinisartlounge.com
Learn to paint while enjoying an adult beverage.
Community
260 N. Jackson St. • 706-316-2067 • shopcommunityathens.com
Garment-making in beginner and intermediate sewing courses.
Good Dirt
485 Macon Hwy. • 706-355-3161 • gooddirt.net
Pottery classes for all ages in a variety of techniques.
The K.A. Artist Shop
127 N. Jackson St. • 706-850-1224 • kaartist.com
Photo-room rentals, workshops and art supplies.
The Loft Art Supply
1035 Baxter St. • 706-548-5334 • loftartsupply.com
Fine-art supplies, a drawing circle and crafting classes.
Lyndon House Arts Center
211 Hoyt St. • 706-613-3623 • athensclarkecounty.com/lyndonhouse
Adult and youth classes in diverse media.
Oconee Cultural Arts Foundation (OCAF)
34 School St., Watkinsville • 706-769-4565 • ocaf.com
A wide variety of art and craftwork programs.
The Pearl Girls
548 Hawthorne Ave. • 706-850-5296 • thepearlgirls.com
Classes in pearl-stringing and wire-wrapping.
Revival Yarns
297 Prince Ave., No. 17 • 706-850-1354 • revivalyarnsathens.com
Knit and crochet classes.
State Botanical Garden of Georgia
2450 S. Milledge Ave. • 706-542-1244 • botgarden.uga.edu
Informal garden rambles and classes on garden-related art.
UGA Continuing Education
1197 S. Lumpkin St. • 706-542-3537 • georgiacenter.uga.edu
Various classes available, such as photography.