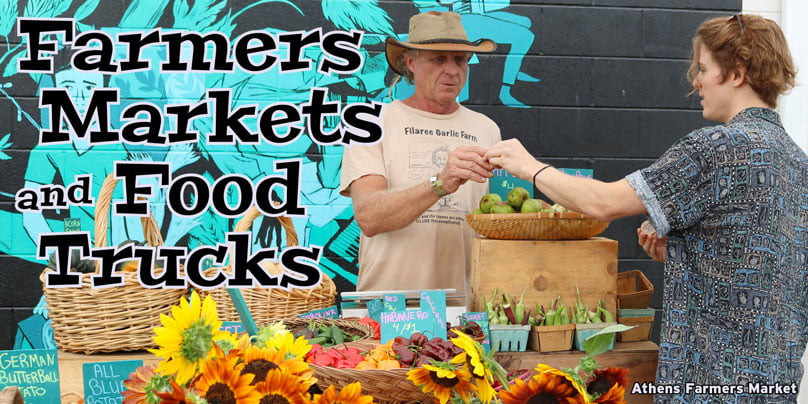 Food Trucks
Biggums Bar-B-Que
706-286-0833 • biggumsbbq.com
Ribs, chicken and pork, sides, cobbler and more. Roaming, plus special events.
Da Munchiezz
199 Park Ave. • 706-201-3982 • facebook.com/igotdamunchiezz00
Chow down on ribs, jerk chicken, pulled pork, hot dogs, sausages and homestyle sides, all out of a food truck you'll see around town, sometimes even on the Eastside.
Hip Pops
160 Tracy St., Ste. 13 • 706-705-2161 • hippopsathens.com
Handmade popsicles in fresh flavors with punny names from the little purple cart at special events.
Hokulia Shave Ice
1225 College Station Road • 770-324-8313 • facebook.com/hokuliaathensga
Hawaiian-style shave ice found mostly on College Station, but also special events. Locations on Facebook.
Holy Crepe
197 Park Ave. • 706-765-7087 • facebook.com/holycrepeathens
Sweet and savory crepes available downtown, at Athens Farmers Market, Terrapin and on Sunday morning on Boulevard. Check Facebook for updates.
King of Pops
kingofpops.net
Atlanta-based fancy popsicles under a rainbow umbrella. Sometimes downtown, almost always at special events.
Kona Ice
770-310-3930 • facebook.com/konaiceathens
Retailing shave ice with brightly colored syrup in a ton of flavors, this truck sets up at special events, prearranged events and on Baxter Street during UGA home games.
The Lil' Ice Cream Dude
706-255-7450 • lilicecreamdude.com
Young entrepreneur Beau Shell retails novelty popsicles at special events, in Sanford Stadium and via catering. His store on the Eastside should summer 2018.
Manila Express
199-A Park Ave. • manilaexpressga.com
Filipino snacks from this cutie-pie truck, with a home base on Boulevard. Lumpia, shrimp chips, adobo and more.
Nedza's Waffles
678-936-3794 • nedzas.com
Puffle cones with ice cream, cookie dough, fruit, syrup and toppings. Athens Farmers Market and special events.
Rashe's Cuisine
facebook.com/RasheCuisine
Jamaican jerk, oxtail, curries, veggies and more. Food truck should be up and running soon.
Street Stix
streetstix.net
Greek-inspired food, both pitas and on a stick: lamb, chicken, meatballs, pork, vegan mustard-seed croquettes. At Terrapin Fridays and Sundays.
Taqueria 1785
706-542-1256 • facebook.com/Taqueria1785
UGA's taco truck has some solid offerings, including great veggie options. Locations on Twitter and Facebook.
Wing House Express
Find Us on Facebook
Wings and the like, as you might expect. A regular at Oconee Brewing Company, plus special events.
Farmers Markets
Athens Farmers Market
athensfarmersmarket.net
Saturdays, 8 a.m.–12 p.m. April through December at Bishop Park and Wednesdays, 4–7 p.m. April through November in the Creature Comforts lot downtown. Credit, debit or EBT (which gives you double dollars) can be exchanged for wooden tokens. Produce, good meats, cheese, locally roasted coffee, eggs from happy chickens, cold-pressed juice, gifts, flowers and excellent handmade pasta. Live music, cooking demonstrations and food trucks like Farm Cart, which serves up tasty breakfasts and dinners and takes Square for payment.
Oconee Farmers Market
23 N. Main St. & 4 Main St., Watkinsville • oconeefarmersmarket.org
OFM operates in two different locations, both in downtown Watkinsville: Saturdays, 8 a.m.–1 p.m. in front of the courthouse and Tuesdays, 4–7 p.m. at First Christian Church. Produce, prepared foods, meats and gifts, all from within a 100-mile radius.
Opa Robby's Market
3129 Atlanta Hwy. • 706-850-8210 • oparobbysmarket.com
Open daily 10 a.m.–6 p.m. (noon–6 p.m. on Sunday) in a brightly painted former garage in front of Target, Opa Robby's is a combination country store, farmers market and retailer of delicious prepared foods. Great deals on produce and a regularly updated Facebook page with specials.
UGArden Produce Stand
135 Hoyt St. (ACCA) • 706-549-4850 • facebook.com/ugardeners
UGA student organization sells produce at great prices around town at middle schools and the Athens Community Council on Aging.
West Broad Farmers Market
1573 W. Broad St. • 706-613-0122 • athenslandtrust.org
Located at the historic West Broad School next to garden plots run by Athens Land Trust with the locals, the market runs Saturdays 10 a.m.–2 p.m., with a strong focus on educational activities. Live DJ, chess, crafts and yoga in the garden. Lots of eats: healthful soul food, Abrahim's Parlor (Trinidadian street food), Rashe's Jamaican, Mexican food and more.