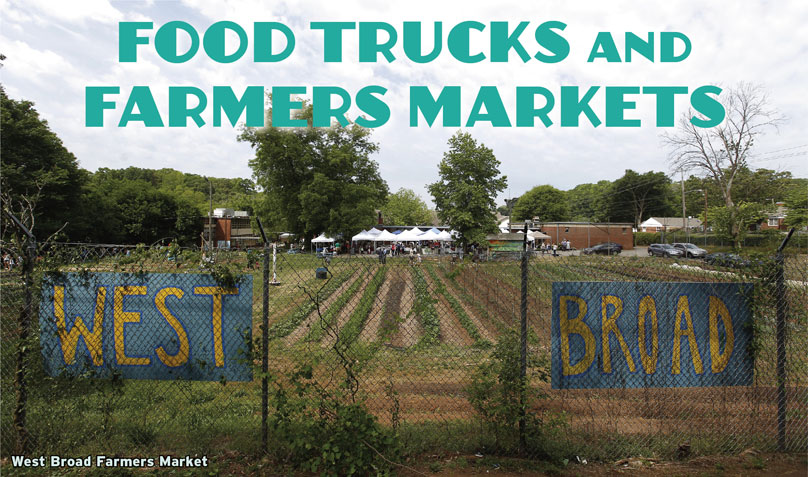 Food Trucks
Da Munchiezz
facebook.com/projectwetdreams
Ribs, jerk chicken, pulled pork, hot dogs, sausages, homestyle sides, all out of a food truck you'll see around town.
Hip Pops
hippopsathens.com
Handmade popsicles in fresh flavors with punny names, available from the cart at special events, in the freezer at Daily Groceries and elsewhere.
Holy Crepe
facebook.com/holycrepeathens
Sweet and savory crepes, found downtown and at special events.
King of Pops
kingofpops.net
Atlanta-based fancy popsicles. Locations include Five Points and downtown (at Broad and College), but the carts also show up at special events.
Kona Ice
facebook.com/konaiceathens
Retailing shaved ice with brightly colored syrup in a ton of flavors, this truck sets up at special events, on Baxter Street during UGA home games, at Sandy Creek Park and beyond.
The Lil' Ice Cream Dude
lilicecreamdude.com
Local youngster Beau Shell retails novelty popsicles at special events, in Sanford Stadium and via catering.
Manila Express
instagram.com/manilaexpressga
Filipino snacks from this cutie-pie food truck found around town. Lumpia, shrimp chips, adobo and more.
Nedza's Waffles
nedzas.com
Large, eye-catching waffles folded into a paper cone and topped with ice cream, fruit, Nutella and other goodies
Taza
tazafoods.org
Falafel, fried pickles, baklava and tea, at various locations.
Farmers Markets
Athens Farmers Market
athensfarmersmarket.net
Held Saturdays 8 a.m.–12 p.m. April to December at Bishop Park and Wednesdays 4–7 p.m. April to November in the Creature Comforts.
Oconee Farmers Market
oconeefarmersmarket.org
The OFM operates in downtown Watkinsville on Saturdays 8 a.m.–1 p.m. in front of the courthouse. Produce, prepared foods, meats and gifts, all from within a 100-mile radius..
Opa Robby's
3129 Atlanta Hwy. • 706-850-8210 • oparobbysmarket.com
Open daily 10 a.m.–6 p.m. (noon–6 p.m. Sunday) in a brightly painted former garage on the highway, Opa Robby's is a combination country store, farmers market and retailer of delicious prepared foods. Great deals on produce, and a regularly updated Facebook page with specials.
UGArden Produce Stand
134 Hoyt St. • 706-549-4850 • facebook.com/ugardeners
This UGA-run volunteer student organization sells produce at great prices during pop-ups at various locations, including area middle schools and the Athens Community Council on Aging.
West Broad Farmers Market
1573 W. Broad St. • athenslandtrust.org
Located at the historic West Broad School next to garden plots run by Athens Land Trust with the locals, the market is open Saturdays 9 a.m.–1 p.m., with a strong focus on educational activities. Live music, food, chess, crafts and yoga in the garden, plus free bus rides.