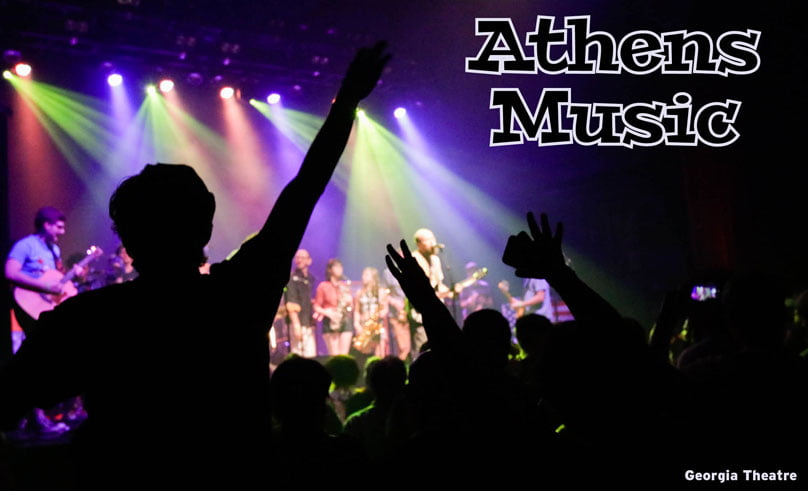 10 Things to Know About Athens Music
1. There's Something for Everyone
Athens is known for its major contributions to the alternative rock, new wave and Southern rock canons—think R.E.M., The B-52s and Drive-By Truckers—but there's a whole lot else going on in town, from rap to punk to folk to experimental and beyond. Make sure to pick up Flagpole for a full weekly rundown.
2. The 'Khaki Divide' Is Real
The joke is that downtown is split into competing musical halves by Lumpkin Street, with the eastern end's college bars bursting with noodly jam bands and classic-rock cover acts, and the western portion home to a more diverse set of venues catering to hipsters, townies and in-the-know undergrads. The line is often blurred, but as a guiding principle this holds true.
3. It's Not All About Downtown
Downtown is Athens music's epicenter, but branch out and you'll find more to discover. Terrapin's northside brewery presents an eclectic range of touring acts. In Homewood Hills, The Office Lounge plays to a seasoned crowd with blues, Southern rock and beyond. And keep your ear to the ground for house-show announcements, as a rotating list of DIY venues host backyard and basement throwdowns.
4. Early Birds and Night Owls Are Welcome
Athens shows have a longstanding reputation for starting late and ending just shy of last call, but with audiences skewing slightly older, many venues are offering earlier events, from the Georgia Theatre Rooftop's various summertime series to jazz nights at Hendershot's to family-friendly brewery showcases and much more.
5. It's All Over the Airwaves
You can hear lots of local music on the radio, starting with WUOG 90.5 FM, UGA's student-run outfit that broadcasts the weekly "Live in the Lobby" showcase. NPR affiliate WUGA 91.7 and 94.5 FM airs classical performances, plus The Rotation, a group of shows focused on Athens music. And a Sunday-evening program on modern-rock station Bulldog 93.3 often features local acts.
6. We've Got a World-Class Vinyl Plant
When Kindercore Vinyl opened in 2017, it became the only currently operating vinyl-manufacturing facility in the state of Georgia, and one of only a handful in the country. Given records' ongoing comeback, the plant has stayed busy pressing local and national releases but occasionally finds time to open its doors for public events, including concerts.
7. UGA Puts the 'Classic' in 'The Classic City'

Though its sheer size and a lack of effective town-gown communication can make the university seem intimidating to newcomers, its cultural programming is open to the public and worth taking advantage of. The Performing Arts Center brings in acclaimed classical and world-music artists, with the 2018–'19 schedule including Ladysmith Black Mambazo, the Vienna Boys Choir, New York Philharmonic String Quartet and more.
8. Summer Is Hot, Hot, Hot
Athens does tend to slow down once summer rolls around. But several annual happenings keep the town hoppin' in the hotter months, including our flagship music event, AthFest, in late June; the hip hop, gospel and soul-centric Hot Corner Celebration, earlier that month; the punky SlopFest, in July; and Athens Popfest, in August. See the Annual Events section for more.
9. Hip Hop Has the Spotlight
Athens rap has experienced a serious resurgence in recent years, thanks to the tireless work of a dedicated group of emcees and promoters. Hip hop dominates the live-music landscape and takes center stage at the Athens Hip Hop Awards, held in early spring. It's also inextricably linked to local politics, with firebrand rapper Mariah Parker, aka Linqua Franqa, having been elected to the county commission in 2018.
10. Flagpole Has You Covered
This Guide is full of horn-tootin', but we mean it when we say that Flagpole is your guide to all things Athens music, from the weekly print edition and comprehensive calendar to our online premieres, photo galleries and live reviews to the annual Flagpole Athens Music Awards and beyond. Covering local music was our founding mission, and it's still a huge part of who we are and what we do.
Music Venues
Boar's Head Lounge
260 E. Washington St. • 706-369-3040
Weekly open-mic jams, plus rock, country and cover bands.
Caledonia Lounge
256 W. Clayton St. • 706-549-5577 • caledonialounge.com
If you can find it, you're in. Enjoy punk, hip-hop and metal shows nightly.
The Classic Center
300 N. Thomas St. • 706-357-4444 • classiccenter.com
The Center's auditorium and 440 Foundry Pavilion host high-profile touring acts.
Flicker Theatre & Bar
263 W. Washington St. • 706-546-0039 • flickertheatreandbar.com
Indie-rock, experimental pop and much more can be heard in the intimate side room.
40 Watt Club
285 W. Washington St. • 706-549-7871 • 40watt.com
The 40 Watt is an Athens institution. Acclaimed touring artists and up-and-coming locals share its storied stage.
The Foundry
295 E. Dougherty St. • 706-389-5549 • thefoundryathens.com
Eat at the in-house restaurant and enjoy early showtimes, with a lineup not limited to folk, country, jazz, blues and tribute acts from Athens and beyond.
Georgia Theatre
215 N. Lumpkin St. • 706-850-7670 • georgiatheatre.com
The renovated Theatre is where in-demand touring acts play. The rooftop bar also features daily live music from early spring through early fall.
The Globe
199 N. Lumpkin St. • 706-353-4721
The cozy upstairs space features jazz, folk and other sophisticated sounds.
Go Bar
195 Prince Ave. • 706-546-5609 • facebook.com/go.bar.35
Expect the unexpected from this hipster hotspot, which hosts avant-garde nights, dance parties, karaoke and more.
Hendershot's Coffee Bar
237 Prince Ave. • 706-353-3050 • hendershotscoffee.com
Coffee joint and watering hole known for jazz and folk shows, plus open mic and more.
Highwire Lounge
269 N. Hull St. • 706-543-8997 • highwirelounge.com
Enjoy live jazz at this upscale cocktail bar, plus a weekly silent disco.
Iron Factory
255 W. Washington St. • 706-395-6877 • ironfactoryinc.com
Listen to rock, rap and more on the restaurant's outdoor patio.
Little Kings Shuffle Club
223 W. Hancock Ave. • 706-369-3144 • facebook.com/lkshuffleclub
DJ gigs, karaoke, punk shows and Latin sounds, often outdoors in the warmer months.
Live Wire Athens
227 W. Dougherty St. • 706-543-8283 • livewireathens.com
Discover live electronic, funk, hip hop and more. The patio is a sweet spot to hang.
Morton Theatre
195 W. Washington St. • 706-613-3770 • mortontheatre.com
Gospel and soul in a historic space, plus the Flagpole Athens Music Awards show each June.
Nowhere Bar
240 N. Lumpkin St. • 706-546-4742 • facebook.com/nowherebarathens
A nightly stream of national and local talent, with themed series and a focus on jam, funk and rock.
Nuçi's Space
396 Oconee St. • 706-227-1515 • nuci.org
The nonprofit organizes showcases for its Camp Amped program for kids, plus the occasional benefit concert.
The Office Lounge
2455 Jefferson Road • 706-546-0840 • facebook.com/OfficeAthens
A popular karaoke night, plus regional rock and blues bands Thursday through Saturday.
Terrapin Beer Co.
265 Newton Bridge Road • 706-549-3377 • terrapinbeer.com
All of Athens' great breweries host live music on the regular, but Terrapin's separately ticketed space, with state-of-the-art sound and lighting, showcases punk, country, funk and more.
UGA Performing Arts Center
230 River Road • 706-542-4400 • pac.uga.edu
Classical performances from students and faculty, plus celebrated symphonies, world music and much more.
Venom
1700 Commerce Road • 706-438-2048 • facebook.com/venomvenue
This renovated event space north of town is Athens' closest thing to a big-city nightclub, featuring live hip hop, DJs, Latin music and lots more.
The World Famous
351 N. Hull St. • 706-543-4002 • facebook.com/theworldfamousathens
A tiny room with a ton of character, exploring indie, hip-hop, experimental and beyond.