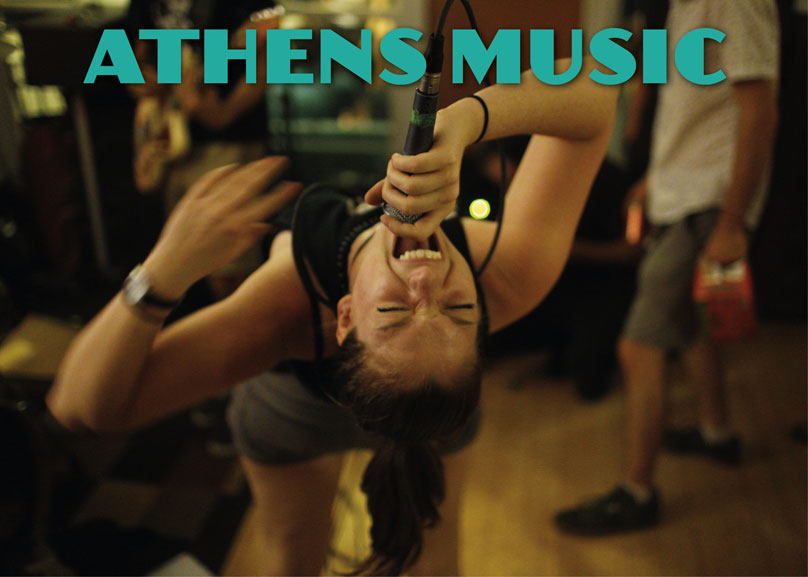 When most people hear the phrase "Athens music," they conjure up sounds from the Classic City's new-wave golden age. But there was much that came before. In the 1920s and '30s, the black-owned Morton Theatre hosted the likes of Duke Ellington, Ma Rainey and Cab Calloway. The Jesters brought "beach music" to Athens in the '60s. Randall Bramblett and the Normaltown Flyers helped establish Athens as a breeding ground for original rock and roll in the 1970s, paving the way for Pylon, the B-52s, Love Tractor and R.E.M. to put their iconoclastic—and iconic—spin on Southern rock.
Of course, the story doesn't stop there. The Elephant 6 collective's output during the 1990s proved influential on a global scale, with bands like Neutral Milk Hotel, of Montreal and Elf Power paving the way for the ensuing indie-rock explosion. Drive-By Truckers helped usher in a similarly seismic roots-rock revival shortly after, while establishing a moral blueprint for white musicians in the 21st Century Deep South. And Widespread Panic, now a jam-band juggernaut, got its start at the Georgia Theatre and other, long-gone local haunts.
Athens music still thrives. A dozen-plus venues host a constant stream of local and touring talent, meaning you can catch a good show (or two) nearly every night. Annual events like AthFest and Athens Popfest are showcases for what's cool and current. Local hip-hop, Latin and electronic musicians have challenged the scene establishment's inherent rockism, and are making some of the most exciting sounds in town. All this, plus international acclaim for recent exports like indie-pop group Mothers, has shown that our creative flame is in no danger of burning out anytime soon.
There's also a small but growing industry presence in Athens. As retailers like Wuxtry Records and Low Yo Yo Stuff can attest, vinyl-record sales are off the charts. In 2017, a locally owned record manufacturing plant, Kindercore Vinyl, will open for business, becoming one of only a handful of such facilities in the U.S. On campus, the UGA Music Business Program is led by Athens-music hero David Barbe and features faculty like Cracker frontman and artist-rights advocate David Lowery. Several local recording studios flourish, attracting upstarts and rock stars alike. And Nuçi's Space, east of downtown, offers low-cost rehearsal rooms, plus health resources for local musicians.
Believe us, we know: It's a lot to keep track of! Your No. 1 resource for all things Athens music is Flagpole, whether you choose to consult this Guide, the weekly print edition or flagpole.com, where you can find all our music coverage, plus a constantly updated calendar and plenty of streaming links for new, local sounds. And don't miss the Flagpole Athens Music Awards each June, where we celebrate local music by handing out trophies in more than 20 categories, based on readers' votes.
Music Venues
Boar's Head Lounge
260 E. Washington St. • 706-369-3040
Open-mic jams weekly, plus rock, country and cover bands on the weekend.
Caledonia Lounge
256 W. Clayton St. • 706-549-5577 • caledonialounge.com
Tucked away behind the 40 Watt is this low-key local favorite hosting rock, hip-hop and metal shows on the regular.
The Classic Center
300 N. Thomas St. • 706-357-4444 • classiccenter.com
The convention hall's massive auditorium hosts high-profile touring acts.
Flicker Theatre & Bar
263 W. Washington St. • 706-546-0039 • flickertheatreandbar.com
Lots of original art on the walls, and indie-rock bands in the side room.
40 Watt Club
285 W. Washington St. • 706-549-7871 • 40watt.com
There would be no Athens music scene without the 40 Watt. Famous touring artists and up-and-coming locals worship its hallowed stage.
The Foundry
295 E. Dougherty St. • 706-389-5549 • thefoundryathens.com
A full restaurant, comfy seating and early showtimes, with a focus on folk and Americana from Athens and beyond.
Georgia Theatre
215 N. Lumpkin St. • 706-850-7670 • georgiatheatre.com
The Theatre is the spot to see big-name touring acts. The rooftop bar and restaurant also features live music in spring, summer and early fall.
The Globe
199 N. Lumpkin St. • 706-353-4721
The cozy upstairs space often features jazz concerts and other sophisticated sounds.
Go Bar
195 Prince Ave. • 706-546-5609 • facebook.com/go.bar.35
The hipster hangout hosts experimental showcases, DJ nights, karaoke and more.
Hendershot's Coffee Bar
237 Prince Ave. • 706-353-3050 • hendershotscoffee.com
This coffee house is known for its jazz and folk showcases, plus a popular open-mic night.
Highwire Lounge
269 N. Hull St. • 706-543-8997 • highwirelounge.com
Enjoy live jazz and blues at this fancy-feeling cocktail bar, plus a weekly silent disco.
Iron Factory
255 W. Washington St. • 706-395-6877 • ironfactoryinc.com
Hear rock, rap and metal on the restaurant's outdoor patio, plus open-mic events.
Little Kings Shuffle Club
223 W. Hancock Ave. • 706-369-3144 • facebook.com/lkshuffleclub
DJ dance parties, punk shows and Latin sounds, often outdoors in the summer.
Live Wire Athens
227 W. Dougherty St. • 706-543-8283 • livewireathens.com
Acts range from rock to bluegrass to electronica and beyond. The patio is a great spot to hang.
Morton Theatre
195 W. Washington St. • 706-613-3770 • mortontheatre.com
Gospel and soul in a historic space, plus the Flagpole awards show each June.
Nowhere Bar
240 N. Lumpkin St. • 706-546-4742 • facebook.com/nowherebarathens
A nightly stream of regional talent, with recurring themed series and a focus on jam, funk and rock and roll.
Nuçi's Space
396 Oconee St. • 706-227-1515 • nuci.org
The nonprofit hosts showcases for its Camp Amped program for kids, plus the occasional benefit concert.
The Office Lounge
2455 Jefferson Road • 706-546-0840 • facebook.com/OfficeAthens
A popular karaoke night, plus regional rock and blues bands Thursday through Saturday.
UGA Performing Arts Center
230 River Road • 706-542-4400 • pac.uga.edu
Classical performances from students and faculty, plus world-renowned orchestras, traditional folk acts and beyond.
The World Famous
351 N. Hull St. • 706-543-4002 • facebook.com/theworldfamousathens
A tiny room with a lot of character, featuring hip-hop, experimental and lots more.