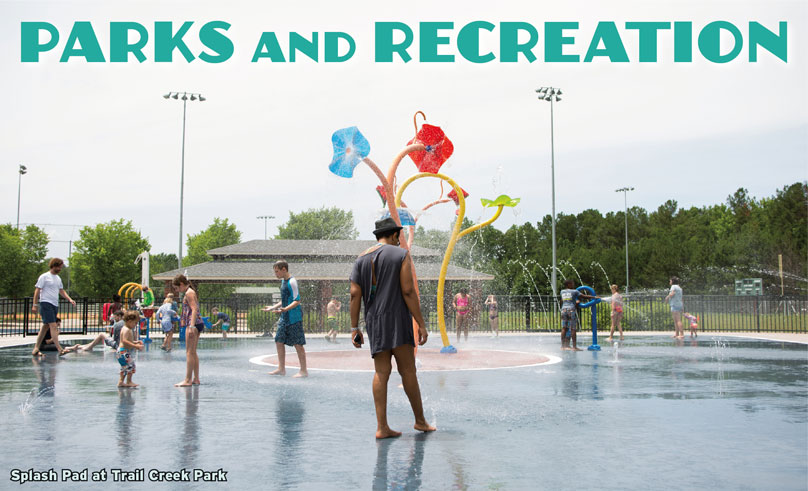 Amenities vary, and are indicated by symbols in the print Guide. Picnic shelters must be rented ahead of time, except for the one at Reese & Pope Park, which is free on a first-come basis. Athens' only public golf course is the UGA Golf Course, at 2600 Riverbend Road; Lane Creek Golf Club is in nearby Bishop.
Athens-Clarke County
athensclarkecounty.com/149/Parks-Facilities
Ben Burton Park
616 Mitchell Bridge Road • 706-613-3801
Hours: sunrise–sunset
The 32-acre wildlife preserve features a hardwood forest, trails and plenty of picnic spots. A boat launch provides access to the Middle Oconee River.
Bishop Park
705 Sunset Dr. • 706-613-3589
Hours: 8 a.m.–sunset
Equipped with athletic fields and courts for a variety of sports. Programs include tennis, gymnastics, swimming and more. The Athens Farmers Market runs Saturday mornings, April to December.
Boulevard Woods
298 Barber St. • 706-613-3801
Hours: sunrise–sunset
A pocket park thoughtfully designed by local volunteers.
Dudley Park
100 Dudley Park Dr. • 706-613-3801
Hours: sunrise–sunset
Right outside of downtown, with open fields and paved walkways.
East Athens Community Center
400 McKinley Dr. • 706-613-3593
Hours: Mon–Fri, 8 a.m.–9 p.m.; Sat, 9 a.m.–6 p.m.; Sun, 2–6 p.m.
The center features indoor and outdoor activities for everyone as well as a branch of the public library.
Holland Youth Sports Complex
250 Vincent Dr. • 706-613-3991
Hours: 8 a.m.–sunset
The 62-acre facility hosts baseball and softball games, soccer tournaments and more.
Memorial Park
293 Gran Ellen Dr. • 706-613-3580
Hours: sunrise–sunset
A popular park in Five Points, home to the Bear Hollow Zoo (open 9 a.m.–5 p.m.), a dog park, pond and pool, as well as Athens Creative Theater.
North Oconee River Park
300 Dr. Martin Luther King Jr. Pkwy. • 706-613-3615
Hours: sunrise–sunset
Stretched out along the North Oconee River, this narrow strip of green is convenient for a picnic or just watching the water.
Reese & Pope Park
375 Reese St. • 706-613-3801
Hours: sunrise–sunset
A small but serviceable neighborhood park, blocks from downtown.
Rocksprings Community Center & Park
291 Henderson Ext. • 706-613-3603
Hours: Mon–Fri, 9 a.m.–6 p.m.
The multipurpose park offers something for everybody with a pirate-ship playground, pool and picnic pavilion.
Sandy Creek Nature Center
205 Old Commerce Road • 706-613-3615
Hours: Tue–Sat, 8:30 a.m.–5:30 p.m.
See snakes and other critters up close. Learn about wildlife on a preserve with over four miles of trails. The remains of a 100-plus-year-old brick factory and 19th Century log house are also open for exploration.
Sandy Creek Park
400 Bob Holman Road • 706-613-3631
Hours: Tue–Sun., 7 a.m.–sunset
The county's largest park surrounds Lake Chapman with a beach, hiking trails, picnic sites, horse trails, a dog park and a disc-golf course, to name just a few of its resources.
Satterfield Park
3028 Cherokee Road • 706-613-3871
Hours: 8 a.m.–sunset
A center for team sports, where Little Leaguers dream big.
Southeast Clarke Park
4440 Lexington Road • 706-613-3871
Hours: 8 a.m.–sunset
Here you'll find the area's biggest playground, World of Wonder, with a slide tower and rock wall. Nearby is the Skate Park of Athens, with 14,000 square feet of concrete ramps, bowls and rails. There's also a dog park, tennis courts, soccer fields and trails.
Thomas N. Lay Park
297 Hoyt St. • 706-613-3596
Hours: Mon–Fri, 8 a.m.–9 p.m.; Sat, 9 a.m.–6 p.m.; Sun, 2–6 p.m.
Downtown and accessible to everybody looking for sports activity, indoors and out.
Trail Creek Park
200 Trail Creek St. • 706-613-0185
Hours: 8 a.m.–sunset
Formerly East Athens Community Park, Trail Creek Park is outfitted with a fitness zone, a popular splash pad and mountain bike trails.
UGA Parks
Legion Pool
830 S. Lumpkin St. • 706-542-8235 • tate.uga.edu/legionpool
Hours: late May through July, 11:30 a.m.–7 p.m.; first week in August, 3–7 p.m.
A historic pool with lap lanes, a bathhouse and snack bar, Legion is enjoyed by the university community and by those who join the Friends of Campus Life.
Oconee Forest Park
College Station Road at Alumni Drive • 706-542-4287 • warnell.forestry.uga.edu/ofp
Hours: dawn–dusk
This park sits on 60 acres behind the UGA intramural fields, preserving a 100-year-old forest and its wildlife. Other features include a large off-leash dog area plus foot and bike trails.
State Botanical Garden of Georgia
2450 S. Milledge Ave. • 706-542-1244 • uga.edu/botgarden
Hours: 8 a.m–8 p.m.
Recline by the beautiful and diverse gardens or explore the nature trails. The grounds include a visitors center with a conservatory and café and frequently serve as a concert or wedding venue. The Day Chapel in the woods is available for rental. No dogs.
Oconee County
oconeecounty.com/ocprd/index.php/oconee-parks-2
Bogart Sports Complex
S. Burson Ave., Bogart • 706-769-3965
Hours: dawn–11 p.m.
Lighted ballfields for users from the northeastern parts of Oconee County.
Heritage Park
2543 Macon Hwy., Watkinsville • 706-769-3965
Bike · Horse Trail · Restrooms · Walk
Hours: sunrise–sunset
This 364-acre park bordering the Apalachee River has miles of hiking/biking trails and horse-riding trails, as well as an open-air pavilion for agricultural and special events.
Herman C. Michael Park
1051 Elder Road, Bishop • 706-769-3966
Hours: Mon–Fri, 9 a.m.–6 p.m.
A large, sprawling park with lighted fields and courts, including a free disc golf course.
Oconee Veterans Park
3500A Hog Mountain Road, Watkinsville • 706-769-3965
Hours: Mon–Fri, 7 a.m.–9 p.m.; Sat, 8 a.m.–9 p.m.; Sun, 1–9 p.m.
A community center with walking trails, tennis courts and multipurpose fields outside and a gym and track inside.
City of Winterville
Pittard Park and Pavilion
Parkview and Church streets • 706-742-8600 • cityofwinterville.com/pittard-park
Hours: 7 a.m.–9 p.m.
In the heart of Winterville, this park features a party-sized pavilion, playgrounds and metal art by Beverly Babb. In May, the park hosts the Marigold Festival.
State of Georgia
Fort Yargo State Park
210 S. Broad St., Winder • 770-867-3489 • gastateparks.org/fortyargo
Hours: 7 a.m.–10 p.m.
This state park on a lake features a 1792 log fort and campsites including yurts and cabins.
Watson Mill Bridge State Park
650 Watson Mill Road, Comer • 706-783-5349 • gastateparks.org/watsonmillbridge
Hours: 7 a.m.–10 p.m.
This state park contains the longest covered bridge in the state, as well as log cabins and campsites, horseback riding trails and a river perfect for wading or paddling.