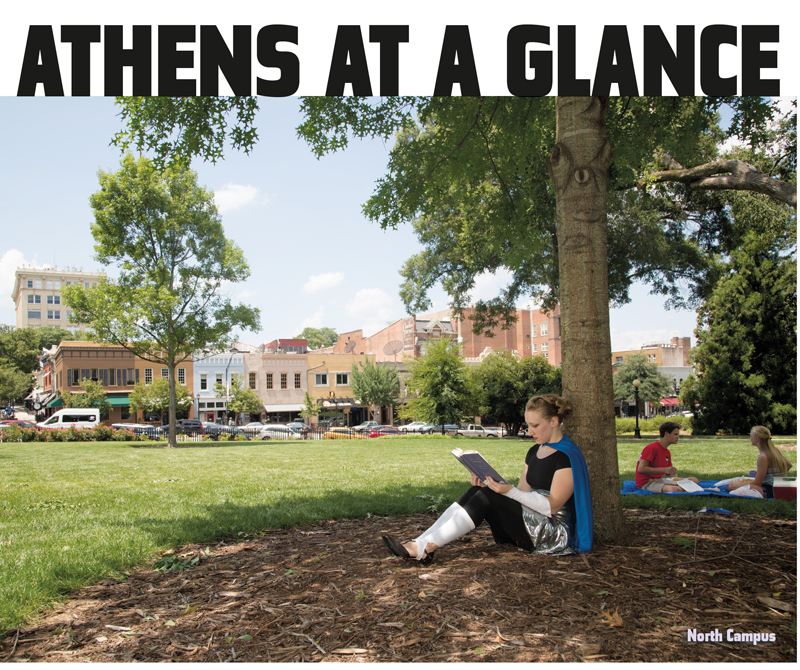 Athens began with the University of Georgia, and it's easy to see the town as only a backdrop for the college, if you come here just for football games and graduation. Those who get to know Athens, though, quickly come to appreciate its quirky personality and its charm, not to mention its music, art, food, beer, theater, architecture, shops, sports and outdoor activities. Everything is accessible. Traffic jams are unknown. Here are a few facts to orient you to our town.
Get The Facts
Area: About 122 square miles—geographically the smallest county in Georgia.
Population: 122,604 (2015 Census estimate—includes UGA students)
Demographics: 65 percent white, 27 percent black, 7 percent Hispanic, 3 percent Asian (2010 Census)
University of Georgia enrollment: 36,130 (Fall 2015)
Largest employers: UGA (9,800), Athens Regional Medical Center (3,300), Clarke County School District (2,100), Pilgrim's Pride (1,800), Athens-Clarke County government (1,600), Caterpillar (1,500), St. Mary's Hospital (1,400)
Government: Clarke County and the City of Athens unified their two governments in 1991, so the geographically smallest county in Georgia is governed by one government, except for the City of Winterville, which has remained independent. Got it? The Clarke County School District is separate from the ACC government. For many more government factoids, go to athensclarkecounty.com, and click on About Us.
Learn Athens
The standard history of Athens is Frances Taliaferro Thomas' A Portrait of Historic Athens and Clarke County, revised edition (2009). The most up-to-date bibliography pertaining to Athens is in The Tangible Past in Athens, Georgia (2014, out of print). Lots of good reading about Athens in there, too.
Find Your Way
You'll need this Guide, of course, and the weekly Flagpole magazine, with its comprehensive calendar of events. Both can be picked up around town at more than 300 locations or read online at flagpole.com.
Athens Welcome Center • 280 E. Dougherty St. • 706-353-1820 • athenswelcomecenter.com
UGA Visitors Center • 405 College Station Road • 706-542-0842 • visit.uga.edu
Oconee County Visitors Information Center • 21 N. Main St., Watkinsville • 706-769-5197 • visitoconee.com
Get Yourself Around
Downtown is compact, and the campus is right across the street. Many intown neighborhoods are an easy walk to town and to each other. Sidewalks go almost everywhere, and the Greenway stretches along the North Oconee River. • 706-613-3801 • athensclarkecounty.com/facilities/facility/details/23. BikeAthens offers a handy map of streets with bike lanes. • bikeathens.com. If you drive, downtown metered parking is $1 an hour Monday–Saturday 8 a.m.–10 p.m. (Sundays are free.) Two-hour time limit from 8 a.m.–6 p.m. Most meters now accept cards in addition to coins. Downtown parking decks cost $1 per hour after the first half hour, with no time limit. • downtownathensga.org. Most surface lots downtown are operated at night by Prestige Parking • prestigeparkingathens.com. Campus parking is in decks. • 706-542-PARK • parking.uga.edu
Catch a Ride
It's either Uber (uber.com), Lyft (lyft.com) or Athens' poorly regulated cabs that are not what you'd expect in a city this size. The taxis are large vans, and you have to share yours with other passengers. You may have to ride to their destination before you get where you're going. If you're downtown drinking late and need to take a cab, you can probably hail one in front of the UGA Arch at College and Broad streets. Be sure it's a legitimate cab, though. Make sure it has a permit and fares posted and a special license plate. Good luck!
Take the Bus
Athens Transit • 706-613-3430 • athenstransit.com | Campus Transit • 706-369-6220 • transit.uga.edu | Southeastern Stages • 4020 Atlanta Hwy. • 706-549-2255 • southeasternstages.com | Megabus • Multimodal Center, 775 E. Broad St. (Sunday: East Campus Parking Deck, River Road) • us.megabus.com
Hop a Plane
Airlines operate out of ATL. Take Highway 78 west to Monroe, take Highway 138 to Conyers, take I-20 west to I-285 south, and take exit 61 for the airport. Or take the Groome Transportation shuttle bus • 3190 Atlanta Hwy., Suite 22 • 800-896-9928 • groometransportation.com
Fly your own plane into and out of Athens Ben Epps Field, or rent one there. 1010 Ben Epps Dr. • 706-613-3420 • athensclarkecounty.com/203/athens-ben-epps-airport
Ride the Train
Amtrak's Crescent stops in Gainesville (GNS) on its run between New Orleans and New York City. • 116 Industrial Blvd., Gainesville • 800-872-7245 • amtrak.com
Enjoy UGA
Georgia citizens 62 or older can enroll in UGA classes tuition-free. • reg.uga.edu/policies
UGA libraries are are open to all. • libs.uga.edu
Special Collections Libraries host a wealth of interesting archives. • libs.uga.edu/scl
The Georgia Museum of Natural History is a great family outing. • naturalhistory.uga.edu
The UGA Performing Arts Center features world-class music and performance. • pac.uga.edu
There's more sports to see than just football. • georgiadogs.com
There are many dining options on campus. • foodservice.uga.edu
Plenty of lectures, films, performances and exhibits to see. • flagpole.com and calendar.uga.edu
The Willson Center for Humanities and the Arts is doing great work. • willson.uga.edu
The Founders Memorial Garden is a beautiful hangout spot. • 325 S. Lumpkin St.
Watch Your Step
Smoking is illegal in any public buildings (even bars), in public parks and on the UGA campus.
No open containers except inside the metal rails if you're in a sidewalk cafe or on campus for football game days.
Last call is 2 a.m., except on Sundays, when it's midnight. Bars that don't sell food can't open on Sundays at all. (Restaurants can serve you a Bloody Mary starting at 12:30 p.m.)
Drinking under age 21 is illegal everywhere.
It's illegal for more than two unrelated people to live in houses in areas zoned single-family.
A noise ordinance regulates loud parties in residential neighborhoods.
Don't run red lights. Some are equipped with cameras.
Don't ignore flashing lights at pedestrian street crossings.
Get an Education
Colleges and Universities:
University of Georgia • Broad Street at College Avenue • 706-542-3000 • uga.edu
Piedmont College • 595 Prince Ave. • 706-548-8505 • piedmont.edu/athens

North Georgia University | 120 Bishop Farms Pkwy. • 706-310-6201 • ung.edu/campuses/oconee

Athens Technical College • 800 Hwy. 29 N • 706-355-5038 • athenstech.edu

AU/UGA Medical Partnership • Prince Avenue at Oglethorpe Avenue • 706-713-2637 • medicalpartnership.usg.edu
Public Schools:
Clarke County School District • 440-1 Dearing Ext. • 706-546-7721 • www.clarke.k12.ga.us
Oconee County Schools • 34 School St., Watkinsville • 706 • 769-5130 • oconeeschools.org
Private Schools:
Athens Academy • 1281 Spartan Lane • 706-549-9225 • athensacademy.org
Athens Christian School • 1270 Hwy. 29 N • 706-549-7586 • athenschristian.com
Athens Montessori School • 3145 Barnett Shoals Road • 706-549-8490 • athensmontessori.com
Double Helix STEAM School • 285 Tallassee Road • 706-521-5477 • doublehelixschool.com
Freedom To Grow Unschool • 240 Mill Creek Road, Hull • 706-473-5414 • freedomtogrowunschool.com
Monsignor Donovan Catholic High School • 590 Lavender Road • 706-433-0223 • mdchs.org
Prince Avenue Christian School • 2201 Ruth Jackson Road, Bogart • 678-753-3000 • princeave.org
St. Joseph Catholic Parish School • 958 Epps Bridge Pkwy. • 706-543-1621 • sjsathens.org
Waseca School • 615 Tallassee Road • 706-543-4473 • wasecaschool.org
Westminster Christian Academy • 1640 New High Shoals Road • 706-769-3777 • wcalions.org