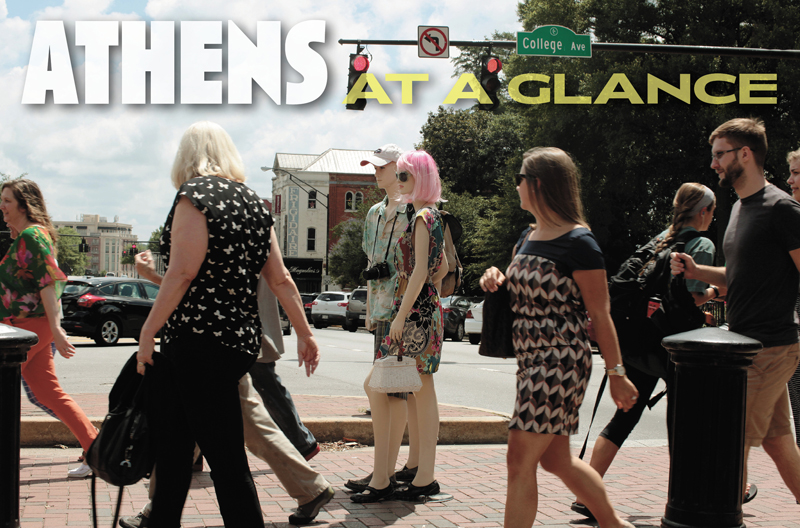 Welcome to Athens, a small town with a big university and many of the amenities of a big city. We have music, arts, food, movies, theater, unique shops, attractive architecture, sports and a plethora of outdoor activities—all in a package small enough that it's easy to get around, and you'll never be a stranger. So enjoy your stay, whether it's a weekend, four years or the rest of your life. Or, if you already live here, browse our Guide anyway, holding a printed copy in your hand or reading it online at flagpole.com. You never know: You might find even more reasons to love Athens.
How We Got Here
Athens began at the site of a small mill and trading post on the banks of the North Oconee River, known as Cedar Shoals, where Daniel Easley had built a mill in the late 18th Century. A committee charged by the Georgia legislature with finding a site for a new state university encountered Easley and bought his well situated land on a bluff above the river.
The legislature chartered the University of Georgia in 1785, making UGA the oldest public university in the country, no matter what anyone in North Carolina says. Future governor John Milledge, who bought the university's initial 633 acres from Easley, named the village-to-be for the Greek cradle of philosophy. Athens was incorporated in 1806.
In the decades that followed, the town became known as the "Manchester of the South," because of its cotton mills. James Camak led the building of the city's first railroad, connecting Athens to Augusta in 1841.
Athens saw little action during the Civil War, but the Cook & Brother Armory (now known as the Chicopee building, owned by UGA) supplied rifles to the Confederate forces. A double-barreled cannon invented by local dentist John Gilleland was employed, defending the armory, though firing only one barrel. When tested earlier, the chain connecting the balls snapped, knocking down a chimney and killing a cow. The cannon is now displayed outside City Hall.
By the turn of the century, Athens had public schools, a police force and its first streetcar suburbs. Aviation pioneer Ben Epps (the local airport's namesake) built and flew his first plane in 1907, four years after the Wright Brothers.
African American students Hamilton Holmes and Charlayne Hunter integrated UGA when they enrolled in 1961. The local public schools were integrated nine years later.
Beginning in the late 1970s, Athens became internationally known for its rich music scene, which includes a variety of genres and has produced such acclaimed and popular artists as R.E.M., The B-52s, Widespread Panic, Vic Chesnutt, Neutral Milk Hotel, of Montreal, Danger Mouse, Corey Smith, Brantley Gilbert, Bubba Sparxxx, Reptar and Drive-By Truckers. Yes, that leaves out some big ones—any list would.
In the early 1980s, Athens' first mall out on Atlanta Highway nearly killed downtown, as the main stores fled to the 'burbs. Slowly, the big stores were replaced by bars, restaurants, music venues and new retailers. In the past few years, a surge in student-housing development is changing downtown yet again, leaving locals to wonder what's next.
Who's in Charge
After three failed attempts, Athens and Clarke County voters chose to unify the two governments in 1990. That's why it's called "Athens-Clarke County" and is both a municipal and a county government.
Athens residents are represented by 10 commissioners in 10 districts and a mayor, currently Nancy Denson, who is elected at-large; an appointed manager runs the government. (District maps, contact information, meeting agendas and sign-ups for police and zoning alerts are available at athensclarkecounty.com.) Local elections are nonpartisan and are conducted in May in conjunction with the Republican and Democratic primaries for state and federal office.
Although Athens is a liberal college town, it is mainly represented by conservative Republicans in Atlanta and Washington. Contact info for legislators—Reps. Spencer Frye, Regina Quick and Chuck Williams, and Sens. Bill Cowsert and Frank Ginn—the text of bills and other information is available at legis.ga.gov. For Gov. Nathan Deal and the executive branch, visit georgia.gov. Georgia's two U.S. senators are David Perdue and Johnny Isakson. Our congressmen are Doug Collins and Jody Hice.
The Clarke County School District, governed by a nine-member school board, operates 14 elementary schools, four middle schools and three high schools that educate more than 12,000 students. Superintendent Philip Lanoue was named National Superintendent of the Year for 2014. For more information, see clarke.k12.ga.us.
The Athens area also has eight private schools: Athens Academy (PK-12), Athens Christian School (PK-12), Athens Montessori School (PK-8), Monsignor Donovan Catholic High School (9-12), Prince Avenue Christian School (PK-12), St. Joseph's Catholic School (PK-8), Waseca School (PK-5) and Westminster Christian Academy (PK-12).
Athens is also a hub of higher learning in Georgia, with not only the state's flagship public university, but campuses of Piedmont College, North Georgia University, Athens Technical College and a medical-school partnership with Georgia Regents University of Augusta, as well.
Intrigued by politics? Read Flagpole's City Dope column and the In the Loop blog at flagpole.com for the latest scoops.
Where to Go
Downtown is the beating heart of Athens, with a big share of our hotels, bars, restaurants, shops and music venues. But there is so much more to the city.
Just across Broad Street from downtown is the University of Georgia's North Campus, with its iconic Arch and shady lawn that's open to all. While UGA is known everywhere for the Bulldogs football team, it's also the area's biggest employer and cultural center, with an art museum, theaters, concert halls, almost daily lectures and, yes, a stadium, too. Pay close attention to The Calendar at flagpole.com/events and in the weekly Flagpole, as well as UGA's master calendar at calendar.uga.edu, to stay in the know about campus happenings.
West of downtown are Hot Corner (Washington and Hull streets) and the nearby Hancock-Reese Historic District, traditionally the center of African American life but now changing and gentrifying, as is another traditionally black neighborhood across the river, East Athens (or, as old-timers call it, "East of Athens").
Also west of downtown, split by shop- and restaurant-lined Prince Avenue, are the Cobbham and Boulevard neighborhoods, both filled with lovely historic homes. Further west, near the bypass or the Loop, as it's known, is another historic neighborhood, Normaltown, which has seen a resurgence in recent years. Normaltown is also home to the UGA Health Sciences Campus, formerly a teachers' college and Navy Supply Corps base.
South of campus, at the intersection of Milledge Avenue and Lumpkin Street, is Five Points, another walkable neighborhood of stately homes and locally owned stores and restaurants. Many of the historic mansions along Milledge have been converted to fraternity and sorority houses.
Should a visitor desire something more familiar, many chain restaurants and big box stores (with a smattering of local flavor, too) are located off Lexington Road, Barnett Shoals Road, Alps Road, Atlanta Highway and Epps Bridge Parkway, all a few miles' drive from downtown.
See a map to get your bearings. In addition, several organizations offer more information on the history and sights of Athens, including:
If your curiosity still isn't sated, the UGA Libraries maintain a site (libs.uga.edu/athens) with more than 1,500 links containing information on just about any Athens-related topic you could think of, from crime stats to a list of churches.
How to Get Around
Athens is small enough that—especially if you stick pretty close to downtown—you can get anywhere on foot or by bike. Most in-town streets have sidewalks. BikeAthens (bikeathens.com) offers a handy map of streets with bike lanes.
City buses are based at the Multimodal Transportation Center at 775 E. Broad St., behind the Classic Center. Buses run every hour or half-hour seven days a week, stopping at 10 p.m. Adult fares are $1.75; discounts for multi-ride passes, seniors, children and the disabled are available. UGA students, staff and faculty (including retirees) ride Athens Transit free when they swipe their UGACards. UGA buses run more frequently in and around campus, and they're free for everyone. See athenstransit.com and transit.uga.edu for routes and schedules.
For longer-distance travel, Southeastern Stages' (706-549-2255 or southeasternstages.com) station is inside the Texaco convenience store at 4020 Atlanta Highway. Megabus (us.megabus.com) offers daily rides to and from Atlanta, North Carolina and Virginia for as low as $1. Buses depart and arrive at the Multimodal Transit Center every day but Sunday, when they rendezvous at the UGA East Campus Parking Deck.
Athens lacks rail or commercial air service at the moment. The nearest Amtrak station is Gainesville. For air travel, MARTA connects Hartsfield-Jackson International Airport with pickup and drop-off points for buses to and from Athens. Also try Groome Transportation's airport shuttle; 800-896-9928 or groometransportation.com.
If you must drive, downtown metered parking is 75 cents an hour Mon.–Sat. 8 a.m.–10 p.m. (Sundays are free), with a two-hour time limit from 8 a.m.–6 p.m. Most meters now accept cards in addition to coins. Other than The Classic Center ($5 flat fee), downtown parking decks cost $1.50 per hour after the first half hour, with no time limit. Details are available at downtownathensga.com. Most surface lots downtown are operated at night by Prestige Parking, which charges $5 and will tow you if you "forget" to pay. On campus, a good rule of thumb is that you can only park in a deck. Most surface lots are permit-only. Call 706-542-PARK or go to parking.uga.edu.
If you're out drinking, take a cab home if it's too far to walk. There are a bunch of companies in the phone book, or you can usually hail a taxi downtown in front of the Arch on Broad Street late at night. Pro tip: The cabs are large vans shared with other riders, so your route home may be less than direct. And, make absolutely sure that the van you get into is actually a legitimate cab. A permit and fares should be posted on the dashboard, and the vehicle should have a special license plate. The ride-sharing app Uber recently expanded to Athens, too.
What Not to Do
Don't say you weren't warned—Athens has a few weird laws.
• Smoking is illegal inside any public building (even bars), in public parks and on the UGA campus.
• The party atmosphere downtown fools many, but this ain't Savannah, and you can't drink on the street. Stay inside the metal rails if you're in a sidewalk cafe. Also note that the open-container ban doesn't apply on campus on football game days, so tailgate away.
• Last call is 2 a.m., except on Sundays, when it's midnight. Bars that don't sell food can't open on Sundays at all. (Restaurants can serve you a bloody Mary starting at 10:30 a.m.)
• Drinking under age 21 is illegal everywhere, but here, the cops aren't messing around. If you're caught with a fake ID or drinking under age, you get a ticket.
• Again, not a weird rule, but please don't litter. Trash cans, recycling bins and cigarette-butt receptacles are all over downtown. Use them.
• It's illegal for more than two unrelated people to live in houses in areas zoned single-family. Check with the ACC Planning Department before signing a lease.
• A noise ordinance regulates loud parties in residential neighborhoods, so young people, don't be shocked if your grown-up neighbor (or even Johnny Law) knocks on your door and asks you to turn it down.
• Cameras mounted downtown are monitored by the police and are recording your every move. Cameras at some main intersections are ready to catch you running a red light.
Nevertheless, enjoy Athens!