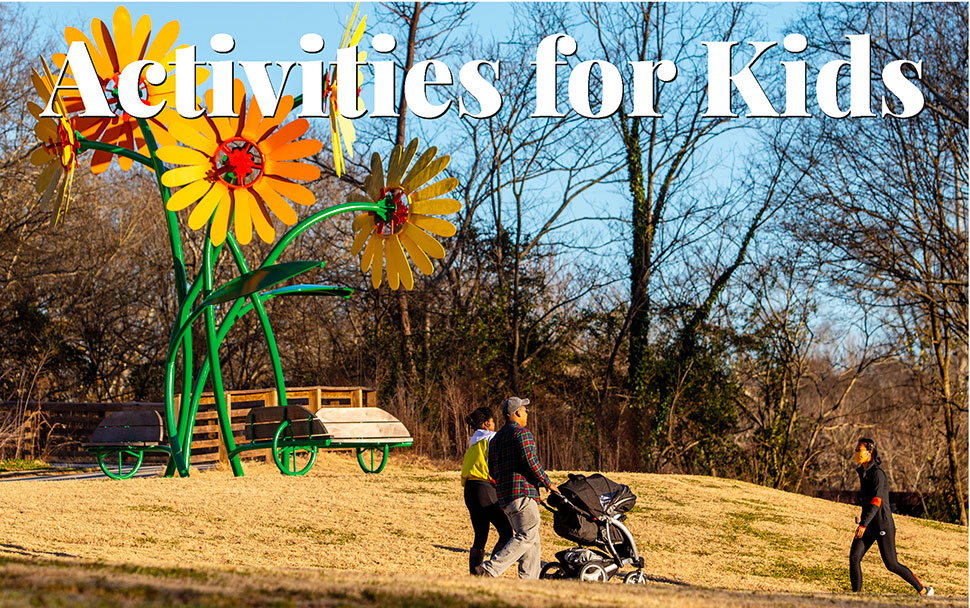 As we emerge from our winter cocoons, let's consider the spaces outside our house or apartment walls as a new place to explore. I know, you're tired of the same old haunts, whether it's a trip around the block for the umpteenth time or ordering the kids into the backyard. Again.
With that in mind, here are some ideas that are both budget- and kid-friendly for getting out and away from the screens. Just remember to pack your mask in case you end up in a place with a few more people than you anticipated—and a flask of hand sanitizer is always a handy item when exploring with kids, whether or not there's a pandemic.
Places to Explore
There are more than a dozen playgrounds dotted across Athens-Clarke County. While these were closed off at the start of the COVID-19 pandemic, time has shown that the staffing required to keep barriers up was taking away from general upkeep elsewhere. So, use them wisely—wear your masks (this includes your kids!) and use hand sanitizer before, during and after. And, if there are other kids playing when you arrive, have a plan B in place in order to maintain proper social distancing. (accgov.com/2550/Playgrounds)
For a place to take the bikes out, head to the network of Greenway trails. Start at Dudley Park and connect with the Firefly Trail, or head north along the Oconee River to Sandy Creek Nature Center (or south to the UGA campus and Athens' east side). (accgov.com/greenway) Walker Park is also a great bike destination with its network of SORBA-maintained off-road bike trails. Also, check out the progress on the new pump track, a sculpted area that allows novice and experienced off-road cyclists to practice form and technique. (sorbaathens.org)
If scooters or skateboards are more your jam, Bishop Park (705 Sunset Drive) features a paved trail that is easy for little ones to ride. Or head over to Southeast Clarke Park (4440 Lexington Road) to drop in to the skate park or roll around on the paved trail. Memorial Park (293 Gran Ellen Drive) also offers paved trails for walking or riding.
If you're looking for a hike, Ben Burton Park (615 Mitchell Bridge Road) is a good place to start. This flat trail follows along the Oconee River and even includes the ruins of an old power station on its banks. In hot weather, take a dip in the stream feeding into it. There's also an alternate, hillside trail that will make you think you're in the mountains. Several other parks feature good trails, including Southeast Clarke Park, Sandy Creek Nature Center (205 Old Commerce Road), Sandy Creek Park (400 Bob Holman Road) and the Birchmore Trail at Memorial Park.
You can also find a host of outdoor activities at the State Botanical Garden of Georgia (2450 S. Milledge Ave.). While the Alice H. Richards Children's Garden remains closed to visitors, there are lots of trails and other gardens to explore instead. Also, the new Center for Art and Nature has opened, offering a permanent exhibit of botanical-themed porcelain and a new way to enter the visitors center directly from the main parking lot.
Places to Learn
Get Creative: We're lucky to have two large, free indoor spaces dedicated to displaying art. The Lyndon House Arts Center (211 Hoyt St.) is open for socially-distanced viewing of its art exhibitions. The Georgia Museum of Art (90 Carlton St.) is open for visits by appointment to limit the number of people in the galleries. Family Days are continuing in virtual format, with kits available for pickup from the museum in advance of the event. Check the website for themes and details.
Hang With Animals: If your kids want to commune with some animals, Memorial Park (293 Gran Ellen Dr.) offers walks through Bear Hollow Zoo, as well as opportunities to feed the ducks at its pond (please don't bring bread!). The animal rescue nonprofit Sweet Olive Farm (855 Parkview Road, Winterville; sweetolivefarm.org) is home to dozens of animals, such as donkeys, alpacas and exotic birds, as well as a sheep, a goat and a pig. Children are welcome with adults on Saturdays, when volunteers can work on the farm. Tours are also available ($10) but reservations are required, as are masks.
Get Lost in a Book: While the Athens-Clarke County Library (2025 Baxter St.) is open for limited browsing, children's activities remain virtual as of press time. Visit athenslibrary.org for a calendar of storytimes for infants, toddlers and preschoolers. The library also offers an afternoon program via Facebook for themed events that focus on ideas such as STEM, seasonal topics and early literacy activities. Avid Bookshop (1662 S. Lumpkin St.) also offers virtual meet-ups for YA readers.
Learn Some History: Athens has four historic house museums that are available for self-guided tours. The Ware-Lyndon House is adjacent to the Lyndon House Arts Center and is open for self-guided tours when the arts center is open. Tours of the Taylor-Grady House (634 Prince Ave.) and the T.R.R. Cobb House (175 Hill St.) are on hiatus as of press time. But the Athens Welcome Center (280 E. Dougherty St., athenswelcomecenter.com) offers virtual tours on its website and also has a series of videos exploring Athens history.