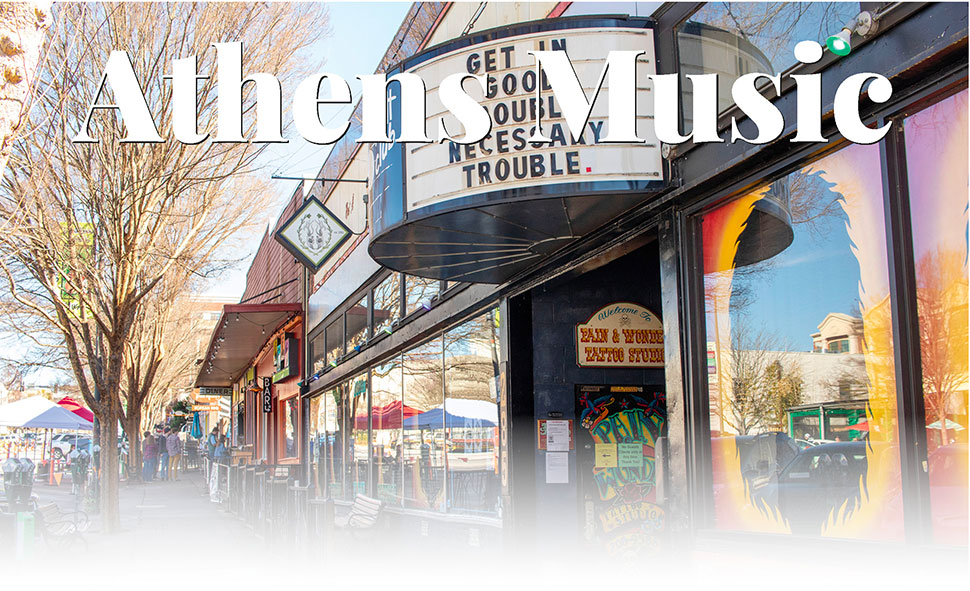 10 Things to Know About Athens Music
1. It's (Not) Only Rock and Roll
Athens is known for its contributions to the rock and roll canon—our lil' town birthed R.E.M., the B-52s, Pylon, Widespread Panic, Neutral Milk Hotel, of Montreal and Drive-By Truckers, among others—but there's a lot more going on locally. Hip hop continues to boom, and the Latinx scene is hot, too. Roots music, including country and Americana, can be found just about everywhere, as can experimental and genre-defying acts.
2. Music Venues Range in Size and Focus
Though the live entertainment industry has been severely curtailed by the pandemic, Athens is still home to a remarkably high number of music venues, given its population size. The best bets for catching major touring acts have always been the 40 Watt Club, Georgia Theatre and The Foundry, while Flicker Theatre & Bar, Hendershot's Coffee Bar, Little Kings Shuffle Club, Nowhere Bar and The World Famous are dependable choices for catching local bands any night of the week, once things open up again.
3. Festivals (Usually) Happen Year-Round
In normal times, spring brings the Athens Human Rights Festival, featuring two days of music downtown, and the Athens Spring Fling pops up on the Eastside. The hip hop- and gospel-centric Hot Corner Celebration takes place in early summer, followed by Athens' flagship event, AthFest, and later the punky SlopFest returns. In fall, the North Georgia Folk Festival livens Sandy Creek Park, Historic Athens PorchFest takes over neighborhoods, and the Wild Rumpus is a Halloween-time hoot.
4. It's Kid-Friendly
As more Athenians start families, there's been an increased focus on kid-centric music. The leader of the pack is Nuçi's Space, a resource center that offers health services to musicians, plus rehearsal rooms and Camp Amped, where local youth learn to start their own bands. Girls Rock Athens operates a similar program for female and nonbinary kiddos, while Full Moon Studio's Oconee School of Rock serves nearby Watkinsville.
5. There's an Athens Music Walk of Fame
The brand new Athens Music Walk of Fame debuted last season to honor the movers and shakers who helped place our town on the map as a musical destination. The walk recognizes honorees with bronze plaques that are embedded along a route that passes notable music venues. An interactive mobile app offers additional sights and sounds associated with each honoree.
6. Tune In to Turn On
You can hear local music all over the airwaves, starting with WUOG 90.5 FM, UGA's student-run station that broadcasts "Live in the Lobby" performances every Tuesday and Thursday. University-chartered NPR affiliate WUGA 91.7 and 94.5 FM airs "The Rotation," a block focused on Athens music, as well as "Sound of Athens," a segment of live concert recordings. And a Sunday-evening program on rock station Bulldog 93.3 often features local sounds.
7. See Athens on the Screen
Tony Gayton's 1987 documentary Athens, GA: Inside/Out is essential viewing for any aspiring local music buff for its interviews and live footage from the mid-'80s scene. For a glimpse into today's cultural landscape, check out local filmmaker James Preston's pair of documentaries Athens Rising: The Sicyon Project and Athens Rising 2: Transmittance (both free at athensrising.com), which compile vignettes of DIY house shows, festivals, performance art, comedy, restaurants and other interesting local organizations and independent businesses.
8. It's a Recording Destination
Behind the tremendous number of albums churned out by up-and-coming artists each year are the recording studios in and around Athens that perfect and preserve their work. Chase Park Transduction, The Glow Recording Studio, Pigpen Studios and Full Moon Studio stay busy year-round. Tweed Recording Audio Production School, a world-class facility that opened downtown last year, aims to train the next generation of audio professionals.
9. If You Like It, Buy It
When Kindercore Vinyl opened in 2017, it became the only vinyl record manufacturing facility in the state and one of only a handful in the country. Peruse the collections at Wuxtry Records and Low Yo Yo Stuff Records, which both offer a wide variety of classic and new releases sold by super-knowledgeable clerks. Shadebeast Records, which specializes in heavy metal, punk and noise, recently relocated to a new storefront on Chase Street, while Secret Sounds, a vintage collector's dream, is operating a virtual storefront for the time being.
10. Flagpole Has You Covered
Trust us when we say that Flagpole is your No. 1 source for all things Athens music, from the weekly print edition and comprehensive events calendar to our online premieres, photo galleries, live reviews and beyond. Covering local music was our founding mission, and it remains an integral part of who we are at Flagpole and what we do.