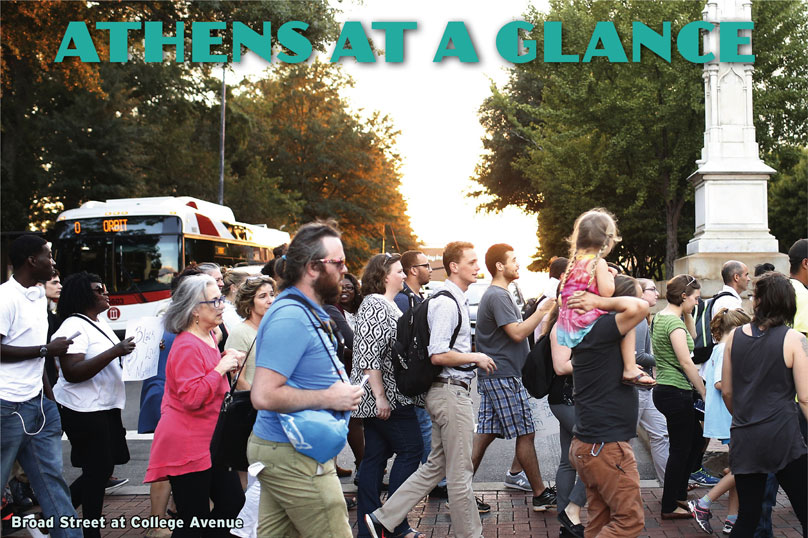 In the late 18th Century, the North Oconee River, which flows just east of downtown, was the frontier—the dividing line between the United States and Creek Indian land. Daniel Easley built a mill and trading post just south of what's now downtown, at a spot known as Cedar Shoals, now called Carr's Hill. (In a sign of the times, that spot is now occupied by a luxury student apartment complex on the bluff overlooking downtown.)
Athens and the University of Georgia have been intertwined from the beginning. The state legislature chartered the University of Georgia in 1785, making UGA the oldest public university in the country, no matter what anyone in North Carolina says. Future governor John Milledge, who bought the university's initial 633 acres from Easley, named the village-to-be for the Greek cradle of philosophy. Athens was incorporated in 1806.
In the decades that followed, the town became known as the "Manchester of the South," because of its cotton mills. James Camak led the building of the city's first railroad, connecting Athens to Augusta in 1841.
As the city grew, wealthy residents built grand homes in the Cobbham neighborhood west of downtown. While many of Prince Avenue's stately homes have been torn down to make way for drive-throughs, many remain today. A prime example is the salmon-pink antebellum T.R.R. Cobb House on Hill Street, now a house museum. And Prince remains lined with local businesses, such as those in the Bottleworks—a rehabbed Coca-Cola bottling plant—as well as the Flagpole office in a Victorian house across the street from vegetarian restaurant The Grit.
Athens saw little action during the Civil War, but the castle-like Cook & Brother Armory—now known as the Chicopee building, owned by UGA—supplied rifles to the Confederate forces. A double-barreled cannon invented by local dentist John Gilleland was employed, defending the armory, though firing only one barrel. When tested earlier, the chain connecting the balls snapped, knocking down a chimney and killing a cow. The cannon is now displayed outside City Hall, pointed north.
By the turn of the century, Athens had public schools, a police force and its first streetcar suburbs. A utility company developed the Boulevard and Buena Vista neighborhoods on the north side of Prince Avenue, with a streetcar down the wide Boulevard (yes, just Boulevard, like Madonna) powered by a dam on the Middle Oconee River carrying workers downtown. By the 1980s many of the homes had decayed, but locals bought them and fixed them up.
Cotton-mill workers lived in more modest homes in Pulaski Heights—which lately has seen an influx of ultra-modern houses—and freed slaves settled along the Hancock Corridor and across the river in East Athens, both areas that are now gentrifying. Athens' other historically African-American neighborhoods were torn down during "urban renewal" under the Lyndon Johnson Administration. However, the "Hot Corner" at Washington and Hull streets downtown remains a thriving center of commerce and culture. Its centerpiece, the Morton Theatre, was built by one of Georgia's wealthiest black men, Monroe "Pink" Bowers, in 1910. The theater is now owned by the Athens-Clarke County government and operated by a nonprofit.
In 1891, the State Normal School, a teacher's college, opened at the corner of Prince and Oglethorpe avenues. The Navy took over the college in the 1950s, training its Supply Corps there. When the Navy school moved to Rhode Island in 2011, UGA acquired the property. It's now the UGA Health Sciences Campus. The neighborhood around the campus, Normaltown, is a mix of 19th Century homes, '50s ranch houses and hip bars, restaurants and other local businesses.
South of campus, at the intersection of Milledge Avenue and Lumpkin Street, is Five Points, another walkable neighborhood of stately homes and locally owned stores and restaurants, and heavy with college professors as well as students. Many of the historic mansions along Milledge have been converted to fraternity and sorority houses.
The suburbs on the Eastside—Lexington, Gaines School, Barnett Shoals and College Station roads—began to develop in the 1960s. It remains a middle-class neighborhood (with a sprinkling of aging apartment complexes) with a mix of unique businesses and familiar chains.
When Georgia Square Mall opened in 1981 on Atlanta Highway, it nearly killed downtown, as department stores fled. The exodus proved to be an opportunity, as musicians and entrepreneurs took advantage of cheap rents and government incentives to open bars and music venues, spurring Athens' music scene, which spawned R.E.M., The B-52s, Widespread Panic, Vic Chesnutt, Neutral Milk Hotel, of Montreal, Danger Mouse and Drive-By Truckers, among many others. Flagpole was founded in 1987 to cover the music scene, which was being ignored by mainstream publications. Since then, the free weekly newspaper has expanded to include politics, arts, theater, movie and literary coverage, as well as a daily online presence at flagpole.com.
Just as Atlanta Highway development threatened downtown, suburban strip malls in neighboring Oconee County now threaten Atlanta Highway. But many of the empty big boxes have been resourcefully filled with churches, thrift stores and even a microbrewery.
Downtown continues to evolve. An influx of luxury student high-rises has transformed not just downtown's skyline, but its culture. More chain stores are moving in, and businesses cater to student tastes. Traditionally, the Lumpkin Street "khaki line" divided the student bars to the east and the townie bars to the west, but with thousands of students now living downtown, that distinction is fading, and while a couple of blocks around West Washington and Hull streets are still the center of the scene, more and more, grownups find themselves sticking to nightlife in Normaltown.
By the Numbers
Area: About 122 square miles—geographically the smallest county in Georgia.
Population: 123,912 (2016 Census estimate—includes UGA students)
Demographics: 65 percent white, 27 percent black, 7 percent Hispanic, 3 percent Asian (2010 Census)
UGA enrollment: 35,162 (Fall 2016)
Largest employers: UGA (10,300), Piedmont Athens Regional Medical Center (3,300), Clarke County School District (2,100), Pilgrim's Pride (1,800), Athens-Clarke County government (1,600), Caterpillar (1,500), St. Mary's Hospital (1,400)
Find Your Way
Keep this Guide handy, as well as the weekly Flagpole, with its comprehensive calendar of events. Both can be picked up around town at more than 250 locations or read at flagpole.com.
Athens Welcome Center • 280 E. Dougherty St. • 706-353-1820 • athenswelcomecenter.com
Athens Convention and Visitors' Bureau • 300 N. Thomas St. • 706-357-4430 • visitathensga.com
UGA Visitors Center • 405 College Station Road • 706-542-0842 • visit.uga.edu
Oconee County Visitors Information Center • 21 N. Main St., Watkinsville • 706-769-5197 • visitoconee.com
Get Around
Walk: Downtown is compact, and the UGA campus is right across the street. Many intown neighborhoods are an easy walk to town and to each other. Sidewalks go almost everywhere, and the Greenway stretches along the North Oconee River. • 706-613-3801 • athensclarkecounty.com/facilities/facility/details/23
Bike: BikeAthens offers a handy map of streets with bike lanes. • bikeathens.com
Drive: Downtown metered parking is $1.25 an hour Monday–Saturday 8 a.m.–10 p.m. (Sundays are free.) Two-hour time limit from 8 a.m.–6 p.m. Most meters accept cards and coins. Parking decks cost $1 per hour after the first half hour, with no time limit. • downtownathensga.com | Most surface lots downtown are operated at night by National Parking, which charges $5 and will tow you if you "forget" to pay. • national-parking.com | On campus, a good rule of thumb is to park in a deck. Most surface lots are permit-only. • 706-542-PARK • parking.uga.edu
Taxis: Cabs in Athens are not what you'd expect in a city this size. The taxis are large vans, and you have to share with other passengers. If you're downtown late and need to take a cab, you can probably hail one in front of the UGA Arch. Be sure it's legit, though. Make sure it has a permit and fares posted and a special license plate. Good luck!
Ride-Sharing: Uber and Lyft both operate in Athens, although Uber seems to have more drivers. Fares vary based on demand.
Bus: Athens Transit buses leave in all directions from the Multimodal Center on East Broad Street, down the hill from downtown. Fares are $1.75 for adults; UGA students, faculty and staff, and kids under 18, ride free. • 706-613-3430 • athenstransit.com | Everybody rides free on Campus Transit. Buses mostly run through campus, but there are routes along Milledge Avenue and Prince Avenue, too. They don't stop automatically, but you can flag one down from any Athens Transit stop. • 706-369-6220 • transit.uga.edu
Get Outta Town
Intercity Buses: Southeastern Stages • 4020 Atlanta Hwy. • 706-549-2255 • southeasternstages.com | Megabus • Multimodal Center, 775 E. Broad St. (Sunday: East Campus Parking Deck, River Road) • us.megabus.com
Airport Shuttle: Groome Transportation runs the shuttle to Hartsfield-Jackson International Airport (ATL) in Atlanta—the world's busiest. • 3190 Atlanta Hwy., Ste. 22 • 800-896-9928 • groometransportation.com
Rail: Amtrak's Crescent stops in Gainesville (GNS) on its run between New Orleans and New York City. • 116 Industrial Blvd., Gainesville • 800-872-7245 • amtrak.com
Enjoy UGA
Georgia citizens 62 or older can enroll in classes tuition-free. • reg.uga.edu/policies
UGA libraries are are open to all. • libs.uga.edu
The Special Collections Libraries host a wealth of interesting archives. • libs.uga.edu/scl
The Georgia Museum of Natural History and Georgia Museum of Art are great family outings. • naturalhistory.uga.edu • georgiamuseum.org
Believe it or not, there's more sports to see than just football. • georgiadogs.com
Don't Do It
Smoking is illegal in any public buildings (even bars), in public parks and on the UGA campus. ACC provides cigarette butt receptacles attached to parking meters downtown.
No open containers except inside the metal rails if you're in a sidewalk cafe or on campus for football game days. And no glass.
Last call is 2 a.m., except on Sundays, when it's midnight. Bars that don't sell food can't open on Sundays at all. (Restaurants can serve you a Bloody Mary starting at 12:30 p.m.)
We shouldn't have to tell you this, but we do: Public intoxication and public urination are illegal.
Drinking under age 21 is illegal everywhere.
Probably no one will hassle you if you're discreet, but unfortunately Georgia is not one of the states that has legalized marijuana.
It's illegal for more than two unrelated people to live in houses in areas zoned single-family. Check with the ACC Planning Department before signing a lease.
A noise ordinance regulates loud parties in residential neighborhoods.
Keep your dog on a leash and pick up after it. Free baggies are available at most parks.
Don't run red lights. Some are equipped with cameras.
If you're driving, please STOP FOR PEDESTRIANS.