Welcome...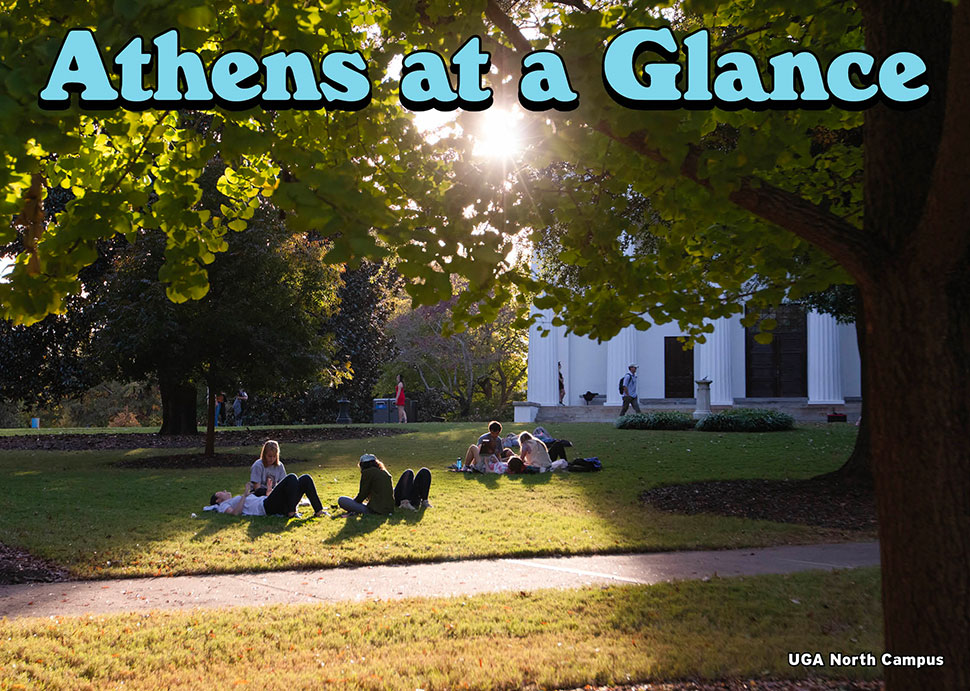 Athens is a special place: a small town with welcoming people, a big university and many of the amenities of a big city, like vibrant music, arts and food scenes—at least when there's not a pandemic going on. It hasn't always been that way, though. Recent elections have brought a renewed interest in issues of equity of social justice. With that in mind, here's some background through that lens on Athens' history and the current political landscape.
How We Got Here
Athens and the University of Georgia have been intertwined from the beginning. The state legislature chartered UGA in 1785, making ours the oldest public university in the country, despite the fact that an upstart school in North Carolina erected a building before we did. Future governor John Milledge, who bought the university's initial 633 acres from early settler Daniel Easley in 1801, named the village-to-be for the Greek cradle of philosophy. Easley, who knew a deal when one came riding up, retained the adjacent land and was happy to sell off his lots to the villagers. Although UGA was situated in the woods to keep it far away from the evil influences of taverns, the villagers quickly learned how to cater to students, and at present, this cradle of philosophy boasts around 100 bars.
The county is named for Elijah Clarke, a Revolutionary War hero who ambushed the British in a swamp down the road at the Battle of Kettle Creek. After the war, he attempted to set up his own nation—the Trans-Oconee Republic—which attacked the Creek Indians and eventually became involved in the Yazoo Land Fraud. Our namesake: right or wrong!
Athens was incorporated in 1806. In the decades that followed, the town became known as the "Manchester of the South" because of its cotton mills. James Camak led the building of the city's first railroad, connecting Athens to Augusta in 1841.
Other than a minor skirmish, Athens saw no action during the Civil War but participated nonetheless. The Cook and Bros. armory across the river from downtown—now the Chicopee-Dudley building—manufactured rifles for the Confederacy. On a lighter note, local dentist John Gilleland devised a double-barreled cannon that failed spectacularly when tested. The chain connecting the balls snapped, knocking over a chimney and killing a cow. The cannon is now displayed outside City Hall, facing north.
Many prominent rebels—including Confederate Vice President Alexander H. Stephens, former U.S. House Speaker Howell Cobb and his brother, T.R.R. Cobb, whose writings defended slavery—had ties to Athens. Plantation slave labor funded the construction of many grand antebellum homes, such as those of the Cobb brothers. T.R.R. Cobb's home is now a house museum in the Cobbham neighborhood. A downtown Confederate monument, though, has been removed to a spot off the Loop 10 highway.
By the turn of the century, Athens had public schools, a police force and its first streetcar suburbs: Cobbham, Boulevard and Five Points. (The last remaining streetcar-stop shelter can be seen at the corner of Lumpkin and Cedar streets.) In 1891, the State Normal School, a teacher's college, opened in what's now called Normaltown. The U.S. Navy took over the college in the 1950s, training its supply corpsmen there. When the Navy school moved to Rhode Island in 2011, UGA acquired the property and turned it into a health sciences campus in conjunction with Augusta University.
In the early 20th Century, Black-owned businesses were flourishing downtown on the Hot Corner at Hull and Washington streets, centered around the Morton Theatre, which was built by wealthy developer Monroe "Pink" Morton, the son of a former slave. But race relations remained tense. Hamilton Holmes and Charlayne Hunter integrated UGA in 1961, sparking near-riots. In 1964, Athens Klansmen murdered Lemuel Penn, a black Army Reserve officer who was passing through town late at night. Marches and sit-ins were held at the popular fast-food restaurant The Varsity (recently closed). Local public schools didn't fully integrate until 1970, 16 years after Brown v. Board of Education. This was also the time of "urban renewal," which tore down whole Black neighborhoods, such as Linnentown, on Baxter Hill, which was razed in the early 1960s to make way for new UGA high-rise dorms.
A decade later, the Model Cities program brought millions of dollars in federal money to provide much-needed infrastructure—street paving, water lines and sewerage, structural rehabilitation and a neighborhood health center— to East Athens, a predominately Black and poor area of town. Model Cities, through its citizen-participation component, also empowered a generation of Black citizens who went on to elected and appointed positions within the governmental and civic life of Athens.
Downtown largely emptied out when Georgia Square Mall opened on Atlanta Highway in 1981, paving the way for Athens to become the music mecca it is today. R.E.M. was about to hit it big, and, fueled by low-interest loans from the new Athens Downtown Development Authority, entrepreneurs took advantage of the vacancies to open venues that quickly became popular—some even iconic, like the 40 Watt Club, the Georgia Theatre and the late-lamented Caledonia Lounge.
Clarke County and the City of Athens, after two previous failed attempts, merged in 1990, and the newly unified Athens-Clarke County elected Gwen O'Looney as its first female chief executive and first progressive mayor.
Today, the mall is struggling and may be redeveloped, while downtown has become in some ways a victim of its own success. The proliferation of luxury apartment complexes has brought rising rents and more chain businesses, increasingly catering to (mostly white) students and pushing locally owned businesses out into the Five Points, Normaltown and Chase Park areas. Historically Black neighborhoods like East Athens and the Hancock Corridor that have suffered for decades from lack of investment are now ripe for gentrification.
These issues and more galvanized voters in 2018. They swept five new, more liberal commissioners into office and chose another progressive, Kelly Girtz, as mayor in a landslide. The new group is now tackling issues like affordable housing and criminal justice reform. Girtz is running for re-election this year, and odd-numbered commission seats will also be on the nonpartisan ballot May 24.
How to Get Involved
Flagpole 's City Dope column is a great resource for keeping up with local politics.
The ACC Commission includes 10 members, each representing a district, and the mayor, who is elected countywide and presides over meetings but only votes in case of a tie. An appointed manager runs the government's day-to-day operations. The commission meets at least three times a month: Work sessions, where staff give presentations on upcoming decisions, are at 5:30 p.m. on the second Tuesday; agenda-setting meetings, which include further discussion as well as public input, are at 6 p.m. on the third Tuesday; voting meetings are at 6 p.m. on the first Tuesday of the following month. When not held remotely, all three are at City Hall (301 College Ave.) and televised on Channel 180 on Charter cable and streamed at youtube.com/accgov. Agendas and contact information for county officials are available at accgov.com.
The Clarke County Board of Education, composed of nine members who elect a president from among themselves, meets at the new headquarters on the former Piedmont College campus (595 Prince Avenue) on the first and second Thursdays of the month at 6 p.m. Superintendent Xernona Thomas heads the Clarke County School District. Its website is www.clarke.k12.ga.us. Agendas are posted at www.boarddocs.com/ga/clarke/Board.nsf/Public 24 hours before the meeting.
Although Athens votes reliably Democratic, Republicans in the Georgia legislature have kindly used their mathematical skills to arrange the districts so that Athens is represented by five Republicans and just one Democrat in the state legislature. Republicans still dominate both the House and the Senate, despite losing seats in 2018, when Gov. Brian Kemp only narrowly defeated Democrat Stacey Abrams (without much help from his hometown of Athens). The state flipped blue in 2020, sending senators Raphael Warnock and Jon Ossoff and President Joe Biden to Washington. The General Assembly meets for 40 working days a year, starting on the second Monday in January and usually ending sometime in late March (in time for the Masters golf tournament). Check www.legis.ga.gov to contact legislators, read the text of bills and watch the action on livestream.
Athens has numerous activist groups working on labor, discrimination, LGBTQ, immigration, transportation and other issues. An incomplete list includes the Clarke County Democrats (athensclarkedems.com), Athens Anti-Discrimination Movement (aadmovement.org), Athens Immigrant Rights Coalition (athensimmigrantrights.org), Athens PRIDE (athenspride.org), United Campus Workers of Georgia (wcwga.org), BikeAthens (bikeathens.org), Young Democrats of UGA (facebook.com/YoungDemsUGA), Young Democratic Socialists (facebook.com/AthensYDSA), College Republicans (ugarepublicans.com), Athens GOP (athensgop.com) and the Libertarian Party of Athens (facebook.com/AthensLP). Many campus group meetings are open to non-students.
When restrictions on gatherings aren't in place, UGA also hosts nearly daily lectures, exhibitions, readings and discussion groups that are open to the public; check Flagpole's Calendar or calendar.uga.edu for the latest.
How to Get Around
WALK/BIKE: Downtown, North Campus and most in-town neighborhoods are compact and easy to navigate on foot or bike. BikeAthens has a map of bike paths. (Drivers, remember to stop for pedestrians, and allow three feet between your car and bicyclists!) The North Oconee River Greenway runs from Sandy Creek Nature Center through downtown to College Station Road, except for one gap near Oconee Hill Cemetery still under construction. The Firefly Trail runs from The Mark development on the southern edge of downtown east to Hancock Road and will eventually extend to downtown Winterville. A modern trestle based on the partially destroyed one pictured on the back cover of R.E.M.'s Murmur is also planned.
DRIVE: On-street parking downtown is $1.50 per hour between 8 a.m.–10 p.m. Monday–Saturday, with a two-hour time limit from 8 a.m.–6 p.m. Meters accept cards and coins. Tickets will run you $20–$25. Avoid the risk by parking in a deck—they're free for the first half-hour (and all day Sunday) and $1 per hour after that. Most surface lots are operated at night and on weekends by National Parking, which usually charges $5 and can tow or boot you if you don't pay. On campus, surface lots are permit-only, so visitors should park in a deck. See downtownathensga.org and parking.uga.edu for more.
TAKE A CAB: Athens taxis are mostly large vans shared with other passengers. Fares aren't metered; they're based on zones and should be posted inside the cab. Vans gather by the Arch late at night. Expect to be asked whether you're going to the Eastside or Westside. With multiple stops to make, the ride might take a while. Uber and Lyft also operate in Athens.
TAKE A BUS: Athens Transit (athenstransit.com) buses leave in all directions from the Multimodal Center on East Broad Street, down the hill from downtown. At present, both Athens Transit and Campus Transit (transit.uga.edu) are free and open to the public—just hop on, but wear a mask. Campus buses mostly run through campus (duh), with additional routes from the main campus to the Health Sciences Campus in Normaltown and the Veterinary Teaching Hospital on the Eastside that don't stop in between. Both agencies have apps that allow you to find stops and track buses.
SKIP TOWN: Southeastern Stages (southeasternstages.com) intercity buses leave from 4020 Atlanta Hwy. Groome Transportation (groometransportation.com) will take you from one of several pick-up locations to Hartsfield-Jackson International Airport in Atlanta. Athens is still searching for a commercial aviation carrier to fly into and out of our spiffy airport. Amtrak's Crescent (amtrak.com) stops in Gainesville on its run between New Orleans and New York City. Athens may one day be a stop on a proposed high-speed rail line between Atlanta and Charlotte, but likely not for decades.
How We Stack Up
Area: About 122 square miles—geographically the smallest county in Georgia.
Population: 128,671 (2020 Census estimate—includes UGA students)
Demographics: 66% white, 28% Black, 11% Hispanic of any race, 
4% Asian (accgov.com/105/Demographics)
UGA enrollment: 40,118 (Fall 2021)
Largest employers: UGA (10,800), Piedmont Athens Regional Medical Center (3,300), Clarke County School District (2,350), St. Mary's Hospital (1,863), Athens-Clarke County government (1,728), Caterpillar (1,500), Pilgrim's Pride (1,300)