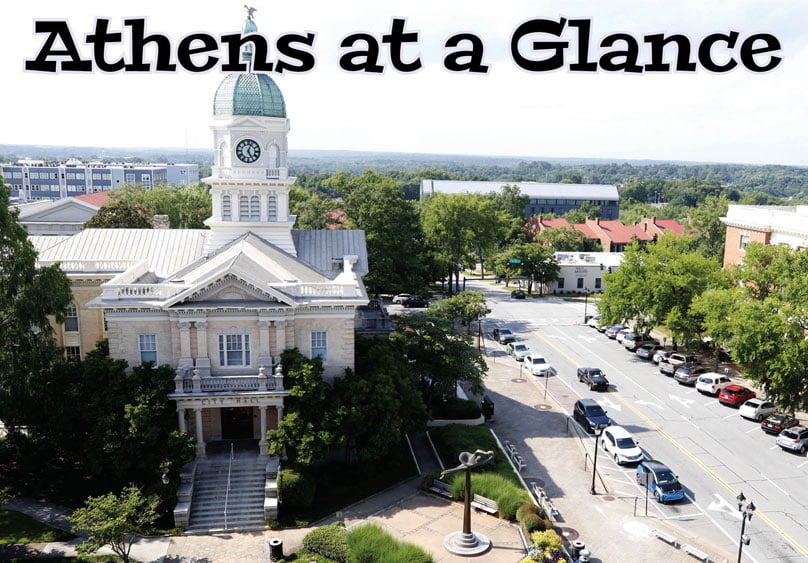 10 Things to Know About Athens
1. Athens' Founder Ran for the Border
The North Oconee River was once the western frontier dividing Georgia and the U.S. from the Creek Indian nation, until Daniel Easley built a mill at Cedar Shoals, now known as the Carr's Hill neighborhood, just south of what's now downtown. In a sign of the times, a luxury student apartment complex now sits on a bluff overlooking the spot.
2. UGA Is America's Oldest Public University
Don't believe what our neighbors to the north tell you. While the University of North Carolina at Chapel Hill started operating before the University of Georgia, UGA was chartered a year before UNC, in 1785. Future governor John Milledge, who purchased 633 acres from Easley to start Athens and UGA, named the town for the Greek cradle of civilization.
3. No Battles, But a Big Impact on the Civil War
Other than a skirmish near Barber Creek, Athens didn't see any action during the Civil War, but it had an impact in other ways. Brothers T.R.R. and Howell Cobb—lawyers, politicians, military officers and ardent slavery defenders—lived in Athens, and the former's salmon-pink mansion off Prince Avenue is now a house museum (175 Hill St.; trrcobbhouse.org). The fortress-like Chicopee building across the river from downtown was once the Cook and Brothers Armory, supplying rifles to the rebel army. A local dentist named John Gilleland invented a double-barreled cannon during this era. It didn't work and now sits outside City Hall, a reminder of the Confederacy's failure.
4. UGA Sports Are About More Than Just Football
The Bulldogs, under second-year head coach Kirby Smart, won the Southeastern Conference football championship last season and lost a thrilling national title game to Alabama. But the Dawgs have had success in other sports, too. The baseball and softball teams made the College World Series in 2017, and the women's basketball team consistently wins 20-plus games. The men's and women's golf, track and tennis and the women's swimming, gymnastics and equestrian teams have all won recent national championships. In addition to NFL stars like 1982 Heisman Trophy winner Herschel Walker, current Los Angeles Rams running back Todd Gurley and Detroit Lions quarterback Matthew Stafford, notable UGA athletes include basketball Hall of Famer Dominique Wilkins, top-10-ranked tennis player John Isner, 2016 OIympic gold medalists Shaunae Miller (track) and Allison Schmidt (swimming), and Bubba Watson, two-time winner of the Masters golf tournament. Find schedules and more at georgiadogs.com.
5. UGA Is About More Than Just Sports
Widely considered a "public Ivy," UGA has risen up the ranks of public universities (to 16th on the Newsweek list), fueled by the lottery-funded HOPE Scholarship that has kept many of the best and brightest students in-state. The average freshman last year had a 4.0 high-school grade point average and a 1344 SAT score. The university hosts tons of lectures, plays, films, music and dance performances, readings and other educational/entertainment opportunities that are open to the public. The Georgia Museum of Art (90 Carlton St.; georgiamuseum.org) and the Special Collections Libraries (300 S. Hull St.; libs.uga.edu/scl) boast excellent collections, and they're free. Residents over 62 can even audit classes for free (reg.uga.edu/policies). Check the Calendar in Flagpole or visit calendar.uga.edu for listings.
6. Lots of Famous People Went to UGA
Alumni include Food Network host Alton Brown, actor Tituss Burgess ("The Unbreakable Kimmy Schmidt"), "NBA on TNT" host Ernie Johnson, "Good Morning America" anchor Amy Robach, R.E.M. singer Michael Stipe, U.S. Sen. Johnny Isakson, former senators Saxby Chambliss and Phil Gramm, U.S. Secretary of Agriculture Sonny Perdue and Pulitzer Prize-winning poet Natasha Trethewey. TV personality Ryan Seacrest, actors Wayne Knight (Newman on "Seinfeld"), Kyle Chandler (Coach Taylor on "Friday Night Lights") and Josh Holloway (Sawyer on "Lost"), actress Kim Basinger and music producer Brian "Danger Mouse" Burton also attended UGA.
7. Music Put Athens on the Map
In the early 1980s, downtown cleared out as shops headed for the mall. Art-school students and other creative types took advantage of the empty spaces and cheap rents to rehearse and play shows in nightclubs like the 40 Watt Club. The resulting scene spawned the likes of R.E.M., Pylon, Dreams So Real and Love Tractor and turned a sleepy college town into an internationally known music town, and a weekly rag called Flagpole cropped up to cover it. In the '90s, jam band Widespread Panic rose to prominence, and The Olivia Tremor Control, Neutral Milk Hotel and the rest of the Elephant 6 collective became indie-rock favorites. More recently, of Montreal, Drive-By Truckers and a surging hip-hop scene have kept Athens relevant.
8. You Can See Where History Was Made—if You Know Where to Look
The B-52s played their first show in a house across the street from the Milledge Avenue Taco Stand. R.E.M. played theirs in a church off Oconee Street that was demolished to make way for condominiums, but the steeple remains and is being restored by local nonprofit Nuçi's Space. Nearby is the trestle shown on the back cover of the band's debut album Murmur. It, too, has been partially demolished, but what remains can be accessed via the new Firefly Trail, an abandoned railroad the city turned into a walking and biking path. The trailhead is next door to Weaver D's, a soul food restaurant owned by Dexter Weaver, who lent his slogan to R.E.M.'s Automatic for the People. The Athens Welcome Center (280 E. Dougherty St.; 706-353-1820; athenswelcomecenter.com) offers guided and self-guided tours.
9. Athens Is More Than Downtown
Downtown (downtownathensga.com) still has plenty of quirky shops and great bars and restaurants. But as it's become more homogenized in recent years with chains and cookie-cutter student high-rises, much of what makes Athens unique has moved into the surrounding neighborhoods. Check out Cobbham and Normaltown along Prince Avenue, the Five Points area at Lumpkin Street and Milledge Avenue and the Chase Park warehouses off Chase Street. The Eastside, once a suburban wasteland, is now a hub for international food, and sprawling Atlanta Highway even has a brewpub. The Athens Convention and Visitors Bureau (visitathensga.com) is another useful resource.
10. Athens Is Undergoing a Political Revolution
This is a typical liberal college town—Donald Trump only won 28 percent of the vote here. But lately it's tilted even further to the left. In a 2017 special election, Democrats took control of two state House of Representatives seats despite the fact that they were gerrymandered by the Republican-controlled legislature. And last May, voters threw out three incumbent commissioners, electing what is likely to be the youngest and most progressive commission in Athens history. Kelly Girtz will take over for Mayor Nancy Denson in January 2019. On the agenda: affordable housing, living wages and criminal justice reform. Read Flagpole's City Dope column to keep up with local political news, and visit accgov.com for more information on the local government.
By the Numbers
Area: About 122 square miles—geographically the smallest county in Georgia.
Population: 125,661 (2017 Census estimate—includes UGA students)
Demographics: 65 percent white, 27 percent black, 7 percent Hispanic, 3 percent Asian (2010 Census)
UGA enrollment: 37,606 (Fall 2017)
Largest employers: UGA (10,665), Clarke County School District (2,418), Athens-Clarke County government (2,180), St. Mary's Hospital (2,090), Caterpillar (1,700), Pilgrim's Pride (1,650), Piedmont Athens Regional (1,348) (Source: Athens-Clarke County Economic Development Department)
Get Around
Walk: Downtown is compact, and the UGA campus is right across the street. Many intown neighborhoods are an easy walk to town and to each other. Sidewalks go almost everywhere, and the Greenway stretches along the North Oconee River. • 706-613-3801 •
Bike: BikeAthens offers a handy map of streets with bike lanes. • bikeathens.com
Drive: Downtown metered parking is $1.25 an hour Monday–Saturday 8 a.m.–10 p.m. (Sundays are free.) Two-hour time limit from 8 a.m.–6 p.m. Most meters accept cards and coins. Parking decks cost $1 per hour after the first half hour, with no time limit. • downtownathensga.com | Most surface lots downtown are operated at night by National Parking, which charges $5 and will tow you if you "forget" to pay. • national-parking.com | On campus, a good rule of thumb is to park in a deck. Most surface lots are permit-only. • 706-542-PARK • parking.uga.edu
Taxis: Cabs in Athens are not what you'd expect in a city this size. The taxis are large vans, and you have to share with other passengers. If you're downtown late and need to take a cab, you can probably hail one in front of the UGA Arch. Be sure it's legit, though. Make sure it has a permit and fares posted and a special license plate. Good luck!
Ride-Sharing: Uber and Lyft both operate in Athens, although Uber seems to have more drivers. Fares vary based on demand.
Bus: Athens Transit buses leave in all directions from the Multimodal Center on East Broad Street, down the hill from downtown. Fares are $1.75 for adults; UGA students, faculty and staff, and kids under 18, ride free. • 706-613-3430 • athenstransit.com | Everybody rides free on Campus Transit. Buses mostly run through campus, but there are routes along Milledge Avenue and Prince Avenue, too. They don't stop automatically, but you can flag one down from any Athens Transit stop. • 706-369-6220 • transit.uga.edu
Get Outta Town
Intercity Buses: Southeastern Stages • 4020 Atlanta Hwy. • 706-549-2255 • southeasternstages.com | Megabus • Multimodal Center, 775 E. Broad St. (Sunday: East Campus Parking Deck, River Road) • us.megabus.com
Airport Shuttle: Groome Transportation runs the shuttle to Hartsfield-Jackson International Airport (ATL) in Atlanta—the world's busiest. • 3190 Atlanta Hwy., Ste. 22 • 800-896-9928 • groometransportation.com
Rail: Amtrak's Crescent stops in Gainesville (GNS) on its run between New Orleans and New York City. • 116 Industrial Blvd., Gainesville • 800-872-7245 • amtrak.com
Don't Do It
Smoking is illegal in any public buildings (even bars), in public parks and on the UGA campus. ACC provides cigarette butt receptacles attached to parking meters downtown.
No open containers except inside the metal rails if you're in a sidewalk cafe or on campus for football game days. And no glass.
Last call is 2 a.m., except on Sundays, when it's midnight. Bars that don't sell food can't open on Sundays at all. (Restaurants can serve you a Bloody Mary starting at 12:30 p.m.)
We shouldn't have to tell you this, but we do: Public intoxication and public urination are illegal.
Drinking under age 21 is illegal everywhere.
Probably no one will hassle you if you're discreet, but unfortunately Georgia is not one of the states that has legalized marijuana.
It's illegal for more than two unrelated people to live in houses in areas zoned single-family. Check with the ACC Planning Department before signing a lease.
A noise ordinance regulates loud parties in residential neighborhoods.
Keep your dog on a leash and pick up after it. Free baggies are available at most parks.
Don't run red lights. Some are equipped with cameras.
If you're driving, please STOP FOR PEDESTRIANS.