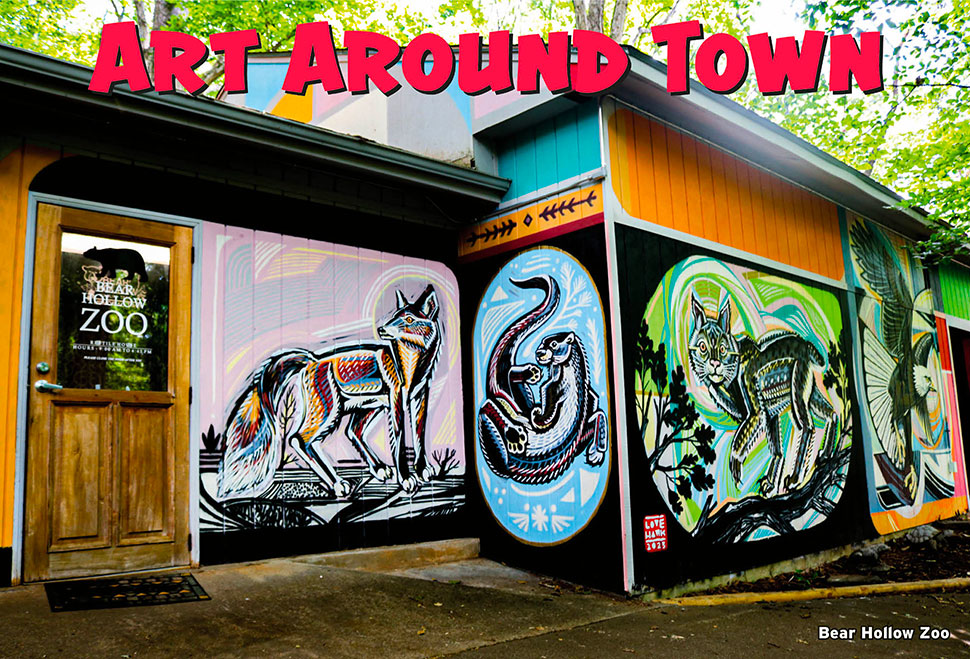 Athens has a handful of interesting galleries, and even more eye-catching artwork can be found around town, adding bursts of color and character to the walls of coffee houses, restaurants, bars and shops. Check Flagpole's Art Around Town for a weekly list of current exhibitions. Organizations like the Athens Cultural Affairs Commission and Athens Area Arts Council continue to fund public art projects, while many working artists frequently show off their studios during open houses and seasonal sales. For info on receptions and events, check Flagpole's calendar in print and at flagpole.com.
ACE/FRANCISCO Gallery
675 Pulaski St., Suite 1500 • acefranciscogallery.com
Located inside of the historic Leathers Building, this new gallery was established in May 2022 by Jason Thrasher and Beth Hall Thrasher. The gallery looks forward to an exhibition of skateboarding photography by San Diego-based artist J. Grant Brittain in the fall of 2023. Exhibitions are accompanied by a limited edition of numbered and signed prints, the sales of which support the gallery as well as student arts organizations in the Southeast.
The Athenaeum
287 W. Broad St. • art.uga.edu/athenaeum
Much like the scholarly sanctuaries of ancient Greece, the newly opened Athenaeum of UGA's Lamar Dodd School of Art is dedicated to creative engagement and education. Curated by Dodd Galleries director Katie Geha, the Athenaeum is a downtown contemporary art space focused on internationally and nationally acclaimed artists and cross-disciplinary conversation. For the fall season, the gallery will present an audio-visual installation created by Paul Pfeiffer in collaboration with the Georgia Redcoat Marching Band.
Athens Institute for Contemporary Art (ATHICA)
675 Pulaski St., Ste. 1200 • 706-850-7770 • athica.org
ATHICA balances Athens-centric exhibitions with those of professional contemporary artists from across the globe. A community hub for over 20 years, the all-volunteer organization successfully purchased its building in 2021. In addition to traditional opening receptions, exhibitions are often accompanied by educational workshops, performances and panel discussions with visiting artists. Artist-in-ATHICA residencies spotlight artists working in a variety of disciplines.
ATHICA@Ciné Gallery
234 W. Hancock Ave. • 706-353-3343 • athenscine.com
More than just an indie movie theater, Ciné is also a venue for visual art. The exhibit space runs down the main entrance and is curated through a partnership with ATHICA. Art can be viewed during the same hours as the theater, but you don't have to buy movie tickets to check it out or enjoy opening receptions.
Aurum Studios
125 E. Clayton St. • 706-546-8826 • aurumstudios.com
With multiple in-house jewelers, Aurum specializes in custom jewelry. The shop also offers pottery, painting, woodwork and metalwork, the majority of which was made by local artists. Aurum reopened under new ownership in 2022, and plans to continue hosting rotating displays of artwork.
The Classic Center
300 N. Thomas St. • 706-208-0900 • classiccenter.com
In addition to awarding grants and scholarships, the Classic Center Cultural Foundation exists to fund the purchase of local art, which adorns the large walls of the conference and events venue. Some art remains on view permanently, while even more changes biannually through exhibitions in the Classic Galleries.
The Dodd Galleries
270 River Road • 706-542-1511 • art.uga.edu/galleries
UGA's renowned art school neighbors the Georgia Museum of Art. In addition to the popular BFA exit shows, which showcase the works of graduating students near the end of each semester, galleries host exhibitions by students, faculty members and visiting artists that rotate year-round. Regular events include receptions and lectures by artists and art historians.
Flicker Theatre and Bar
263 W. Washington St. • 706-546-0039 • flickertheatreandbar.com
In addition to a jam-packed calendar of concerts, film screenings and trivia nights, Flicker showcases a different local artist along its iconic orange wall every month. Upcoming highlights include Andersen Rodriguez, Caitlyn Riesinger, Mark Dalling, Marisa Mustard and Jill Carnes.
Georgia Museum of Art
90 Carlton St. • 706-542-4662 • georgiamuseum.org
Georgia's official art museum, located on UGA's East Campus, houses a large permanent collection of paintings, prints, decorative arts, sculpture and more. This season's diverse lineup includes "Southern/Modern," Jim Fiscus' "Where Shadows Cross," "Nancy Baker Cahill: Through Lines" and "Kei Ito: Staring at the Face of the Sun." Admission is free, as are almost all of its many events: gallery tours, lectures, films, workshops for teens and family activities. The museum is celebrating its 75th anniversary with associated programming running through November.
Hotel Indigo Athens
500 College Ave. • 706-546-0430 • indigoathens.com
ArtWall@Hotel Indigo presents rotating shows of small scale works with thematic focuses. Located outdoors and viewable 24/7, GlassCube@Hotel Indigo is a literal glass cube housing creative installations. The hotel also features a handful of local artists such as Mark Steinmetz, Brittany Lauback, Alex Murawski and Rebecca Kreisler in its permanent collection.
Indie South
470 Hawthorne Ave. • 706-850-0644 • theindiesouth.com
After establishing itself as one of the largest handmade markets in the Southeast, Indie South opened a brick-and-mortar boutique full of artisan, handcrafted and vintage goods, rare plants, crystals and more. The space, which also houses its own screen printing studio, now stocks several popular artists including David Hale and Chris Hubbard. In between huge biannual craft fairs, Indie South hosts creative classes and pop-up markets.
The K.A. Artist Shop
127 N. Jackson St. • 706-850-1224 • kaartist.com
A one-stop shop for all artist supply needs, K.A. hosts occasional group exhibitions that are typically hung in eclectic salon-style arrangements. The shop also offers photography services and workshops for all ages.
Lyndon House Arts Center
211 Hoyt St. • 706-613-3623 • accgov.com/lyndonhouse
Run by Athens-Clarke County, the arts center displays professional exhibitions in large, sunny galleries upstairs and down, while the Ware-Lyndon House museum offers a glimpse into Athens' past through period decor and artifacts. In addition to offering classes instructed by professional artists, summer camps and the occasional festival, the center serves as meeting grounds for local craft groups. This year's programming spotlights artists including Jackie Dorsey, Mary Engel, Charmaine Minniefield, Margaret Morrison, Brandon Narsing, Charles Pinckney, Lois Thomas-Ewings, Kristin Roberts and Cheryl Washburn.
Madison-Morgan Cultural Center
434 S. Main St., Madison • 706-342-4743 • mmcc-arts.org
The nonprofit is outside of Athens in a beautifully restored 1895 Romanesque Revival building. Programming ranges from visual art exhibitions to performing arts, and annual events include an antiques show, chamber music festival and tour of homes. Permanent exhibitions include a 1895 schoolroom, a gallery of original furnishings from the Arts and Crafts Period, a museum of Piedmont history and a series of portraits by George Andrews aka "The Dot Man."
Oconee Cultural Arts Foundation (OCAF)
34 School St., Watkinsville • 706-769-4565 • ocaf.com
Centered in a renovated turn-of-the-century schoolhouse, OCAF is a nonprofit that promotes performing, visual and literary arts through a range of exhibitions and classes for all ages. Longstanding annual events include "Southworks," a national juried art exhibition; "Perspectives," the Georgia pottery invitational; a members exhibition; and a holiday market. Smaller exhibitions are hosted in a converted classroom adjacent to the main gallery.
Porcelain and Decorative Arts Museum
2450 S. Milledge Ave. • 706-542-1244
Located at the State Botanical Garden of Georgia, the Porcelain and Decorative Arts Museum opened in 2021 to showcase the personal collection of Deen Day Sanders. The state-of-the-art facility blends conservation, botanicals, art and history.
The Quiet Gallery
2025 Baxter St. • 706-613-3650 • athenslibrary.org
Nestled on the second floor of the Athens-Clarke County Library, the Quiet Gallery is a comfortable reading room with rotating exhibitions celebrating established local artists.
Tif Sigfrid
393 N. Finley St. • info@tifsigfrids.com • tifsigfrids.com
Owner Tif Sigfrids first relocated her gallery from Los Angeles to downtown Athens, then moved further out to Comer, and is now back in Athens as well as New York City. Exhibitions primarily showcase the works of professional contemporary artists.
tiny ATH gallery
174 Cleveland Ave. • tinyathgallery@gmail.com • tinyathgallery.com
Athens' smallest physical gallery space packs a punch with high-quality pop-up exhibitions that rotate each month. Limited-capacity receptions and pop-up events are typically held on Thursdays. Upcoming artists include Manda McKay, Jim Barsness and Jesse Blalock, Will Eskridge, Kip Ramey and Elizabeth Hanes.
Twisted Moon Studios
2971 Monroe Hwy., Bogart • 678-661-0126 • twistedmoonstudios.com
This art studio offers classes, camps and workshops for children and adults alike, as well as paint parties. In addition to public events, the space is also available to rent.
UGA Special Collections Libraries
300 S. Hull St. • 706-542-7123 • libs.uga.edu/scl
The galleries feature items from the Hargrett, Russell and Brown Archives. Historical pieces include photographs, manuscripts, maps and memorabilia.
Public Art Projects to Check Out
Art Shelters
Serving transit riders while also injecting creativity into the built environment, many of Athens-Clarke County Transit's bus shelters double as public art. The program produced 11 art shelters between two phases in 2005 and 2011 as a partnership between ACC Transit and the Athens Area Arts Council called "You, Me and the Bus." Under the guidance of the Athens Cultural Affairs Commission, ACC Transit added a new round of 13 art shelters and an additional 20 artist-designed laser cut shelters in 2020. Look out for Joni Younkins-Herzog's giant pillbug on Lexington Road and Richard Herzog's larger-than-life gingko leaves on North Avenue.
Athens Creative Directory
Organized by the Athens-Clarke County Economic Development Department and CREATE Athens (a division of Envision Athens), the Athens Creative Directory serves as a hub for finding and interacting with creatives working in a variety of disciplines. Visit athenscreatives.directory to search through profiles.
Cobbham Triangle Park
Occupying the slice of land nestled between Prince Avenue, Cobb and Harris streets, the Cobbham Triangle Park is a neighborhood gathering spot accentuated by public art. Highlights include an entranceway designed by St. Udio, a mosaic sitting wall called "Flow" by Krysia Ara, a towering sculpture called "Spirit of Inspiration" by Harold Rittenberry, a new "Venus Flower of Love" sculpture by Steve Sweetser and granite sculptures by Stan Mullins for games of chess and ping pong.
Fire Up the Hydrants
A project of the Athens-Clarke County Public Utilities Department, Fire Up the Hydrants transformed 20 ordinary hydrants into functional, life-saving works of art. Spread across downtown, the hydrants were cleverly hand-painted by local artists, including Sarah Cook, Ashley Crain, Megan Reeves, Lilli Sams and Dan Smith.
Frequency
Debuted in December of 2022, Maryland-based artist Eric Leskinsky's "Frequency" is a 14-piece installation of three-dimensional blue "squiggles" that run along Clayton Street from Thomas to Lumpkin streets. A trained architect and planner, Leskinsky's work encourages viewers to consider how the forms interact with objects along the path.
Hope
Located downtown on the exterior walls of Epiphany Athens and The Rook & Pawn, David Hale's mural, "Hope," depicts barn swallows—a symbol of rebirth and hope—flying across a prismatic, rainbow-colored sky. "Hope" celebrated the 25th anniversary of the AthFest Music and Arts Festival, and replaced "BirdSong," Hale's mural of 20 species of native songbirds that was commissioned by AthFest Educates to commemorate the festival's 20th anniversary.
Hot Corner: An Athens Legacy
Located at the corner of Lumpkin and Washington streets, "Hot Corner: An Athens Legacy" is dedicated to the rich history of Hot Corner, a hub of African-American entrepreneurship. Organized by the Athens Cultural Affairs Commission with support from a National Endowment for the Arts grant, the mural was created by Miami-based muralist Elio Mercado and local artist Broderick Flanigan.
Project Ginkgo
Beautifying 17 concrete bases of light poles with intricate mosaics, Krysia Ara's Project Ginkgo adds glittering charm and color into the downtown landscape. Funded by the Athens Downtown Development Authority, each design is unique and can be found outside of Flicker Theatre & Bar, The World Famous, Morton Theatre, Epiphany, Creature Comforts, Musician's Warehouse, Ciné, Chamber of Commerce, Post Office, Last Resort, Ted's Most Best and others.
Rainbow Forest
Visible from Martin Luther King Parkway on the North Oconee River Greenway, "Rainbow Forest" is a new public art installation by Los Angeles-based designer Andrew Kovacs, who worked alongside local artist assistants Eli Saragoussi and Patrick Sprague. Supported by the Athens Cultural Affairs Commission and unveiled in August 2021, the outdoor installation consists of a grid of 36 brightly colored columns.
Sculptures and Murals
Athens' most recognizable sculptures are a series of giant bulldogs painted in colorful designs. To check out more sculptures, visit Steve Sweetser's kinetic "Tree of Oneta" near the historic Southern Mill complex or Abbot Pattison's infamous "Iron Horse" visible from Highway 15 N. in Greensboro. Popular murals include Taylor Shaw's ATHENS Mural near Classic City Cycling, Dave Jenkins' at Last Resort Grill, Anthony Wislar at Creature Comforts Brewery, Jamie Calkin at Flowerland and Michael Ross on Hawthorne Avenue.
Art Classes
ARTini's Art Studio, Gallery & Lounge 337 Prince Ave. • 706-353-8530 • artinisartlounge.com
Learn to paint while enjoying an adult beverage.
Community 260 N. Jackson St. • 706-316-2067 • shopcommunityathens.com
Garment-making in beginner and intermediate sewing courses.
Good Dirt 485 Macon Hwy. • 706-355-3161 • gooddirt.net
Pottery classes for all ages in a variety of techniques.
Indie South 470 Hawthorne Ave. • 706-850-0644 • theindiesouth.com
Artist-led workshops in subjects such as soap making, Tarot and dyeing.
The K.A. Artist Shop 127 N. Jackson St. • 706-850-1224 • kaartist.com
Photo-room rentals, workshops and art supplies.
Lyndon House Arts Center 211 Hoyt St. • 706-613-3623 • accgov.com/lyndonhouse
Adult and youth classes in diverse media, plus an open studio membership program.
Oconee Cultural Arts Foundation (OCAF) 34 School St., Watkinsville • 706-769-4565 • ocaf.com
A wide variety of art and craftwork programs.
The Pearl Girls 548 Hawthorne Ave. • 706-850-5296 • thepearlgirls.com
Classes in pearl-stringing and wire-wrapping.
Revival Yarns 585 Barber St., Unit D • 706-850-1354 • revivalyarnsathens.com
Knit and crochet classes.
Winterville Community Center 371 N. Church St., Winterville • 706-742-0823 • wintervillecenter.com
Oil painting, botanical sketching and more.