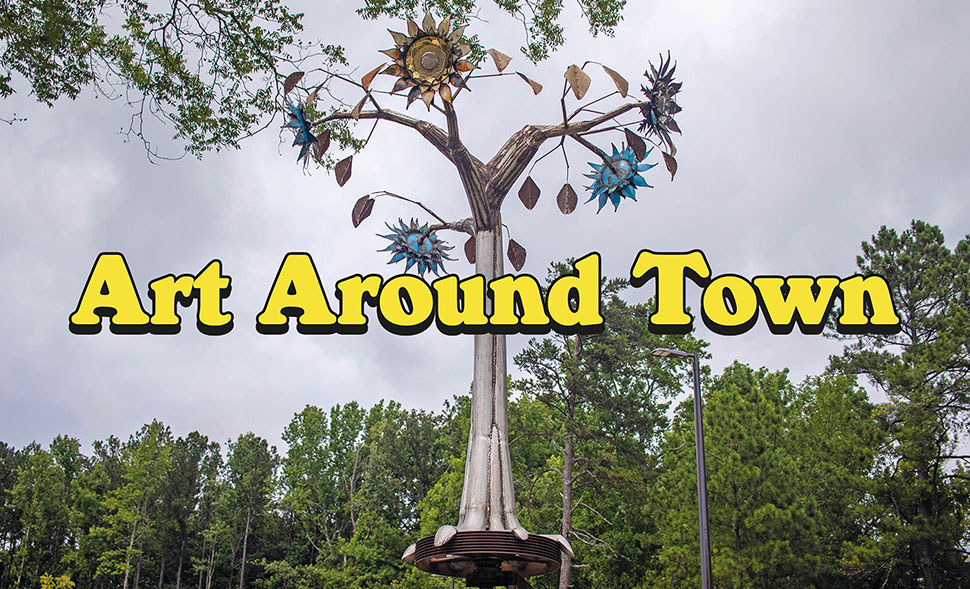 Athens has a handful of interesting galleries, and even more eye-catching artwork can be found around town, adding bursts of color and character to the walls of coffee houses, restaurants, bars and shops. Check Flagpole 's Art Around Town for a weekly list of current exhibitions. Organizations like the Athens Cultural Affairs Commission and Athens Area Arts Council continue to fund public art projects, while many working artists frequently show off their studios during open houses and seasonal sales. For info on receptions and events, check Flagpole 's Calendar.
The Athenaeum
287 W. Broad St. • art.uga.edu/athenaeum
Curated by Dodd Galleries director Katie Geha, the Athenaeum is a new downtown contemporary art space focused on internationally and nationally acclaimed artists and cross-disciplinary conversation.
Athens Institute for Contemporary Art (ATHICA)
675 Pulaski St., Ste. 1200 • 706-850-7770 • athica.org
ATHICA balances Athens-centric exhibitions with those of professional contemporary artists from across the globe. In addition to traditional opening receptions, exhibitions are often accompanied by educational workshops, performances and talks with visiting artists.
Aurum Studios
125 E. Clayton St. • 706-546-8826 • aurumstudios.com
With multiple in-house jewelers, Aurum specializes in custom jewelry. The shop also offers local pottery, painting, woodwork and metalwork.
BARBAR Vintage Textiles and Home
1354 S. Milledge Ave. • barbarvintagetextilesandhome.com
BARBAR focuses on vintage textiles, antiques and handcrafted items by contemporary artisans from across the globe. New on the scene, the shop intends to host frequent exhibitions of local artists as well as other special events.
Ciné
234 W. Hancock Ave. • 706-353-3343 • athenscine.com
More than just an indie movie theater, Ciné is also a venue for visual art. The exhibit space runs down the main entrance wall and is curated through a partnership with ATHICA. This season features Chatham Murray from Sept. 1–Oct. 25 and Eddie Lohmeyer from Nov. 1–Dec. 30.
The Circle Gallery
285 S. Jackson St. • 706-542-8292 • ced.uga.edu
Part of UGA's College of Environment and Design and housed on North Campus, the Circle Gallery hosts several shows per year celebrating the relationship between fine art and themes of landscape architecture, historic preservation and, naturally, environmental design.
The Classic Center
300 N. Thomas St. • 706-208-0900 • classiccenter.com
Some art remains on view permanently, while even more changes biannually through exhibitions curated by Didi Dunphy.
Creature Comforts Brewing Co.
271 W. Hancock Ave. • 706-410-1043 • getcurious.com/get-artistic
Creature Comforts' Get Artistic initiative aims to fund and promote art in its many forms: visual art, performance, music and writing. In addition to exhibitions curated by Madeline Bates Blankenship, the brewery hosts artist talks, craft workshops and other enrichment opportunities for the community.
The Dodd Galleries
270 River Road • 706-542-1511 • art.uga.edu/galleries
UGA's renowned art school neighbors the Georgia Museum of Art. In addition to the popular BFA exit shows, galleries host exhibitions by students, faculty members and visiting artists that rotate year-round. Regular events include receptions and lectures by artists and art historians.
Georgia Museum of Art
90 Carlton St. • 706-542-4662 • georgiamuseum.org
Georgia's official art museum houses a large permanent collection of paintings, prints, decorative arts, sculpture and more. This season's lineup includes "Kota Ozawa: The Crime of Art," "Neo-Abstraction: Celebrating a Gift of Contemporary Art from John and Sara Shlesinger" and "Collective Impressions: Modern Native American Printmakers." Events include gallery tours, lectures, films, workshops for teens and family activities.
Indie South
470 Hawthorne Ave. • 706-850-0644 • theindiesouth.com
After establishing itself as one of the largest handmade markets in the Southeast, Indie South opened a brick-and-mortar boutique full of artisan and vintage goods, rare plants, crystals and more. The space, which also houses its own screen printing studio, now stocks several popular artists.
The K.A. Artist Shop
127 N. Jackson St. • 706-850-1224 • kaartist.com
A one-stop shop for all artist supply needs, K.A. hosts occasional group exhibitions that are typically hung in eclectic salon-style arrangements.
Lyndon House Arts Center

211 Hoyt St. • 706-613-3623 • athensclarkecounty.com/lyndonhouse
Run by Athens-Clarke County, the arts center displays professional exhibitions in large, sunny galleries upstairs and down, while the Ware-Lyndon House museum offers a glimpse into Athens' past through period decor and artifacts. Fall exhibitions include "i vs me: Andy Cherewick & Jeffrey Whittle," "Modernist Sculptures from the Legacy of Loyd Florence," "A Lot More Than It Seems: Artworks by David Froetschel," "Something I've Been Meaning to Tell You: Brian Hitselberger & Julie Willis," and "Inside Out: Expressing the Inner World."
Madison-Morgan Cultural Center
434 S. Main St., Madison • 706-342-4743 • mmcc-arts.org
Programming ranges from visual art exhibitions to performing arts, and annual events include an antiques show, chamber music festival and tour of homes. Permanent exhibitions include an 1895 schoolroom, a gallery of original furnishings from the Arts and Crafts Period and a museum of Piedmont history.
Oconee Cultural Arts Foundation (OCAF)
34 School St., Watkinsville • 706-769-4565 • ocaf.com
Centered in a renovated turn-of-the-century schoolhouse, OCAF is a nonprofit that offers a range of exhibitions and classes. Longstanding annual events include "Southworks," a national juried art exhibition; "Perspectives," the Georgia pottery invitational; a members exhibition; and a holiday market.
Porcelain and Decorative Arts Museum
2450 S. Milledge Ave. • 706-542-1244
Located at the State Botanical Garden of Georgia, the Porcelain and Decorative Arts Museum opened in 2021 to showcase the personal collection of Deen Day Sanders, a charter board member of the garden. The state-of-the-art facility blends conservation, botanicals, art and history.
STEEL + PLANK
675 Pulaski St., Suite 200 • 706-850-7980 • steelandplank.com
Owned by Kelley Bishop, STEEL + PLANK produces sustainable and minimalist furniture made possible through its own architecture firm, STUDIO.BNA, and fabrication studio, Very Dark Gray. Makers and artists are highlighted during pop-ups.
Tif Sigfrids
83 E. North Ave., Comer • info@tifsigfrids.com • tifsigfrids.com
Owner Tif Sigfrids first relocated her gallery from Los Angeles to Athens, and then recently moved farther out to Comer. Exhibitions primarily showcase the works of professional contemporary artists.
tiny ATH gallery
174 Cleveland Ave. • tinyathgallery@gmail.com • tinyathgallery.com
Athens' smallest physical gallery space packs a punch with pop-up exhibitions each month. Artists coming this season include Alexis Spina, Davy Gibbs, James Greer, Sarah Flinn and Amanda Jane Crouse and Amanda Jane Burk.
UGA Special Collections Libraries
300 S. Hull St. • 706-542-7123 • libs.uga.edu/scl
The galleries feature items from the Hargrett, Russell and Brown Archives. Historical pieces include photographs, manuscripts, maps and memorabilia.
Winterville Center for Community and Culture
371 N. Church St., Winterville • 706-742-0823 • wintervillecenter.com
Opened in spring 2016, this $1.3 million renovation project transformed the former Winterville High School into a regional enrichment center for adults. Rotating art exhibitions vary in theme and style.
Intown Public Art Projects
Art Decko
Organized by the Athens Area Arts Council, Art Decko is a series of nine large-scale paintings installed on each floor of the Vertical Gallery, an unconventional stairwell-turned-art space in the College Avenue Parking Deck. Artists include Ashley Anderson, Jared Brown, Jeremy Kiran Fernandes, Ruth Allen, Jacob Wenzka, Hannah Betzel, Will Eskridge, Jeanne Whatley and Dorian Edwards.
ATHENS Mural
Located in an alley off Clayton Street, former Athenian Taylor Shaw's new mural resembles a vintage "Greetings from…" postcard and celebrates the Classic City as a musical mecca. Part of the new Athens Music Walk of Fame—and funded by the Athens Downtown Development Authority—the mural depicts a collage of local music references incorporated in the block letters: Pylon, Widespread Panic, The B-52's and more. This summer, the Athens Mural Alley project will install a series of several paintings on panels by local artists.
Cobbham Triangle Park
Last year, the slice of land nestled between Prince Avenue, Cobb and Harris streets was transformed into a public art park. Highlights include a mosaic sitting wall by Krysia Ara, a towering sculpture by Harold Rittenberry and granite sculptures by Stan Mullins for games of chess and ping pong.
Hope
Located downtown on the exterior walls of Epiphany Athens and The Rook & Pawn, David Hale's new mural, "Hope," depicts barn swallows—a symbol of rebirth and hope—flying across a prismatic, rainbow-colored sky. "Hope" celebrates this year's 25th anniversary of the AthFest Music and Arts Festival, replacing "BirdSong," Hale's mural of 20 species of native songbirds that was commissioned by AthFest Educates to commemorate the 20th anniversary.
Fire Up the Hydrants
A project of the Athens-Clarke County Public Utilities Department, Fire Up the Hydrants transformed 20 ordinary hydrants into functional, life-saving works of art. Spread across downtown, the hydrants were cleverly hand-painted by local artists—including Sarah Cook, Lilli Sams, Dan Smith and Jennifer Zwirn.
Hot Corner: An Athens Legacy
Located at the corner of Lumpkin and Washington streets, "Hot Corner: An Athens Legacy" is dedicated to the rich history of Hot Corner, a hub of African-American entrepreneurship. Organized by the Athens Cultural Affairs Commission with support from a National Endowment for the Arts grant, the mural was created by Miami-based muralist Elio Mercado and local artist Broderick Flanigan.
Project Ginkgo
Beautifying the concrete bases of light poles with intricate mosaics, Krysia Ara's Project Ginkgo adds glittering charm and color to the downtown landscape. Funded by the Athens Downtown Development Authority, each design is unique and can be found outside Flicker Theatre and Bar, The World Famous, Morton Theatre, Epiphany, Creature Comforts, Musician's Warehouse, Ciné, Chamber of Commerce, Post Office, Last Resort and Ted's Most Best.
Art Classes
ARTini's Art Studio, Gallery & Lounge
337 Prince Ave. • 706-353-8530 • artinisartlounge.com
Learn to paint while enjoying an adult beverage.
Community
260 N. Jackson St. • 706-316-2067 • shopcommunityathens.com
Garment-making in beginner and intermediate sewing courses.
Good Dirt
485 Macon Hwy. • 706-355-3161 • gooddirt.net
Pottery classes for all ages in a variety of techniques.
Indie South
470 Hawthorne Ave. • 706-850-0644 • theindiesouth.com
Artist-led workshops in subjects such as soap making, wet felting, Tarot and dyeing.
The K.A. Artist Shop
127 N. Jackson St. • 706-850-1224 • kaartist.com
Photo-room rentals, workshops and art supplies.
Lyndon House Arts Center
211 Hoyt St. • 706-613-3623 • athensclarkecounty.com/lyndonhouse
Adult and youth classes in diverse media.
Oconee Cultural Arts Foundation (OCAF)
34 School St., Watkinsville • 706-769-4565 • ocaf.com
A wide variety of art and craftwork programs.
The Pearl Girls
548 Hawthorne Ave. • 706-850-5296 • thepearlgirls.com
Classes in pearl-stringing and wire-wrapping.
Revival Yarns
297 Prince Ave., No. 17 • 706-850-1354 • revivalyarnsathens.com
Knit and crochet classes.