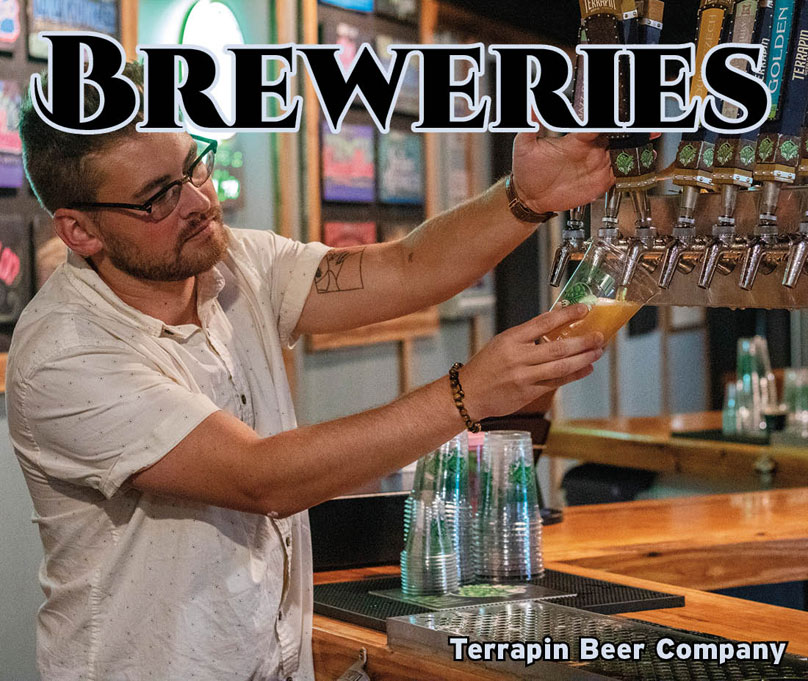 Though it lags far behind nearby cities like Atlanta or Asheville, NC, Athens is slowly but surely emerging as a craft beer destination. Four breweries are going strong, with one more opening fall 2019 and another coming soon. Cans can be purchased from most breweries on-site or at local stores. The annual Classic City Brew Fest brings in beer lovers from beyond our borders, and craft-minded lists featuring native brews are the norm at bars and restaurants all over town.
Akademia Brewing Company
150 Crane Dr. · 678-726-2288 · akademiabc.com
A large brewpub in a warehouse-type space off Atlanta Highway with a huge bar, a view of the tanks and crowlers to go. A full menu of meals and snacks. Craft beers made in house, as well as guest brews. Offerings change daily, with lots of interesting options and tasty standbys, like the IQ IPA and Skal Norwegian wheat.
Athentic Brewing Company
108 Park Ave. · 706-206-2074 · athenticbrewing.com
Athens' newest brewery is in the historic Boulevard neighborhood and features a futuristic beer wall with self-serve taps.
Creature Comforts Brewing Company
271 W. Hancock Ave. · 706-410-1043 · creaturecomfortsbeer.com
A bustling brewery in a large, semi-industrial space inside a historic building downtown, with ample outside seating. The Athens Farmers Market sets up Wednesdays. The brewery also hosts art, music and food trucks. Popular year-round offerings include the Tropicalia IPA, Athena Berliner weisse and Classic City Lager. Limited and seasonal beers available.
Normaltown Brewing Company
149 Oneta St. · 706-988-8501 · facebook.com/Normaltownbrewingco
New brewery in the Chase Park warehouses, with plans to open in 2019.
Southern Brewing Company
231 Collins Industrial Blvd. · 706-548-7183 · sobrewco.com
SBC offers an indoor space with a bar and brewing equipment, as well as a big yard for live music, wrestling and other events. It serves up a wide variety of beers, with standards like the Red and Black Berliner and Hobnail IPA on tap. The brewery also offers small-batch, seasonal releases.
Terrapin Beer Company
265 Newton Bridge Road · 706-549-3377 · terrapinbeer.com
In a warehouse just past Chase with an indoor tasting room and a huge lawn, Athens' OG craft brewery hosts live music regularly and lots of annual events. The company has been making beer in Athens for over 15 years. Sample the sessionable RecreationAle, Sound Czech pilsner or Hopsecutioner IPA.