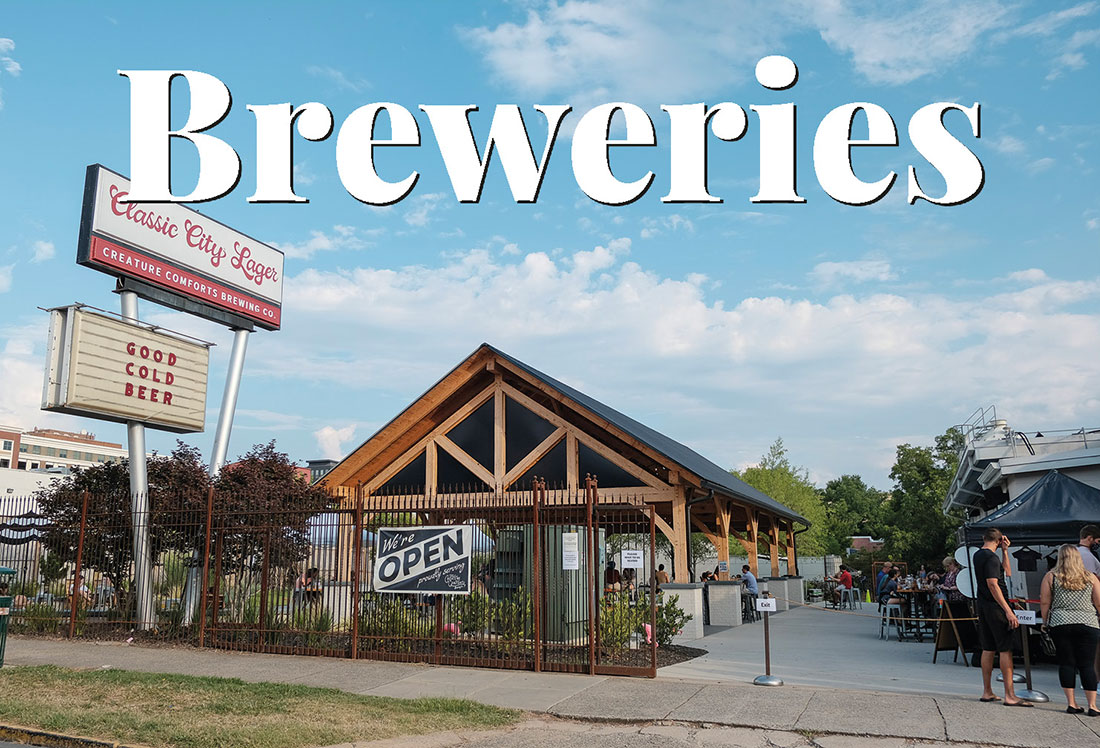 Athens is slowly emerging as a true craft beer destination, with two new microbreweries opening this year, making six in total. If you'd like to sample their work, you can purchase cans or crowlers (machine-sealed aluminum cans) from most breweries on-site or at local stores. Bars and restaurants all over town have craft-minded lists featuring a wide variety of native brews. One option that's not available this year is the Classic City Brew Fest, which normally brings beer lovers into Athens from all over. It's unfortunately been cancelled due to COVID-19, but be sure to check it out in 2021.
Akademia Brewing Company
150 Crane Dr. · 678-726-2288 · akademiabc.com
Akademia is a large brewpub in a warehouse-type space off Atlanta Highway with a huge bar featuring a view of the brewing tanks. They also serve food with a full menu, and they're open seven days a week for dine-in. If you're in a hurry, they've got crowlers to go, which you can fill up with anything on tap to enjoy later. Offerings change daily, with lots of interesting options and tasty standbys, like IQ, a citrusy, New England-style IPA, and Skal Norwegian wheat.
Athentic Brewing Company
108 Park Ave. · 706-206-2074 · athenticbrewing.com
Athentic is in the historic Boulevard neighborhood and features a futuristic beerwall with self-serve taps. Depending on availability, you'll be able to pick from a variety of brews, including Amour de Ferme, a saison; Perfect Number, a coffee brown ale; Sunshine, a wheat beer and also Sister, a pale ale. Other offerings include a juicy IPA, dry Irish stout, pilsner and a double IPA for those who appreciate the hoppier side of microbrew.
Creature Comforts Brewing Company
271 W. Hancock Ave. · 706-410-1043 · creaturecomforts beer.com
A bustling brewery in a large, semi-industrial space inside a historic building downtown, they have ample outside seating, which is where the Athens Farmers Market sets up on Wednesdays. The brewery also hosts art, music and food trucks. Popular year-round offerings include the Tropicalia IPA, Athena Berliner Weisse and Classic City Lager. They also have a large selection of special offerings and limited releases sold in bottles.
Normaltown Brewing Company
149 Oneta St. · 706-988-8501 · facebook.com/Normaltown brewingco
Normaltown is a "nanobrewery" producing very small, carefully crafted batches. They aren't currently bottling for distribution, but look for that coming soon. To sample their brews like Elder Masters, a west-coast double IPA, or Electric Mist, a New England-style hazy IPA, you can visit them in the same warehouse complex off Chase Street where the Cotton Press and Canopy are located. New beers are available often, and you can take anything they've got home with you in a crowler.
Southern Brewing Company
231 Collins Industrial Blvd. · 706-548-7183 · sobrewco.com
SBC offers an indoor space with a bar and brewing equipment, as well as a five-acre yard so you can spread out and get comfortable. They serve up a wide variety of beers, from 25 to 32 choices, depending on the day. Year-round standards include the Red and Black Berliner and Hobnail IPA. The brewery also offers small-batch, seasonal releases. In fact, they release a new beer every Friday.
Terrapin Beer Company
265 Newton Bridge Road · 706-549-3377 · terrapinbeer.com
In a warehouse just past Chase with an indoor tasting room and a huge lawn, Athens' OG craft brewery hosts live music regularly and lots of annual events, weather and COVID permitting. The company has been making beer in Athens for over 15 years. Sample old favorites like the seasonable RecreationAle, Sound Czech pilsner or Hopsecutioner IPA. New beers this year include Frenchy's Blues, a Berliner Weisse brewed with blueberries in collaboration with former Braves outfielder Jeff Francoeur, and summer seasonal Peach Dreamsicle, a "peaches and cream" Imperial IPA. Both are available in cans you can take home.