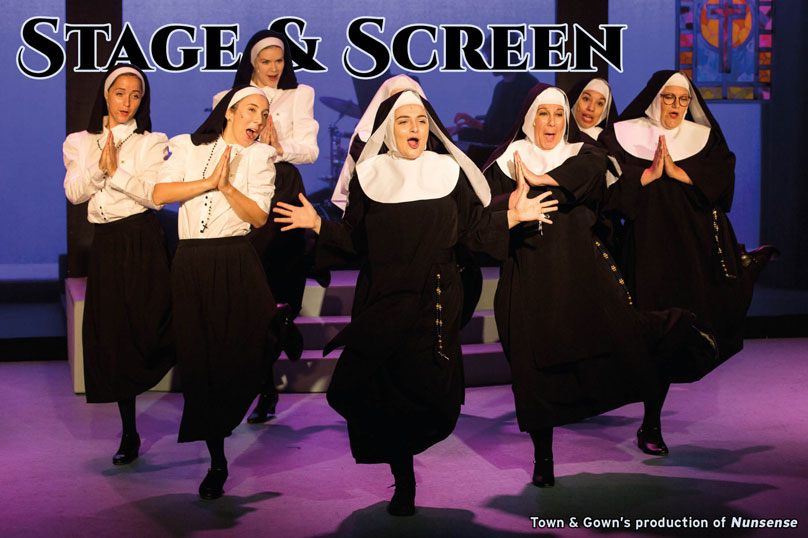 Three multiplexes offer the latest mainstream movies, while a beloved independent cinema and a few other venues play smaller and more eclectic films. Those interested in the local production scene can find resources in Film Athens (filmathens.net). Local theater options range from student productions to professional touring companies. For movie reviews and play listings, check Flagpole and flagpole.com.
Movies
AMC Athens 12
1575 Lexington Road • 706-354-0584 • amctheatres.com
All the latest wide releases. The lobby features a full bar and dining area. Guests can also order snacks, meals and drinks from their seats.
Athens-Clarke County Library
2025 Baxter St. • 706-613-3650 • athenslibrary.org/athens
Patrons can watch a variety of movies shown by different departments and clubs.
Beechwood Stadium 11 Cinemas
196 Alps Road • 706-546-1011 • gtcmovies.com
First-run movies and repertory classics, plus live broadcasts of Metropolitan Opera performances. Food and drinks are available from the Outtakes kitchen and bar.
Ciné
234 W. Hancock Ave. • 706-353-3343 • athenscine.com
Our local cinema screens indie and foreign gems, as well as mainstream flicks. Classic and cult movies are shown alongside local offerings and film festivals. Craft beer, cocktails and soda are available. Snacks include local baked goods and yummy popcorn.
Flicker Theatre & Bar
263 W. Washington St. • 706-546-0039 • flickertheatreandbar.com
The theater side of the local townie bar has cult-oriented screenings hosted by local film enthusiasts, from horror to obscure foreign B-movies and beyond.
Georgia Museum of Art
90 Carlton St. • 706-542-4662 • uga.edu/gamuseum/calendar/films
The museum occasionally presents films in conjunction with art exhibits, frequently introduced by a guest speaker.
Tate Cinema
45 Baxter St. • 706-542-3816 • tate.uga.edu
The campus theater plays second-run blockbusters and classics, hand-picked by the student union. Movies are open to the public for $3.
University 16 Cinemas
1793 Oconee Connector • 706-355-9152 • gtcmovies.com
A sprawling multiplex with reclining seats and Georgia Theatre Extreme (GTX) technology. There's also a side theater with its own Outtakes bar and diner food.
Community Theater
Athens Little Playhouse
191 Alps Road • 706-521-4454 • athenslittleplayhouse.net
ALP specializes in theater for kids ages 5–18, with classes, summer theater camps and a season of performances in a cozy little theater within the Alps Village Shopping Center.
Circle Ensemble Theatre Company
circleensembletheatre.com
The company mounts plays and teaches classes and workshops for teens and adults in various locations. At press time, the group was undergoing a reorganization.
Moonlight Theatre Company
675 Pulaski St., Ste. 1400 • 706-424-2745 • moonlighttheatrecompany.com
This new company combines comedy, performance and classes in the intimate, 40-seat Rubber Soul Collective space at the Leathers Building.
Rose of Athens
150 Fritz Mar Lane • 706-340-9181 • roseofathens.org
RoA has an off-off-Broadway-type warehouse home and, in addition to plays, focuses on education and theater, with classes for kids and performances for school groups each year.
Town & Gown Players
115 Grady Ave. • 706-208-8696 • townandgownplayers.org
Founded in 1953 and nestled in the community theater building behind the Taylor-Grady House, T&G performs classics, musicals and avant-garde plays using multi-talented community volunteers.
Public Theater
Athens-Clarke County Leisure Services Department
293 Gran Ellen Dr. & 195 W. Washington St. • 706-613-3628 • athensclarkecounty.com/act & mortontheatre.com
Operating since 1966, Athens Creative Theatre stages plays and conducts a variety of classes for adults and children in Memorial Park's Quinn Hall and in the Morton Theatre downtown. Leisure Services also manages the Morton, a renovated vaudeville hall that offers a full schedule of community and traveling events during the year.
The Classic Center
300 N. Thomas St. • 706-357-4444 • classiccenter.com
In addition to its full schedule of conferences, receptions, civic gatherings and activities centered around its ice-skating rink, the Classic Center presents touring plays and performances in its 2,100-seat theater throughout the year.
University Theater
UGA Theatre
255 Baldwin St. • 706-542-2836 • ugatheatre.com
University Theatre mounts a season of plays each academic year in the classic, Art Deco Fine Arts Building on campus and is home to a variety of student groups, including the Thalian Blackfriars, Black Theatrical Ensemble, Improv Athens, Next Act and Children's Theatre Troupe.
Nearby Theater
Arts!Oglethorpe (Crawford) • 706-202-1211 • artsoglethorpe.org
Aurora Theatre (Lawrenceville) • 678-226-6222 • auroratheatre.com
Brightstone Productions (Watkinsville) • 706-705-2599 • brightstoneathens.com
Encore Productions (Elberton) • 706-283-1049 • elberttheatre.org
Jefferson Community Theatre (Jefferson) • 706-367-5714 • jeffersoncommunitytheatre.com
Oconee Youth Playhouse (Watkinsville) • 706-769-2677 • oconeeyouthplayhouse.com
On Stage Walton (Monroe) • 678-635-8597 • onstagewalton.org
Winder–Barrow Community Theatre (Winder) • 678-820-9228 • winderbarrowtheatre.org
Performance Groups
Athens Chamber Singers athenschambersingers.org
Athens Children's Chorus georgiachildrenschorus.org
Athens Choral Society athenschoralsociety.com
Classic City Band classiccityband.org
Athens Master Chorale athensmasterchorale.org
Athens Symphony athenssymphony.org
RespirOpera, the Georgia Opera Initiative