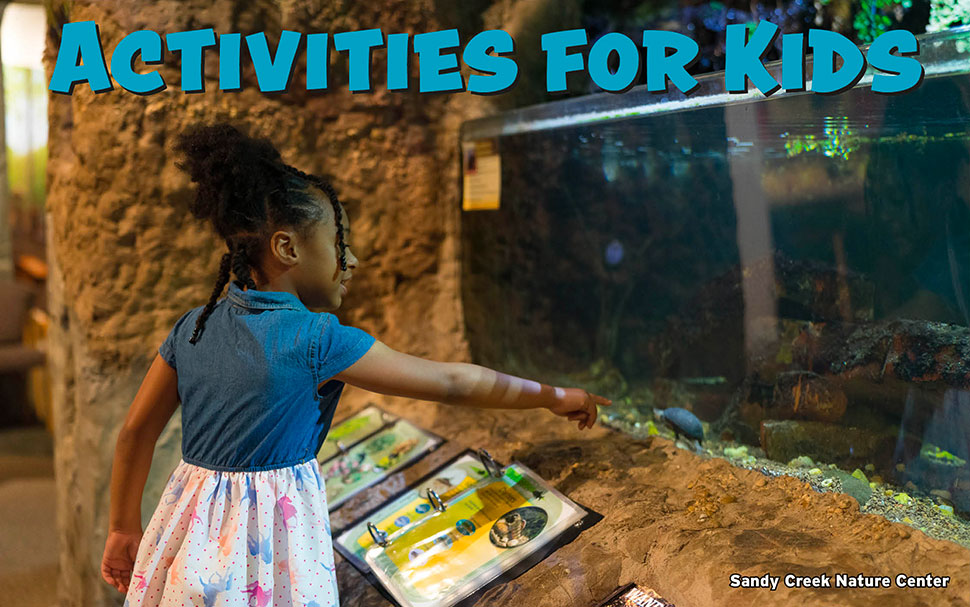 Athens features more than college hang outs and townie hot spots; there are plenty of places to see and things to do for children, too. Here are some highlights and hidden gems for a variety of interests, from physical activity to mental stimulation.
Go Play Outside
Whether you're looking for sports fields, a walk in the woods or just a place to hang (from the monkey bars, of course), you can find your flavor at one of Athens-Clarke County's dozen-plus playgrounds.
Want to explore? Find trails and a naturescape play area at Sandy Creek Nature Center (205 Old Commerce Road or via the Greenway). Walk the trails in the wooded areas of Southeast Clarke Park (325 Whit Davis Road). There's also the Birchmore Trail at Memorial Park (293 Gran Ellen Drive) and a trail along the river at Ben Burton Park (615 Mitchell Bridge Road).
For more traditional playgrounds, stop by the World of Wonder at Southeast Clarke Park for an expansive play area. If you're looking for open fields instead of swings, this park also has open areas around the playground. For more of a neighborhood feel, hit up Reese and Pope Park (375 Reese St.) or Boulevard Woods (298 Barber St.). Note that parks close a few hours each week for regular maintenance, so check out accgov.com/2550/Playgrounds for schedules and the full list of locations.
For playing fields and open areas to run, check out the Holland Youth Sports Complex (250 Vincent Drive), Bishop Park (705 Sunset Drive) and Southeast Clarke Park. Note that this is just a partial list—for parks with pools, more playgrounds and other amenities, check out Parks & Recreation.
Beyond county parks, find trails, gardens and the Alice H. Richards Children's Garden, which includes an all ages playscape, at the State Botanical Garden of Georgia (2450 S. Milledge Ave.). UGA's Oconee Forest Park (110 Lake Herrick Drive), adjacent to the intramural fields, offers a trail system around Lake Herrick. You can even bring your fishing poles or non-motorized boats. And Sandy Creek Park's Lake Chapman (400 Bob Holman Road) is also an option for putting in your own watercraft or renting one from the county (weather and staff permitting). Note that admission to the park is $2/person for ages 4–64. Ben Burton Park also offers a spot to launch your canoe or kayak.
Speed It Up
If the kids want to take out the bikes, skateboards or scooters, you have options. For gently rolling paved trails through much of downtown Athens, check out the Greenway. This network of paved paths connects from Sandy Creek Nature Center to Dudley Park, the Firefly Trail and South Campus (accgov.com/greenway)—along with a few spurs along the way into neighborhoods. Or check out the newly opened trestle section of the Firefly Trail, which you can follow to downtown Winterville. Or take your bikes off-road at Walker Park (200 Trail Creek St.), which has several trails maintained by the local chapter of the Southern Off-Road Bicycle Association (sorbaathens.org). You can also find paved trails at Bishop Park, Memorial Park and Southeast Clarke Park (with the addition of a popular skate and BMX park).
Learn Around Us
Check out the latest art exhibits at the Lyndon House Arts Center (211 Hoyt St.) throughout the year; check accgov.com/lyndonhouse for details on classes and events. The Georgia Museum of Art (90 Carlton St.) is also a prime place for getting creative, whether it's viewing the latest exhibits or watching the water work its way through the patio garden; visit georgiamuseum.org for upcoming kid-friendly events.
In addition to trails at Sandy Creek Nature Center, kids can now learn inside and out. The naturescape play area gives kids a space to investigate while they play, and inside the center they can explore STEM topics such as electricity, our food, planets and pollinators. For more natural wonders, visit the animals at Memorial Park's Bear Hollow Zoo (and visit the ducks at the nearby pond—but please don't bring bread!).
The libraries in the Athens Regional Library System host storytime events and activities for kids of all ages. Visit athenslibrary.org for updates, or drop in to the Athens-Clarke County Library (2025 Baxter St.) to just experience the space and the helpful children's librarians.
To help give kids a glimpse of Athens history, drop by the Historic Athens Welcome Center (280 E. Dougherty St.) or the Ware-Lyndon House adjacent to the Lyndon House Arts Center. Both are open for self-guided tours during business hours, and the Welcome Center also offers kid-friendly scavenger hunts and online tours of other notable buildings on its Facebook page.