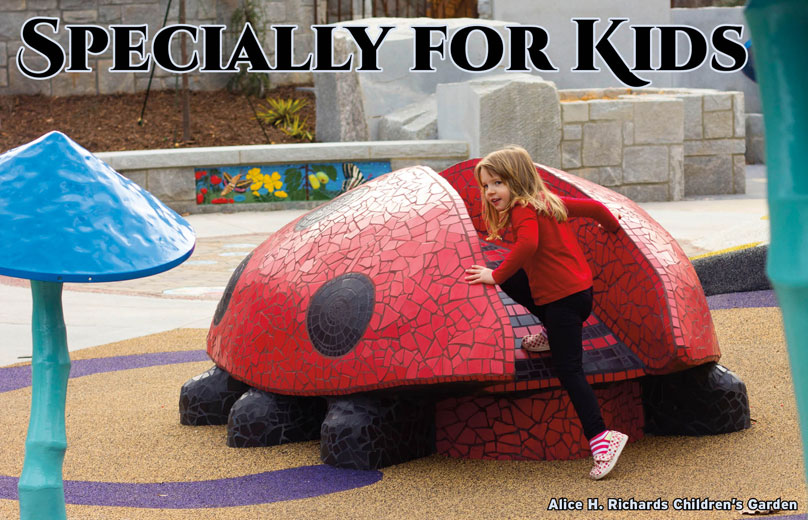 Sure, Athens has its share of typical kid haunts—roller skating, bowling, wandering the mall—but whether you're raising a townie or just trying to entertain some visiting family, there are lots of Athens-specific destinations to consider. Since kids are already a strain on the budget, this list focuses mainly on things that can be experienced for free or nearly free. If you can make any of these items regular stops on your schedule, you can rest easy knowing they're being raised right.
Places to Play
Athens has some great parks, but what makes them interesting is their diversity. Here are the highlights of select parks that offer the best options for kids of any age.
Ben Burton Park (615 Mitchell Bridge Road): Best for hiking along the river and taking a dip in the stream that feeds into it. Check out the old power station ruins along the trail.
Southeast Clarke Park (4400 Lexington Road): The primary draw for this park is the recently revamped World of Wonder playground, but it's also a good place for bike riding, walking and skateboarding. (It even has a Tony Hawk-designed bowl!)
Splash Pads: In the summer, cool off for cheap ($1 admission) at Rocksprings Park (291 Henderson Ext.) and Trail Creek Park (200 Trail Creek St.). These low-key water parks are great options for little ones just learning to play in the water—or bigger ones who want to get sprayed. You can also find pools ($1 admission) at Rocksprings, Bishop (705 Sunset Dr.), Memorial (293 Gran Ellen Dr.) and Lay(297 Hoyt St.) parks. If you're a Clarke County resident and your child got all As and Bs this year, bring their report card to the Bishop Park aquatics office for free admission perks!
State Botanical Garden of Georgia (2450 S. Milledge Ave.): This was always a good place to bring kids, but the addition of the new Alice H. Richards Children's Garden makes it a can't-miss spot. This combination garden and playground has options for all ages, and offers both typical playground features as well as an "in the woods" treehouse complete with rope trampoline.
Experience Athens
Go to the Zoo: Located at Memorial Park, Bear Hollow Zoo (293 Gran Ellen Dr.) is a local habitat that's home to Athena and Yonah, sister bears who are among the main attractions at this sweet spot.
Take in a Game: Think beyond football. UGA sports like soccer, softball, swimming, basketball and hockey are great family entertainment. While some games (especially baseball and gymnastics) require purchased tickets and can sell out, other sports are free to attend and often come with giveaways and other kid-friendly entertainment. Check out georgiadogs.com/calendar. The Classic City Rollergirls, our hometown roller derby team, battles squads from around the region at Athens Arena (280 Commerce Blvd.) See classiccityrollergirls.com.
Enjoy Nature: Spend time inside at Sandy Creek Nature Center (205 Old Commerce Road) and learn about nature, our local ecosystem and the environment, or go outside and explore the historic log cabin and the trails. If you're feeling adventurous, take a hike up the 4-mile trail to connect with Sandy Creek Park, which is also a great place to take a dip in the lake. The Athens-North Oconee River Greenway, a network of paved paths, is a great way to explore Athens. It's more than 7 miles connecting downtown to places such as Dudley Park, Sandy Creek Nature Center, riverside parks along Athens' north side and, new this year, the UGA campus from Lexington Road. Visit accgov.com/greenway for maps and more details.
Read With Others: Find both regular storytimes and special events at the Athens-Clarke County Library (2025 Baxter St.), which has a large kids area with computers and toys, as well as a large book selection. Children's events include regular Monday afternoon games with local nonprofit Chess and Community, morning storytimes and weekend family events. You can also find free storytimes at both Avid Bookshop locations (493 Prince Ave., 1662 S. Lumpkin St.).
Get Creative: We're lucky to have two large, free indoor spaces dedicated to displaying art. First is the Lyndon House Arts Center (211 Hoyt St.), which has several galleries offering a rotating display of local and national artists. It's run by Athens-Clarke County and also offers workshops and classes for kids and adults throughout the year. The other is the Georgia Museum of Art (90 Carlton St.), which features temporary and permanent exhibits throughout the year. Kids events at the museum include teen studio workshops, "Toddler Tuesdays" featuring a kid-friendly activity and monthly Family Day events.
Hang With Animals: There are several spots in the area that host up-close animal interactions. If your child is a horse lover, take advantage of a tour at Classic City Clydesdales (4190 Price Mill Road, Bishop). Tickets can get pricey—it's $20 per adult and $10 per child—but the tour includes meeting the horses as well as highland cows, pigs, chickens, ducks, turkeys and donkeys. In Winterville, check out the nonprofit Sweet Olive Farm (855 Parkview Road), home to dozens of rescued animals, such as donkeys, alpacas, exotic birds, and a sheep, goat and pig. Tours take place on Fridays with a recommended donation of $10 per person. In spring and fall, Washington Farms in Watkinsville (5671 Hog Mountain Road) features a petting zoo along with other seasonal activities, such as pig races, a corn maze and a pumpkin slingshot.
Take a Tour: Athens has four historic house museums that are available for self-guided tours. The Athens Welcome Center (280 E. Dougherty St.) is managed by the Athens-Clarke Heritage Foundation and is open every day except major holidays. The Taylor-Grady House (634 Prince Ave.) is managed by the Junior League of Athens and is used for events—call ahead to be sure, but tours ($3) are generally available during business hours. The T.R.R. Cobb House (175 Hill St.) is owned and run by a private foundation, and tours ($2 donation for adults) are available during business hours. The Ware-Lyndon House is adjacent to the Lyndon House Arts Center and is open when the arts center is open.