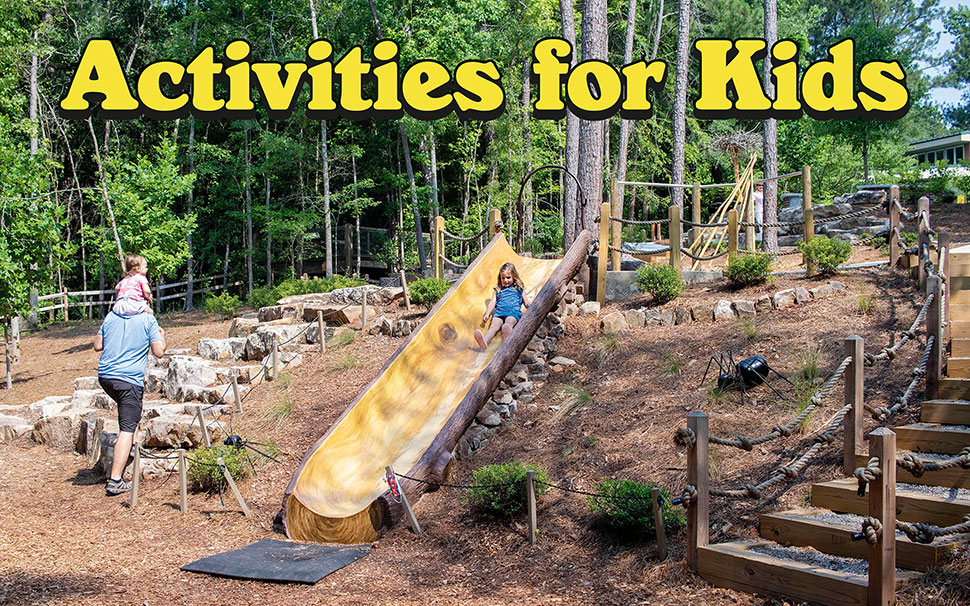 Run Out the Wiggles
Athens-Clarke County has more than a dozen playgrounds, each offering its own set of slides and surroundings. Playgrounds are open for use; check Athens-Clarke County Leisure Services' website if you're heading out on a weekday morning, because some parks are closed for regular maintenance a few hours each week (accgov.com/2550/Playgrounds). For a more expansive place to run, check out Southeast Clarke Park (325 Whit Davis Road); for a more intimate neighborhood vibe, head to Reese and Pope Park (375 Reese St.) or Boulevard Woods (298 Barber St.). Visit the website for the full list.
For a good old-fashioned hike, Southeast Clarke Park has wide trails connecting the playground and dog park areas to the athletic fields. There are also plenty of trails at Sandy Creek Nature Center (205 Old Commerce Road)—just head south of the visitors center and look for entrances along the paved Greenway path. There's also the Birchmore Trail at Memorial Park (293 Gran Ellen Dr.) and Ben Burton Park (615 Mitchell Bridge Road) that has both a walk along the river and a mountain-like side hike up along the hillside.
Beyond county parks, there are also extensive trails at the State Botanical Garden of Georgia (2450 S. Milledge Ave.) that will take you along the North Oconee River and through restored wetlands. A new boardwalk area allows you to walk out into a floodplain to look for small creatures among the grasses. The garden's Alice H. Richards Children's Garden is now open and is a must-see whether you have family in town or are just looking for a place to take the kids. Oconee Forest Park (110 Lake Herrick Drive), adjacent to UGA's intramural fields, also offers a trail system around Lake Herrick. You can even bring your fishing poles and hang out on some of the new docks afterward.
On a Roll
If your kids want to take out the bikes, skateboards or scooters, we have several options. The network of paved trails along the Greenway connects parks and green spaces along the North Oconee River, from Dudley Park to points east and west (accgov.com/greenway). Take the paved path up to Sandy Creek Nature Center! In the opposite direction, the Firefly Trail continues to grow—Winterville now has a one-mile section through its downtown that is perfect for exploring with little ones. Or take your bikes off-road at Walker Park, which has several trails maintained by the local chapter of the Southern Off-Road Bicycle Association (sorbaathens.org).
Several local parks also offer paved trails, including Bishop Park (705 Sunset Drive), Southeast Clarke Park (the opposite side from the playground, at 4440 Lexington Road) and Memorial Park.
Ben Burton Park offers a spot to launch your canoe or kayak. You can also take your paddle-powered vessel to Lake Herrick or to Lake Chapman at Sandy Creek Park (400 Bob Holman Road), not to be confused with Sandy Creek Nature Center. Lake Chapman also offers a sandy beach and swimming. (Admission to the park is $2/person ages 4-64).
Places to Learn
Get Creative: We're lucky to have two large, free indoor spaces dedicated to displaying art. The Lyndon House Arts Center (211 Hoyt St.) is open for socially-distanced viewing of its art exhibitions. The Georgia Museum of Art (90 Carlton St.) is open for visits by appointment to limit the number of people in the galleries. Family Days are continuing in virtual format, with kits available for pickup from the museum in advance of the event. Check the website for themes and details.
Explore Nature Themes: In addition to the trails and playground at Sandy Creek Nature Center, the facility has a great facility where kids can explore STEM-related topics such as electricity, how we grow our food, planets and bees. It's all very interactive and accessible for a range of ages, and it makes for a cool option on a hot afternoon. If your kids want to commune with some animals, Memorial Park offers walks through Bear Hollow Zoo, as well as opportunities to feed the ducks at its pond (please don't bring bread!).
Get Lost in a Book: Children's activities at area libraries, including the Athens-Clarke County Library (2025 Baxter St.), are moving back to in-person events. Each area library hosts a monthly event at a local park (with the idea that you can rotate among the various libraries for an outdoor event each week) moving to indoor events this fall that will require registration in order to control the number of attendees. Visit www.athenslibrary.org for updates.
Learn Some History: Athens has four historic house museums that offer glimpses of the past in Athens. The Ware-Lyndon House, adjacent to the Lyndon House Arts Center, is open for self-guided tours during arts center hours. While tours of the Taylor-Grady House (634 Prince Ave.) continue to be on hold, the T.R.R. Cobb House (175 Hill St.) is open by appointment. The Athens Welcome Center (280 E. Dougherty St., athenswelcomecenter.com) not only offers tours of its historic space, but also offers daily walking and driver-led tours that are suitable for any age. Parents and caregivers can drop by for a fun scavenger hunt for the kids, and if you can't make it in person, check out the welcome center's Facebook page for a series of videos about Athens history.