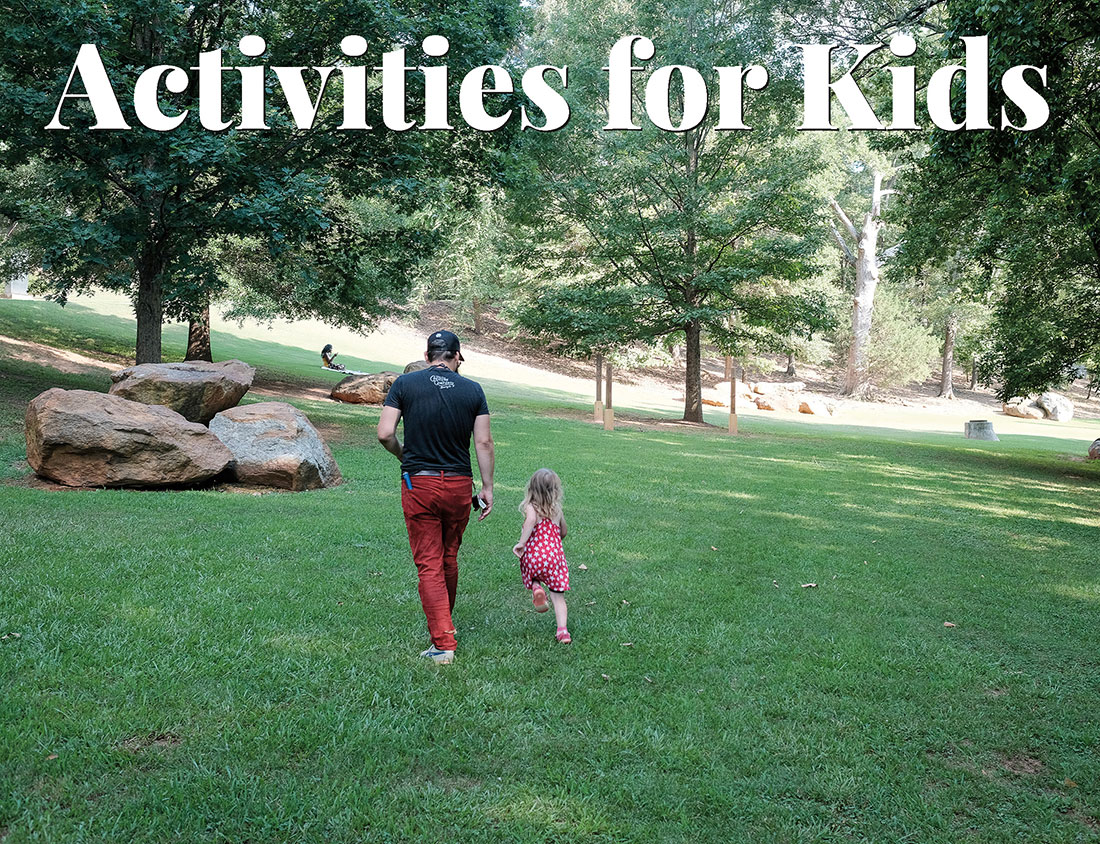 If you haven't already, now is a great time to introduce your children to the outdoors. While autumn can have its share of hot days, it's not impossible to venture outside, and social distancing and other public health measures mean indoor activities are… complicated. So, why not use these pandemic times to explore some of Clarke County's natural areas? We also know that it's important to keep kids' activities free or nearly free, since we all know kids can be a strain on our wallets (and we don't want to exclude families who may be experiencing a loss of income these days). With that in mind, here are ideas for outdoor activities around Athens that satisfy a range of ages.
Places to Walk, Run, Ride
Athens' diverse parks are a great place to start. While playgrounds are off limits (as of press time), there are still a variety of parks that offer ways to get the wiggles out.
Athens-North Oconee River Greenway/Firefly Trail: This seven-mile network of paths gets better every year. Bring your bikes and park at Dudley Park (or, in any of the parking lots along the river north of downtown) and follow it up to Sandy Creek Nature Center or down to the UGA campus from Lexington Road, allowing access across the river as well as a connection to neighborhoods on Athens' east side. Visit accgov.com/greenway for maps and more details.
Ben Burton Park (615 Mitchell Bridge Road): Best for hiking along the river and taking a dip in the stream that feeds into it. Check out the old power station that runs along the trail.
Bishop Park (705 Sunset Dr.): Bring your scooter, skateboard or roller skates to roll along the paved pathway along the western side of this in-town park. Or, if kicking a ball is more your style, run around in the large field at the corner of Sunset Drive and Oglethorpe Avenue.
Southeast Clarke Park (4440 Lexington Road): While one of the largest draws to this park is the recently revamped playground, pull into the other side of the park, off Lexington Road, to indulge in some skateboarding/BMX tricks at the Tony Hawk-designed skate park. There are also a walking path and trails in the adjacent woods.
SORBA Trails (sorbAathens.org): If your kids are curious about trails but want more action than what they'll find on foot, Athens has a glorious network of mountain bike trails to explore. Walker Park (formerly Trail Creek Park) is a great place to start. Other locations include UGA's Oconee Forest Park (behind the UGA Intramural Fields), Hawkes Creek Farm in Winterville and, for when you're feeling adventurous, dirt paths that follow the Loop around Athens.
State Botanical Garden of Georgia (2450 S. Milledge Ave.): As of press time, the Alice H. Richards Children's Garden was closed due to public health concerns, but that doesn't mean there aren't places for kids to explore. The trail network around the property includes picturesque walks along the Middle Oconee River, and it's always nice to visit the more manicured gardens to see how they change with the seasons.
When you're tired of the trails…
Get Creative: We're lucky to have two large, free indoor spaces dedicated to displaying art and also allow social distancing. The Lyndon House Arts Center (211 Hoyt St.) re-opened its galleries in July and has hand sanitizing stations set up throughout the space, so you can enjoy new exhibitions while staying safe. While studio spaces are open to adults, check out their website for programming for kids. The Georgia Museum of Art (90 Carlton St.) plans to re-open Aug. 13, but kids' activities remain digital for the time being. Toddler Tuesdays, Art Cart, Family Day and Teen Studio are continuing in virtual format, and the museum also offers weekly at-home art projects for kids in partnership with K.A. Artist Shop.
Hang With Animals: If your kids want to commune with some animals, Memorial Park (293 Gran Ellen Dr.) offers a walk through Bear Hollow Zoo, as well as opportunities to feed the ducks at its pond (please don't bring bread!). The animal rescue nonprofit Sweet Olive Farm (855 Parkview Road, Winterville; sweetolivefarm.org) is home to dozens of animals, such as donkeys, alpacas, exotic birds, and a sheep, goat and pig. Children are welcome with adults on Saturdays, when volunteers can work on the farm. Tours are also available ($10) but reservations are required, as are masks.
Get Lost in a Book: As of press time, the Athens-Clarke County Library (2025 Baxter St.), was offering curbside book pick-ups (reserve a book online or call to speak with a librarian). Athens' children's library staff have also been banding together with other libraries in the region to provide storytimes each weekday morning—find them on Facebook and read live (or later!). Avid Bookshop (1662 S. Lumpkin St.) also offers virtual meet-ups for YA readers.
Learn Some History: Athens has four historic house museums that are available for self-guided tours. The Ware-Lyndon House is adjacent to the Lyndon House Arts Center and is open when the arts center is open. Tours of The Taylor-Grady House (634 Prince Ave.) and The T.R.R. Cobb House (175 Hill St.) are on hiatus as of press time. But the Athens Welcome Center (280 E. Dougherty St.) offers virtual tours on its website and also has a series of videos exploring Athens history.