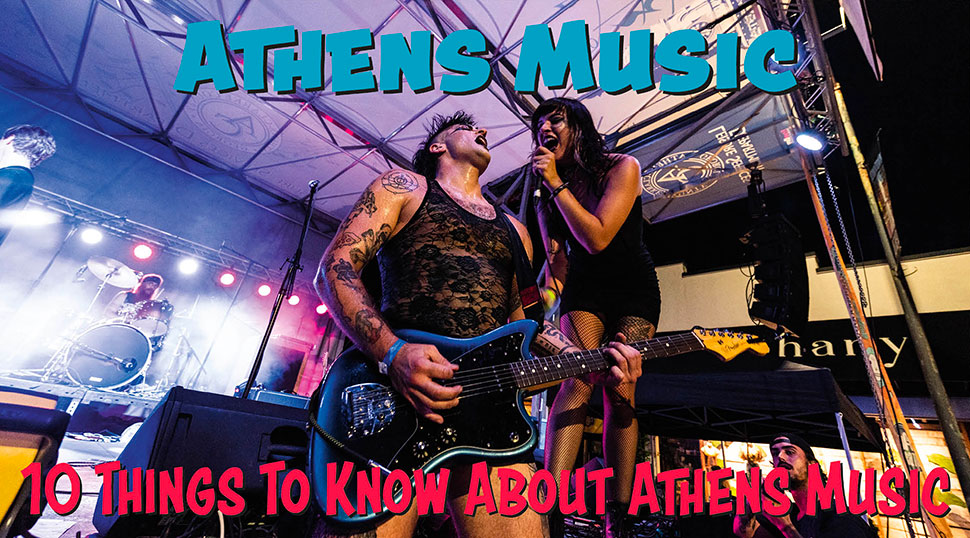 1. It's (Not) Only Rock and Roll
Athens is known for its contributions to the rock and roll canon—our lil' town birthed R.E.M., the B-52s, Pylon, Widespread Panic, Neutral Milk Hotel, of Montreal and Drive-By Truckers, among others—but there's a lot more going on locally. Hip hop continues to boom, and the Latinx scene is hot, too. Roots music, including country and Americana, can be found just about everywhere, as can experimental and genre-defying acts.
2. Music Venues Range in Size and Focus
Though the live entertainment industry has been severely impacted by the pandemic, Athens is still home to a remarkably high number of music venues, given its population size. The best bets for catching major touring acts have always been the 40 Watt Club and Georgia Theatre, while Southern Brewing Company, Flicker Theatre & Bar, Hendershot's Coffee Bar, Nowhere Bar and The World Famous are dependable choices for catching local bands any night of the week.
3. Festivals Happen Year-Round
While the pandemic threw a wrench into many yearly traditions, most festivals carried on with virtual or modified protocols in place and have since returned to their in-person formats. In fall, the North Georgia Folk Festival livens Sandy Creek Park, LatinxFest fills downtown with performances, Historic Athens PorchFest takes over neighborhoods and the Wild Rumpus Parade & Spectacle is a Halloween-time hoot. Spring stays busy between BreastFest and the International Street Festival. The hip hop- and gospel-centric Hot Corner Celebration takes place in early summer, followed by Athens' flagship event, the AthFest Music and Arts Festival.
4. It's Kid-Friendly
As more Athenians start families, there's been an increased focus on kid-centric music and music education. The leader of the pack is Nuçi's Space, a resource center that offers health services to musicians, plus rehearsal rooms and Camp Amped, where local youth learn to start their own bands. We Rock Athens operates a similar program for female and nonbinary kiddos, while Full Moon Studio serves nearby Watkinsville with summer camps and biannual "rockcitals."
5. There's an Athens Music Walk of Fame
The Athens Music Walk of Fame debuted in 2020 to honor the movers and shakers who helped place our town on the map as a musical destination, and new inductees are added every year. The walk recognizes honorees with bronze plaques that are embedded along a route that passes notable music venues. An interactive mobile app offers additional sights and sounds associated with each honoree.
6. Tune In to Turn On
You can hear local music all over the airwaves, starting with WUOG 90.5 FM, UGA's student-run station that broadcasts "Live in the Lobby" performances every Tuesday and Thursday. This year marks WUOG's 50th anniversary. University-chartered NPR affiliate WUGA 91.7 and 94.5 FM airs "Sound of Athens" and "New South Showcase," segments of live concert recordings.
7. See Athens on the Screen
Tony Gayton's 1987 documentary Athens, GA: Inside/Out is essential viewing for any aspiring local music buff for its interviews and live footage from the mid-'80s scene. Released in 2021, Red Turns Into Blue: Athens/Inside-Out 2: Red Turns Into Blue follows up over 30 years later. For another glimpse into today's cultural landscape, check out local filmmaker James Preston's pair of documentaries Athens Rising: The Sicyon Project and Athens Rising 2: Transmittance (both free at athensrising.com), which compile vignettes of DIY house shows, festivals, performance art, comedy, restaurants and other interesting local organizations and independent businesses.
8. It's a Recording Destination
Behind the tremendous number of albums churned out by up-and-coming artists each year are the recording studios in and around Athens that perfect and preserve their work. Chase Park Transduction, The Glow Recording Studio, Pigpen Studios, Full Moon Studio and several others stay busy year-round. Tweed Recording Audio Production School, a world-class facility located downtown, aims to train the next generation of audio professionals.
9. There's Culture on Campus
Though its sheer size and a lack of effective town-gown communication can make the university seem intimidating to newcomers, its cultural programming is open to the public and worth taking advantage of. The Performing Arts Center brings in acclaimed classical and world-music artists, with the 2022–23 season including Complexions Contemporary Ballet, Villalobos Brothers, Soweto Gospel Choir, Lviv National Philharmonic Orchestra of Ukraine and Yamato.
10. Flagpole Has You Covered
Trust us when we say that Flagpole is your No. 1 source for all things Athens music, from the weekly print edition and comprehensive events calendar to our online premieres, photo galleries, live reviews and beyond. Covering local music was our founding mission, and it remains an integral part of who we are at Flagpole and what we do.
Music Venues
Athentic Brewing
108 Park Ave. • 706-850-6252 • athenticbrewing.com
The patio of this Normaltown neighborhood brewery is a perfect spot for catching a singer-songwriter, country act or hip-hop showcase.
Boar's Head Lounge
260 E. Washington St. • 706-369-3040 • instagram.com/boarsheadlounge
Country or cover bands can usually be found on busy weekends.
Buvez
585 Barber St. • 706-850-0172 • facebook.com/buvezathens
Located in the Boulevard neighborhood, this tucked away café frequently hosts local indie, pop and electronic acts.
Creature Comforts Brewing Co.
271 W. Hancock Ave. • 706-410-1043 • creaturecomfortsbeer.com
Live music on the patio is a staple at the Athens Farmers Market every Wednesday.
The Classic Center
300 N. Thomas St. • 706-357-4444 • classiccenter.com
The theater, Grand Hall and 440 Foundry Pavilion host big-ticket touring acts.
Flicker Theatre & Bar
263 W. Washington St. • 706-546-0039 • flickertheatreandbar.com
Hear a smartly booked selection of folk, indie, experimental, punk and more in the spiffed-up side room.
40 Watt Club
285 W. Washington St. • 706-549-7871 • 40watt.com
The world-renowned 40 Watt has been an Athens institution since 1978. Touring artists and locals share its hallowed stage.
Georgia Theatre
215 N. Lumpkin St. • 706-850-7670 • georgiatheatre.com
Owned by Live Nation and booked by Zero Mile, this is the downtown spot for trendy touring acts. The rooftop bar also features live music and DJs during warmer months.
The Globe
199 N. Lumpkin St. • 706-353-4721 • facebook.com/globe.athens
After a two-year-long closure, The Globe is back open and easing into hosting shows in its upstairs space again.
Hendershot's Coffee Bar
237 Prince Ave. • 706-353-3050 • hendershotsathens.com
A welcoming java joint and pub known for evening shows, open mic nights and more.
The Lewis Room
131 E. Clayton St. • 706-204-9144 • facebook.com/thelewisroom
Operated by Tweed Recording, the Lewis Room offers a state-of-the-art space to host touring musicians.
Little Kings Shuffle Club
223 W. Hancock Ave. • 706-369-3144 • facebook.com/lkshuffleclub
This historic space with a great patio occasionally hosts salsa nights, punk shows and dance parties.
Live Wire
227 W. Dougherty St. • 706-543-8283 • livewireathens.com
A state-of-the-art space with a plant-filled courtyard that hosts weddings and other special events, but also books live music concerts.
Morton Theatre
195 W. Washington St. • 706-613-3770 • mortontheatre.com
Built in 1910, the historic building carries on Hot Corner's legacy with gospel and soul.
Normal Bar
1365 Prince Ave. • 706-548-6186 • facebook.com/normal.bar.7
A Normaltown hot spot with a popular patio, the bar occasionally hosts intimate shows with local acts.
Nowhere Bar
240 N. Lumpkin St. • 706-546-4742 • nowherebarlive.com
Frequent local talent with a focus on blues, funk and rock.
Rabbit Hole Studios
1001 Winterville Rd. • 762-499-4182 • rabbitholestudios.org
In addition to offering space for recording, rehearsals and events, this collective community center hosts shows, solstice celebrations and open jams.
Rialto Club
500 College Ave. • 706-546-0430 • indigoathens.live
Located on the ground level of Hotel Indigo, this upscale space hosts wedding receptions, meetings and concerts.
The Root
1235 S. Milledge Ave. • 706-395-6278 • therootathens.com
Located below The Pine, this Five Points neighborhood basement bar has recently begun hosting live music.
Southern Brewing Company
231 Collins Industrial Blvd. • 706-548-7183 • sobrewco.com
With its large outdoor stage, Southern Brewing has taken the lead in hosting socially distanced concerts ranging from indie, pop, Americana, singer-songwriters and everything in between.
Terrapin Beer Co.
265 Newton Bridge Rd. • 706-549-3377 • terrapinbeer.com
Terrapin's separately ticketed space, with state-of-the-art sound and lighting, showcases country, folk, jam, rock and more.
UGA Performing Arts Center
230 River Rd. • 706-542-4400 • pac.uga.edu
Classical performances from students and faculty, plus celebrated symphonies, world music and much more.
VFW Post 2872
835 Sunset Dr. • 706-543-5940 • facebook.com/vfwpost2872
This space near Bishop Park hosts a variety of events, including live music from country and rock bands, karaoke and Rabbit Box Storytelling.
The Warehouse
346 E. Broad St. • thewarehouseathens.com
A large capacity venue with singer-songwriters, Southern rock bands and country acts.
The World Famous
351 N. Hull St. • 706-543-4002 • facebook.com/theworldfamousathens
A tiny room with a ton of character, featuring hip hop, indie, dance music and beyond.