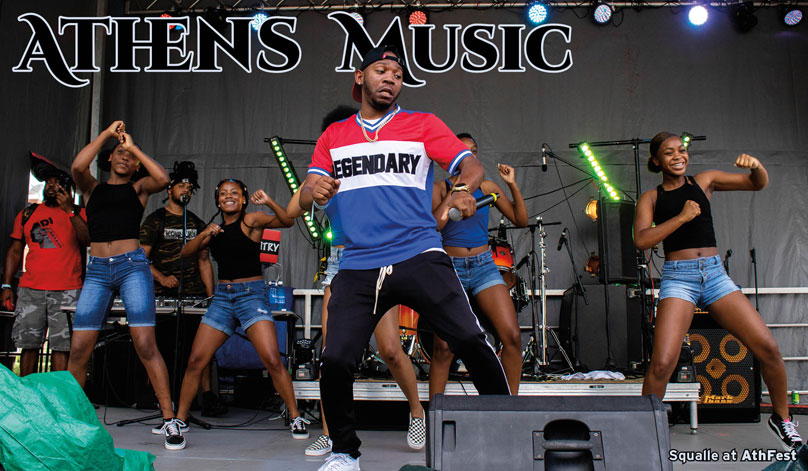 10 Things to Know About Athens Music
1. It's (Not) Only Rock and Roll
Athens is known for its contributions to the rock and roll canon—our lil' town birthed R.E.M., the B-52s, Pylon, Widespread Panic, Neutral Milk Hotel, of Montreal and Drive-By Truckers, among others—but there's a lot more going on locally. Hip hop continues to boom, with regular rap showcases found downtown and elsewhere. Roots music, including country and Americana, can be found just about everywhere. The Latinx scene is hot, too—more on that below.
2. Beware the 'Khaki Divide'
The running gag is that downtown is split into cultural halves by Lumpkin Street, with the eastern end's bars populated by frat boys rocking out to jammy cover bands, while the west is home to a more heterogeneous set of venues that cater to townies, misfits and curious college kids. (Think of the Georgia Theatre as a sort of DMZ.) The line is often blurred, but in general, this holds true.
3. Dance to Your Own Beat
There are plenty of opportunities to get down on the dance floor, including recurring DJ series—goth, EDM and emo nights are particularly popular with the collegiate set—not to mention silent disco, an international craze that has caught on in Athens over the past couple of years. Attendees pay to rent light-up headphones and dance to their own beat—as part of a crowd—all night long.
4. Early Birds Are Welcome
Athens shows were once infamous for starting absurdly late and ending after last call, but with crowds skewing older, thanks largely to Athens' growing reputation as a great place for retirees and families, local venues are offering earlier events, from the Georgia Theatre's summertime rooftop series to jazz nights at Hendershot's to singer-songwriter circles at The Foundry and more.
5. It's Kid-Friendly
As more Athenians start families, there's been an increased focus on kid-centric music. The leader of the pack is Nuçi's Space, a resource center that offers health services to musicians, plus rehearsal rooms and Camp Amped, where local youth learn to start their own bands. Girls Rock Athens operates a similar program for female and nonbinary kiddos, while Full Moon Studio's Oconee School of Rock serves nearby Watkinsville.
6. There's Culture on Campus
The University of Georgia's cultural programming is open to the public and well worth taking advantage of. The Performing Arts Center brings in renowned classical and international artists, with the 2019–'20 schedule featuring Kronos Quartet with Masha Vahdat, the Jazz at Lincoln Center Orchestra with Wynton Marsalis and Béla Fleck and Abigail Washburn, among other marquee names.
7. Festivals Happen Year-Round
In spring, the Athens Human Rights Festival features two days of music downtown, and the Athens Spring Fling pops up on the Eastside. The hip hop- and gospel-centric Hot Corner Celebration takes place in early June, followed by our flagship event, AthFest, later that month. The punky SlopFest returns in July, and the North Georgia Folk Festival impresses each fall. The Wild Rumpus is a Halloweentime hoot.
8. The Latin Scene Is Thriving
Once relegated to the fringes of the local scene, Latin music is a big deal in today's Athens. Several ongoing events feature some of the area's most talented Latinx musicians, including the annual LatinxFest and regular Latin Night series, hosted by a rotating list of venues. Meanwhile, talented groups like Athens Tango Project and Bichos Vivos represent the sounds of South America.
9. Tune In to Turn On
You can hear local music all over the airwaves, starting with WUOG 90.5 FM, UGA's student-run station that broadcasts the weekly "Live in the Lobby" showcase. University-chartered NPR affiliate WUGA 91.7 and 94.5 FM airs classical performances, plus The Rotation, a group of shows focused on Athens music. And a Sunday-evening program on rock station Bulldog 93.3 often features local sounds.
10. Flagpole Has You Covered
Trust us when we say that Flagpole is your No. 1 source for all things Athens music, from the weekly print edition and comprehensive events calendar to our online premieres, photo galleries and live reviews, to the annual Flagpole Athens Music Awards and beyond. Covering local music was our founding mission, and it remains an integral part of who we are and what we do.
---
Music Venues
Boar's Head Lounge
260 E. Washington St. • 706-369-3040 • instagram.com/boarsheadlounge
Weekly open-mic jams, plus rock, country and cover bands.
Caledonia Lounge
256 W. Clayton St. • 706-549-5577 • caledonialounge.com
Tucked away behind the 40 Watt, enjoy indie, hip-hop, punk and metal shows.
The Classic Center
300 N. Thomas St. • 706-357-4444 • classiccenter.com
The theater, Grand Hall and 440 Foundry Pavilion host big-ticket touring acts.
Flicker Theatre & Bar
263 W. Washington St. • 706-546-0039 • flickertheatreandbar.com
Hear a smartly booked selection of folk, indie and hip hop in the spiffed-up side room.
40 Watt Club
285 W. Washington St. • 706-549-7871 • 40watt.com
The endearingly grungy 40 Watt is an Athens institution. Touring artists and locals share its hallowed stage.
The Foundry
295 E. Dougherty St. • 706-389-5549 • thefoundryathens.com
Eat and take advantage of terrific shows with early start times, not limited to folk, country, jazz, blues and tribute acts.
Georgia Theatre
215 N. Lumpkin St. • 706-850-7670 • georgiatheatre.com
The downtown spot for trendy touring acts, the rooftop bar also features live music and DJs from spring through fall.
Genesis
1700 Commerce Road • 706-351-4174 • Find Us on Facebook
Athens' closest thing to a big-city nightclub, featuring hip hop, DJs, Latin music and more.
The Globe
199 N. Lumpkin St. • 706-353-4721 • facebook.com/globe.athens
The cozy upstairs nook hosts jazz nights and other sophisticated sounds.
Go Bar
195 Prince Ave. • 706-546-5609 • facebook.com/go.bar.35
A friendly watering hole specializing in experimental performance, DJ dance parties, karaoke and more.
Hendershot's Coffee Bar
237 Prince Ave. • 706-353-3050 • hendershotscoffee.com
A welcoming java joint and pub known for jazz and Latin shows, plus an open mic and more.
Highwire Lounge
269 N. Hull St. • 706-543-8997 • highwirelounge.com
Live jazz in an upscale cocktail bar setting, plus silent disco and other events.
Little Kings Shuffle Club
223 W. Hancock Ave. • 706-369-3144 • facebook.com/lkshuffleclub
DJs, karaoke, punk and Latin shows in a historic space, with a great patio for unwinding.
Live Wire
227 W. Dougherty St. • 706-543-8283 • livewireathens.com
Occasional electronica, funk, rap and more at this state-of-the-art event space and venue.
Morton Theatre
195 W. Washington St. • 706-613-3770 • mortontheatre.com
Gospel and soul in a historic building, plus the Flagpole Athens Music Awards show in June.
Nowhere Bar
240 N. Lumpkin St. • 706-546-4742 • facebook.com/nowherebarathens
Nightly national and local talent, with monthly series and a focus on blues, funk and rock.
UGA Performing Arts Center
230 River Road • 706-542-4400 • pac.uga.edu
Classical performances from students and faculty, plus celebrated symphonies, world music and much more.
The World Famous
351 N. Hull St. • 706-543-4002 • facebook.com/theworldfamousathens
A tiny room with a ton of character, featuring hip-hop, folk, dance music and beyond.
---
On the Record
When Kindercore Vinyl opened in 2017, it became the only record-manufacturing facility in the state, and one of only a handful in the country. The plant stays busy, but occasionally opens its doors for public events. Looking to pick up some albums while in town? These are our locally owned stores:
Low Yo Yo Stuff Records
261 W. Washington St. · 706-340-0473 · facebook.com/lowyoyostuff
A wide variety of music sold by super-knowledgeable clerks.
Secret Sounds
215 Commerce Blvd. (inside Hip Vintage and Handmade) · facebook.com/SecretSoundsAthens
Score vintage gems and browse new releases.
Shadebeast Records
297 E. Broad St. · 706-614-3835 · shadebeast.com
A carefully curated selection of heavy metal, punk, noise and more.
Wuxtry Records
197 E. Clayton St. · 706-369-9428 · wuxtryrecords.com
With something for every type of music lover, Athens oldest record shop is a must-visit.