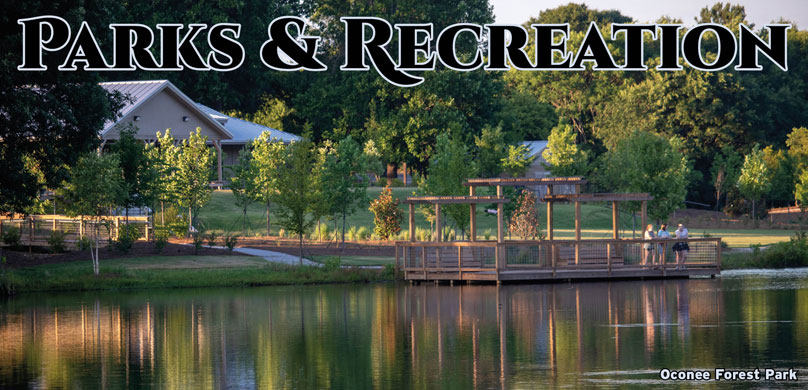 Athens has lots of public parks, a few of which are connected by the North Oconee River Greenway, which features several scenic miles of walking and biking paths. Amenities vary, and are indicated by symbols in the print Guide. Picnic shelters must be rented ahead of time at most parks. Athens' only public golf course is the UGA Golf Course, at 2600 Riverbend Road; Lane Creek Golf Club is in nearby Bishop.
Athens-Clarke County
accgov.com/149/Parks-Facilities
Ben Burton Park
615 Mitchell Bridge Road • 706-613-3801
Hours: sunrise–sunset
The 32-acre intown wildlife preserve features a hardwood forest, trails and plenty of picnic spots. A boat launch and shoals provide easy access to the Middle Oconee River.
Bishop Park
705 Sunset Dr. • 706-613-3589
Hours: 8 a.m.–sunset
Large Normaltown park equipped with fields and courts for a variety of sports. Programs include tennis, gymnastics, swimming and more. Home to the Athens Farmers Market on Saturdays from April to December.

Boulevard Woods
298 Barber St. • 706-613-3801
Hours: sunrise–sunset
Cute pocket park in the Boulevard neighborhood.

Dudley Park
100 Dudley Park Road • 706-613-3620
Hours: sunrise–sunset
32-acre park near downtown, by the river, with open fields and connections to the Firefly Trail and North Oconee River Greenway.
East Athens Community Center
400 McKinley Dr. • 706-613-3593
Hours: Mon–Fri, 8 a.m.–9 p.m.; Sat, 9 a.m.–6 p.m.; Sun, 2–6 p.m.
Indoor and outdoor activities for everyone from kids to seniors, plus a branch of the public library.

Firefly Trail
Multiple entrances: East Broad Street, Dudley Park, Poplar Street, Inglewood Avenue, Old Winterville Road • 706-613-3801
The first mile of this painstakingly designed walking and biking trail is open along the historic Georgia Railroad corridor.
Greenway and Riverside Parks
706-613-3615
Hours: sunrise–sunset
Over 7 miles of concrete for non-motorized use. Connections include Dudley Park, Firefly Trail, Sandy Creek Nature Center and Sandy Creek Park. For a list of riverside parks, see accgov.com/6919/Riverside-Parks.
Holland Youth Sports Complex
250 Vincent Dr. • 706-613-3604
Hours: 8 a.m.–sunset
62-acre sports complex. Home to Athens United soccer, Downtown Falcons football and Athens Little League baseball and softball action.
Lay Park
297 Hoyt St. • 706-613-3596
Hours: Mon–Fri, 8 a.m.–9 p.m.; Sat, 9 a.m.–6 p.m.; Sun, 2–6 p.m.
Athens' only downtown park is accessible to everybody looking to get active, both indoors and out.

Memorial Park
293 Gran Ellen Dr. • 706-613-3580
Hours: 8 a.m.–sunset
Popular park in the heart of Five Points that's home to Bear Hollow Zoo (open 9 a.m.–5 p.m.), a dog park, duck-filled pond and public pool, as well as Athens Creative Theater.
Reese & Pope Park
375 Reese St. • 706-613-3801
Hours: sunrise–sunset
Neighborhood park with basketball courts and a playground.

Rocksprings Community Center & Park
291 Henderson Ext. • 706-613-3602
Hours: Mon–Fri, 9 a.m.–6 p.m.
Multipurpose park with something for everyone, including a pirate-ship playground, pool and splash pad.

Sandy Creek Nature Center
205 Old Commerce Road • 706-613-3615
Hours: Tue–Sat, 8:30 a.m.–5:30 p.m.
See snakes and other live critters up close. Hike over 4 miles of trails through woodlands and wetlands. Discover a 19th Century log house and the ruins of a century-old brick factory.

Sandy Creek Park
400 Bob Holman Road • 706-613-3631
Hours: Tue–Sun., 7 a.m.–9 p.m.
The county's largest park surrounds picturesque Lake Chapman with a beach, dog park and trails. Enjoy disc golf, picnicking, boating and fishing. Expect to pay a small entrance fee.

Satterfield Park
2950 Cherokee Road • 706-613-3991
Hours: 8 a.m.–sunset
Community park with athletic fields and courts. Home to East Athens Little League play.

Southeast Clarke Park
4440 Lexington Road • 706-613-3991
Hours: 8 a.m.–sunset
Home to World of Wonder, the largest play area in the park system, with a three-story slide and rock wall and passive play area, plus the Skate Park of Athens, with a series of concrete ramps, bowls and rails. There's also a dog park, tennis courts, soccer and softball fields, and trails.

Trail Creek Park
200 Trail Creek St. • 706-613-3991
Hours: 8 a.m.–sunset
Sprawling park just minutes from downtown with a fitness zone, a popular splash pad for kids, soccer fields and mountain bike trails.

UGA Parks
Legion Pool
830 S. Lumpkin St. • 706-542-8235 • tate.uga.edu/legionpool
Hours: late May through July, 11:30 a.m.–7 p.m.; first week in August, 3–7 p.m.
A historic pool with lap lanes and a bath house, Legion is enjoyed each summer by the university community and by those who join the Friends of Campus Life.
Oconee Forest Park
College Station Road at Alumni Drive • 706-542-4287 • warnell.forestry.uga.edu/oconee-forest-park
Hours: dawn–dusk
The 60-acre park sits behind the UGA intramural fields, preserving a 100-year-old forest and its wildlife around Lake Herrick.
State Botanical Garden of Georgia
2450 S. Milledge Ave. • 706-542-1244 • botgarden.uga.edu
Hours: 8 a.m–8 p.m.
Admire beautiful and diverse gardens, or explore nature trails. The grounds include a visitors center with a conservatory and café and frequently serve as a concert or wedding venue. The newly opened Alice H. Richards Children's Garden is a kid-centric wonderland. The lovely Day Chapel in the woods is available for rental. No dogs.
Oconee County
oconeecounty.com/398/Parks-Facilities

Bogart Sports Complex
S. Burson Ave., Bogart • 706-769-3965
Hours: dawn–11 p.m.
Lighted ballfields and multipurpose fields.
Harris Shoals Park
Harris Shoals Drive, Watkinsville • 706-769-5161
Hours: 7 a.m.–8 p.m.
Small park with picnic tables, walking trails, shoals and a baseball field.
Heritage Park
2543 Macon Hwy., Watkinsville • 706-769-3965
Hours: sunrise–sunset
364-acre park bordering the Apalachee River with miles of hiking, biking and horse-riding trails, as well as an open-air arena for special events.

Herman C. Michael Park
1051 Elder Road, Bishop • 706-769-3965
Hours: Mon–Fri, 9 a.m.–6 p.m.
Large park with lighted fields and a free disc golf course.

Oconee Veterans Park
3500A Hog Mountain Road, Watkinsville • 706-769-3965
Hours: Mon–Fri, 7 a.m.–9 p.m.; Sat, 8 a.m.–9 p.m.; Sun, 1–9 p.m.
Walking trails, tennis courts and multipurpose fields outside, and a gym and track inside.

City of Winterville
Pittard Park and Pavilion
Parkview and Church streets • 706-742-8600 • cityofwinterville.com/pittard-park
Hours: 7 a.m.–9 p.m.
This park has a pavilion, playgrounds and metal art by Beverly Babb. It hosts the Marigold Festival every spring.
State of Georgia
Fort Yargo State Park
210 S. Broad St., Winder • 770-867-3489 • gastateparks.org/fortyargo
Hours: 7 a.m.–10 p.m.
The park surrounds a lake for swimming, fishing and boating. It features a 1792 log fort and campsites, including yurts and cabins.
Watson Mill Bridge State Park
650 Watson Mill Road, Comer • 706-783-5349 • gastateparks.org/watsonmillbridge
Hours: 7 a.m.–10 p.m.
This picturesque park a short drive from Athens contains the longest covered bridge in the state, as well as log cabins and campsites, horse-riding trails and a river perfect for wading.