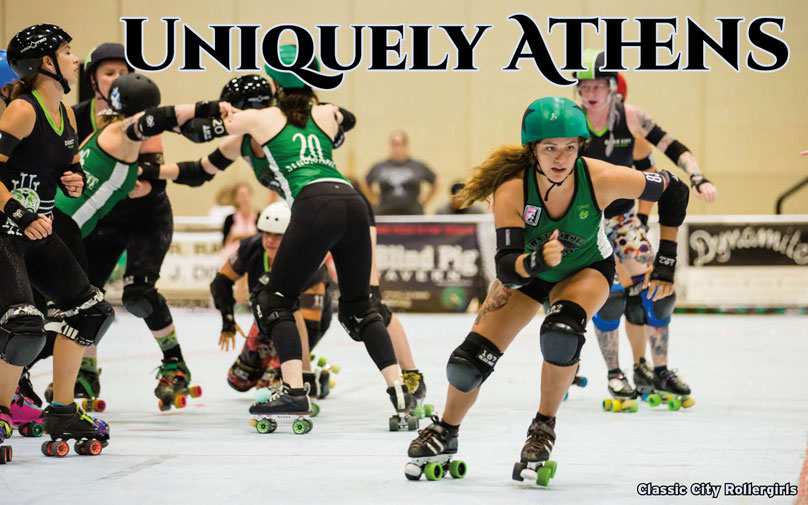 There's so much to see and do in Athens, and not all of it falls into a neat, easily labeled category. Here are a few of the Classic City's extra-special offerings that we truly love, with plenty to enjoy for visitors and residents alike.
Bike Trails: Athens boasts a thriving, tight-knit cycling community that takes full advantage of the area's riding options. In addition to the North Oconee River Greenway, several local parks feature bike-friendly trails, including Trail Creek and Oconee Forest parks. (See Parks and Recreation on p. 18.) There are lots of trails within easy driving (or cycling) distance, like the ones at Fort Yargo State Park in Winder. The most comprehensive resource for local cyclists is BikeAthens (1075 W. Broad St., 706-249-9550, bikeathens.org).
River Fun: There are a few intown and near-to-town purveyors of Broad and Oconee river trips for kayakers, canoers and those who wish to simply float lazily in a tube. These are at-your-own-pace trips that can be good for a special occasion—or just a warm day. The closest one to town is Big Dogs on the River (2525 Atlanta Hwy., 706-353-6002), but there's also Broad River Outpost (7911 Wildcat Bridge Road, 706-795-3242) in Danielsville, and The Sandbar (3435 King Hall Mill Road, 706-245-4163) in Bowman.
Behind the Music: There's nothing else here or, perhaps, anywhere quite like Nuçi's Space (396 Oconee St., 706-227-1515, nuci.org), a resource center for Athens' legion of music creators. Founded nearly two decades ago by former Athenian Linda Phillips in memory of her son Nuçi, a suicide victim, the organization offers rehearsal spaces for hourly rental, as well as medical and mental health resources for under-insured musicians. It also operates Camp Amped for budding local superstars.
High Times: For those who want to soar, Canopy Studio (160-6 Tracy St., 706-549-8501, canopystudio.org) offers instruction in trapeze and other movement arts, with the mission of providing a safe and inclusive space for residents of all ages and backgrounds. In addition to its classes, the nonprofit stages performances that are open to the public. Active Climbing (665 Barber St., 706-354-0038, activeclimbing.com), Athens' only indoor climbing gym, offers air-conditioned adventures for all skill levels.
Life Skills: Founded by poet and activist Lemuel "Life" LaRoche, Chess and Community (chessandcommunity.org) teaches the game to local youth "to develop critical thinkers and engage the next generation of leaders." With a focus on underserved populations, the nonprofit also administers the Think Before You Move college scholarship and hosts an annual conference at the Classic Center featuring a chess tournament, essay contest, art show and more.
College Sports: The University of Georgia is known for its football program—the 2019 season brings high hopes for coach Kirby Smart and his Dawgs—but the school has seen Division I success in lots of other sports, including baseball, women's basketball, gymnastics, swimming, equestrian and more. And the men's basketball team is set to improve under second-year coach Tom Crean, making this an ideal year to catch any number of UGA sporting events. See georgiadogs.com for schedules and tickets.
Roller Derby: A member of the Women's Flat Track Derby Association, the tough-as-nails Classic City Rollergirls (classiccityrollergirls.com) battle squads from around the region at Athens Arena (280 Commerce Blvd.). The bout season runs from spring through summer, and the group hosts free boot camp sessions several times each year for anyone interested in donning the green and black.
Creative Comedy: While stand-up showcases can be found around town, the newly opened Moonlight Theater Company (675 Pulaski St., Ste. 1400, moonlighttheatercompany.com), operated by École Philippe Gaulier alumnus Chase Brantley, specializes in "fresh, innovative and original comedy from around the world." In addition to performances ranging from improv to theater, stand-up and beyond, Moonlight also offers classes in clowning and comedy for kids and adults.
Listen and Learn: Dedicated to the art of storytelling, Rabbit Box (rabbitbox.org)—named for a tune by the late, great Athens songwriter Vic Chesnutt—hosts a monthly series at The Foundry that features local folks sharing true tales from their lives. By turns funny, poignant, challenging and inspirational, the event provides a heartwarming look at the rich tapestry that is Athens. Interested storytellers can sign up in advance, and the shows are open to the public.